The below profiles reflect current students' interests in and experiences of gender analysis at The Fletcher School. As you will note, the students span degree programs, fields of study, and disciplines, and they have incorporated gender analysis into their academic coursework, research, summer internships, and professional paths. These profiles are updated frequently, so please check back soon! If you are a current student who is focusing on gender analysis in your Fletcher coursework, internship, or capstone, and you want to be featured on the site, please fill out this survey. 
Why is gender analysis important to you?
Gender analysis defines everything I do, both academically and professionally. I discovered feminist theory when I was starting my undergraduate degree, and since then it has been a fundamental part of who I am. Gender analysis is the lens through which I see the world; it has strengthened my understanding of power structures and empowers me to resist those structures every day.
Is there a book you'd recommend to someone who is interested in gender analysis, but has yet to dive into the field?
Two of my favorite books that provide a good entry into feminist theory and gender analysis are Living a Feminist Life by Sara Ahmed and The Seven Necessary Sins for Women and Girls by Mona Eltahawy. Both are easily accessible and not too dense, but touch on an array of issues and provide a grounding point for anyone looking to start reading feminist work and utilizing a gender analysis in their work.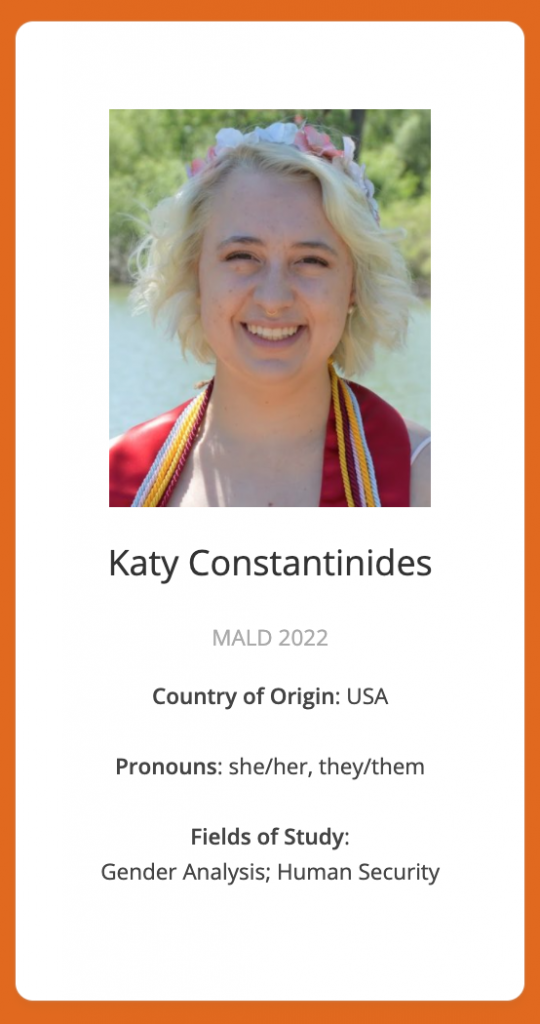 ---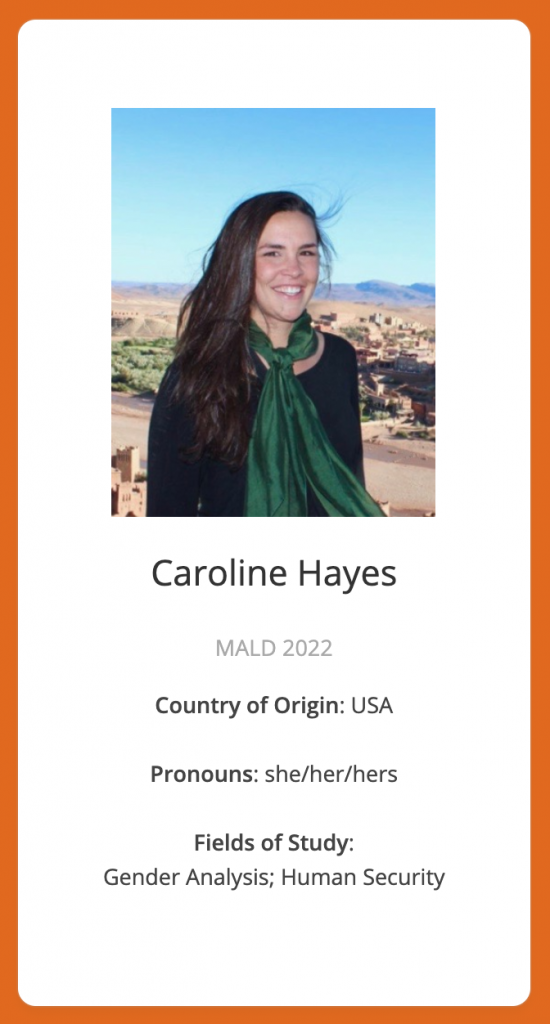 Why did you decide to come to Fletcher?
I'm a creative and collaborative person, which aligns well with the learning style at Fletcher. Fletcher is also a place where I have the freedom and flexibility to explore my diverse intellectual interests, from tracking how Twitter bots are influencing public opinion to assessing Saudi Arabia's PR campaign promoting women in sports.
Why is gender analysis important to you?
Gender analysis has taught me to recognize the way intersections of gender, race, and class shape every institution in society. It has taught me to think critically about how behaviors and patterns that appear normal or natural on the surface are often underpinned by power dynamics.
---
Why is gender analysis important to you?
I started working on gender analysis in 2016 while working in the Colombian Congress under Former Senator Claudia López. I got the possibility of working closely together with grassroots organizations and women's rights advocacy groups to bring back gender rights to the agenda. I learned that I wanted to dedicate my life and public service to achieving gender equality with this job. I started reading, going to lectures, having hard conversations with gender experts, but most importantly, noticing all the inequalities that, as a woman, I had to face in a patriarchal world. In 2017 with a group of friends, we founded SietePolas (sietepolas.com), a feminist organization and blog that would start a journey to activism for women's rights online and infield. Gender analysis became something further than an activity. It became a way of living and questioning every decision I choose in life.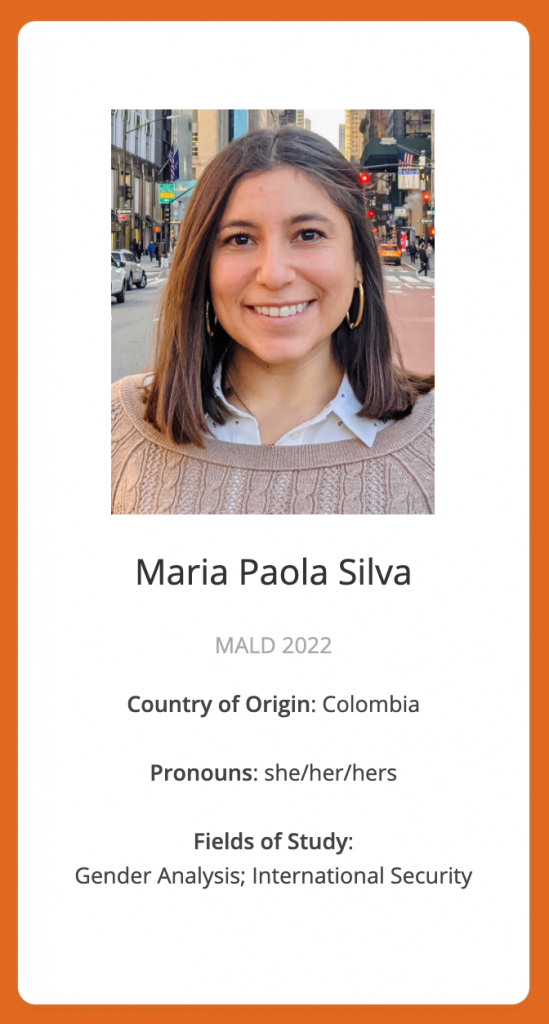 ---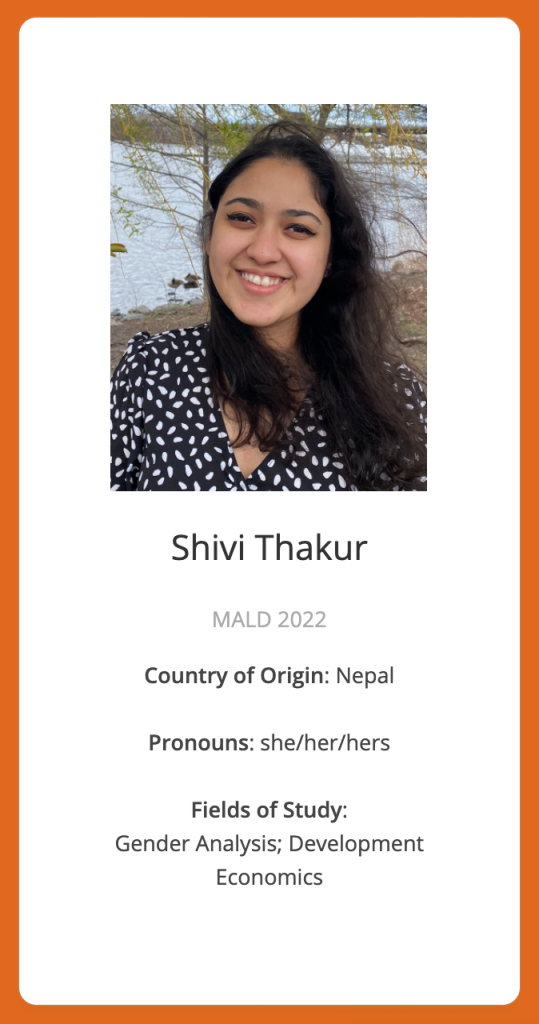 Why did you decide to come to Fletcher?
Fletcher's flexibility to focus on various thematic issues within international development and I was particularly excited that gender analysis was a field of study I could take on at Fletcher.
Why is gender analysis important to you?
In my home country, gender inequality is very visible yet very invisible when it comes to challenging norms and practices that kept the patriarchy alive. Gender inequality is embedded in so many cultures and lifestyles that we fail to question why things are the way they are. I am grateful for my education and mentorship that has allowed me to incorporate gender as a way of analyzing what is and what is not happening in the world. As someone who wants to work in international development, I think gender analysis is crucial to create effective policies, programs, and projects that will genuinely challenge gender inequality and consider its role in development efforts. 
---