We are proud to support Fletcher LEADS: Leadership, Equality, and Diversity. The goal of this program is to enhance and refine Fletcher women and individuals of other genders' competence, confidence, and leadership to fulfill their potential in the world, make a positive impact, build careers of significance, feel empowered as individuals, and balance their work endeavors and passions with their families and other responsibilities.
Fletcher LEADS seeks to contribute to gender equality and inclusive leadership at Fletcher and beyond. Fletcher LEADS programming is open to all members of the Fletcher community, of any gender identity.
Fletcher LEADS is co-directed by Professor Dyan Mazurana and PhD student Danielle Demers.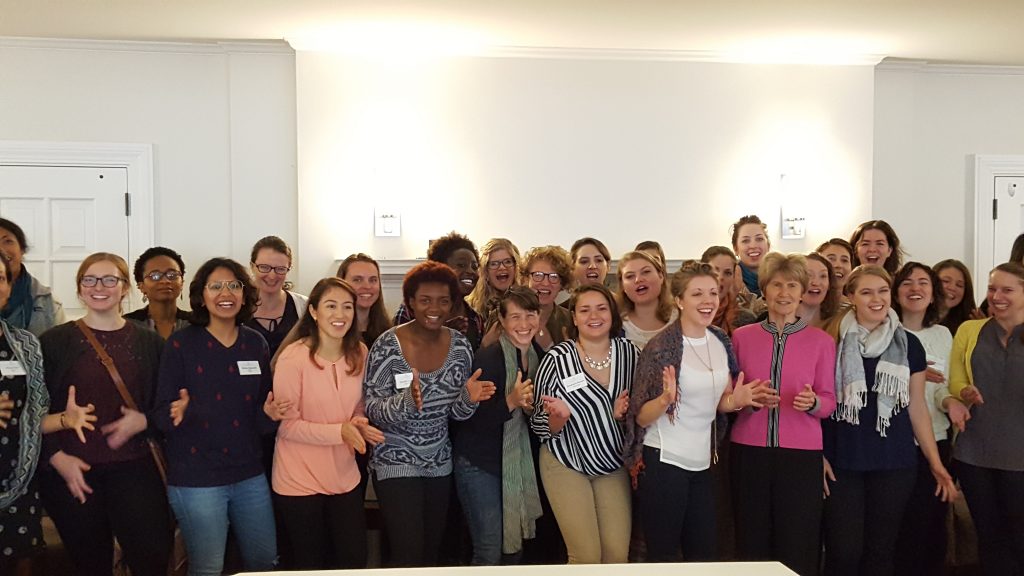 Featured Workshops
These workshops are reoccurring and open to all within the Fletcher community.
Equal Pay Workshop
Facilitated by Evelyn Murphy of The WAGE Project, the Equal Pay Workshop aims to equip Fletcher community members with the resources and mindset to become committed, comfortable, and confident negotiating for fair pay and benefits. Evelyn teaches participants that salary negotiation is about being objective about your market worth, being persuasive, and thinking strategically. She encourages students to do their research and practice their five-minute pitch for justifying their worth. Finally, Evelyn explains the ramifications of the gender wage gap and notes that women who complete graduate programs can lose around one to two million dollars from the gender wage gap. She thus encourages participants to say out loud to themselves before negotiations, "I want my million dollars!"
Feedback from past participants includes:
"I found the workshop very useful and am very thankful to LEADS for organizing it."
"The workshop's best element was to focus on knowing our worth before we apply for a job and then negotiate our salary."
"Thank you for organizing the workshop. I really enjoyed it and especially the role-play."
"I was happy to provide the other side as an employer in the role-play and feel that Evelyn's workshop was brilliant to get perspectives in salary in negotiations."
"To know when to actually talk about salary, the right time, was very useful."
Negotiation: Playing to Our Strengths
Negotiation: Playing to Our Strengths is designed to help the Fletcher community:
Investigate gender research, leadership studies and lived experiences for both pros and cons of leaning on feminine qualities of a leader;
Practice transformational leadership skills such as eliciting respect and pride, communicating effectively and problem solving in flexible, creative ways; and
Gain confidence and skill by learning the vocabulary and strategies of collaborative, interest-based negotiation that are applicable to work and life situations.
This hands-on workshop focuses on communication strategies of mutual benefit negotiation and influence-building tactics nested in the gender culture in which women negotiate. From there, we explore women's natural strengths—self-awareness, empathy, collaboration and flexibility—while also incorporating competitive tactics in a way that strengthens relationships and avoids gender conflicts.
Professional Communications
The Professional Communications Workshop is led by Christine Jahnke, a nationally recognized, author, speaker, and consultant on effective public speaking skills. Chris has coached more women political candidates than any other trainer, including working with First Lady Michelle Obama and Hillary Clinton. Chris introduces the "3 Vs" to Fletcher participants: vocal (pace, pitch, pause, projection); visual (eye contact, body language); and verbal quality (clear point).
Previous attendees shared overwhelmingly positive reviews:
"This workshop exceeded my expectations. She addressed public speaking in a variety of settings that was useful. There were many take-aways on an issue I hadn't even considered."
"I believe I will use the posture and vocal techniques every day in my communications in class, in meetings, and interviews while looking for my next job."
"I will use the skills in my classes and will try to participate and share my opinions more actively. In the long turn, I hope to internalize these key lessons to be an effective communicator."
"As I will join the foreign service after Fletcher, these techniques will be extremely helpful in small meetings and any possible interviews or speeches."
Sexual Identity and Diversity in the Workplace
Despite important shifts in both public policy and attitudes in many countries, most of our societies are still organized around the belief that there are two discrete and immutable gender identities that are mutually and exclusively attracted to each other. These false assumptions of cisgenderism (i.e., where individuals' experiences of their own gender are in line with the sex they were assigned at birth) and heterosexuality are dangerous, especially when coupled with and amplified by sexism, ableism, classism, misogyny, and racism.
Many people who are part of the LGBTQI community face hostile and unsafe professional or academic environments because of widespread deep discomfort with any threat, real or otherwise, to patriarchy, heteronormativity, and cisgenderism. In many countries, firing someone based on their sexual orientation and/or gender identity is still legal. In the West, there is a LGBTQI wage gap, with workers identifying as lesbian, gay, bisexual, transgender, queer, and/or intersex earn less than their cisgender and/or heterosexual counterparts. Breaking down assumptions based on sexual orientation and gender identity is crucial to dismantling patriarchy and creating a safe, inclusive, and diverse professional and academic environment.
Work-Life Balance
Hosted by career and wellness coach Aileen Axtmayer, founder of Aspire with Aileen, the Work-Life Balance Workshop focuses on helping students assess how to create and sustain work/life balance throughout their careers. This interactive session supports students in defining what work/life balance means to them and discussing how to achieve their own personal goals. Aileen also discusses how to prioritize and incorporate self-care into one's daily life.
Testimony from previous attendees:
"It was important to learn about how beneficial sleep, eating well and getting out in nature are for our well-being and learning. Having just started Fletcher I am going to try and keep these lessons in the front of my mind!"
"The perfect workshop right before mid-terms and heading into finals, I had slipped on my self-care, it was a much needed reminder."
"It's great that Fletcher cares enough to help ensure we are learning how to have healthy work and personal relationships, including with ourselves. I am just out of the aid world, and it was just burning through everyone. I learned important health strategies for life with Eileen!"
Recent Events
2020-2021
Out in the Field
18 November 2020
Co-Sponsor: Pride at Fletcher
The Politics of Appearance
9 December 2020
Co-sponsor: Fletcher Conference on Gender and International Affairs (CGIA)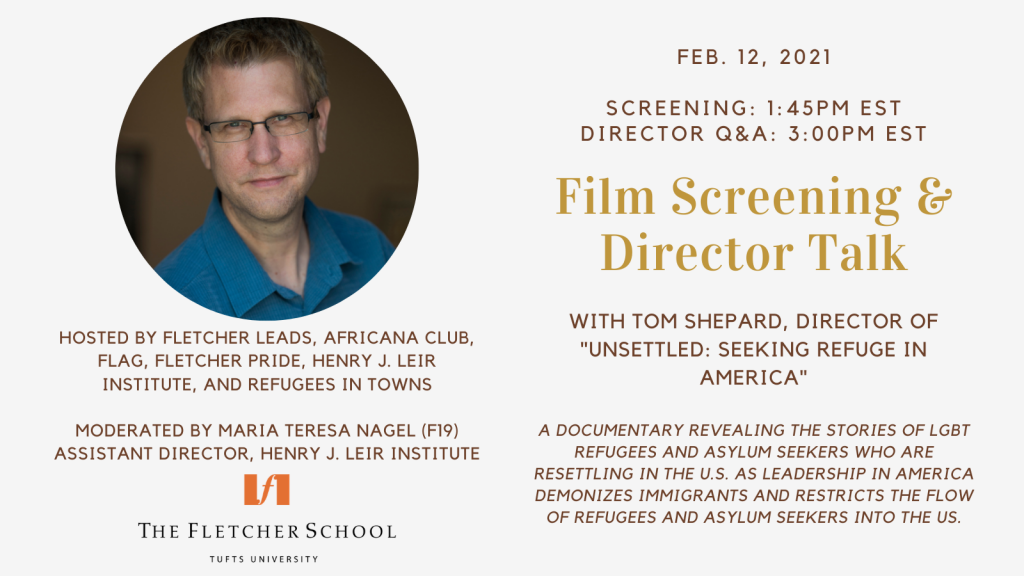 Women, Religion and Peacebuilding
11 March 2021
Co-sponsor: Fletcher Religion, Law, and Diplomacy Initiative (RLD)
2019-2020
S.M.A.R.T. ALTERNATIVES AND SMART WOMEN
Ambassador (ret.) Prudence Bushnell discussed why women, and the men who support them, are uniquely placed to use innovative ways of addressing human security challenges and transnational threats. She shared examples of S.M.A.R.T. choices – Strategic. Moral. Achievable. Reliable. Transformative. – that have changed the world for the better in the past.
Empowering Future Leaders Workshop
The 2019 Conference on Gender and International Affairs and Fletcher LEADS were excited to host the Massachusetts Women's Political Caucus during the Empowering Future Leaders workshop. By hearing from an accomplished panel of local political leaders, workshop participants will learn skills such as how to craft a message, build a strong network, fundraise, leverage social media and address opposition.