Reading to Learn, Act and Change: Black Lives Matter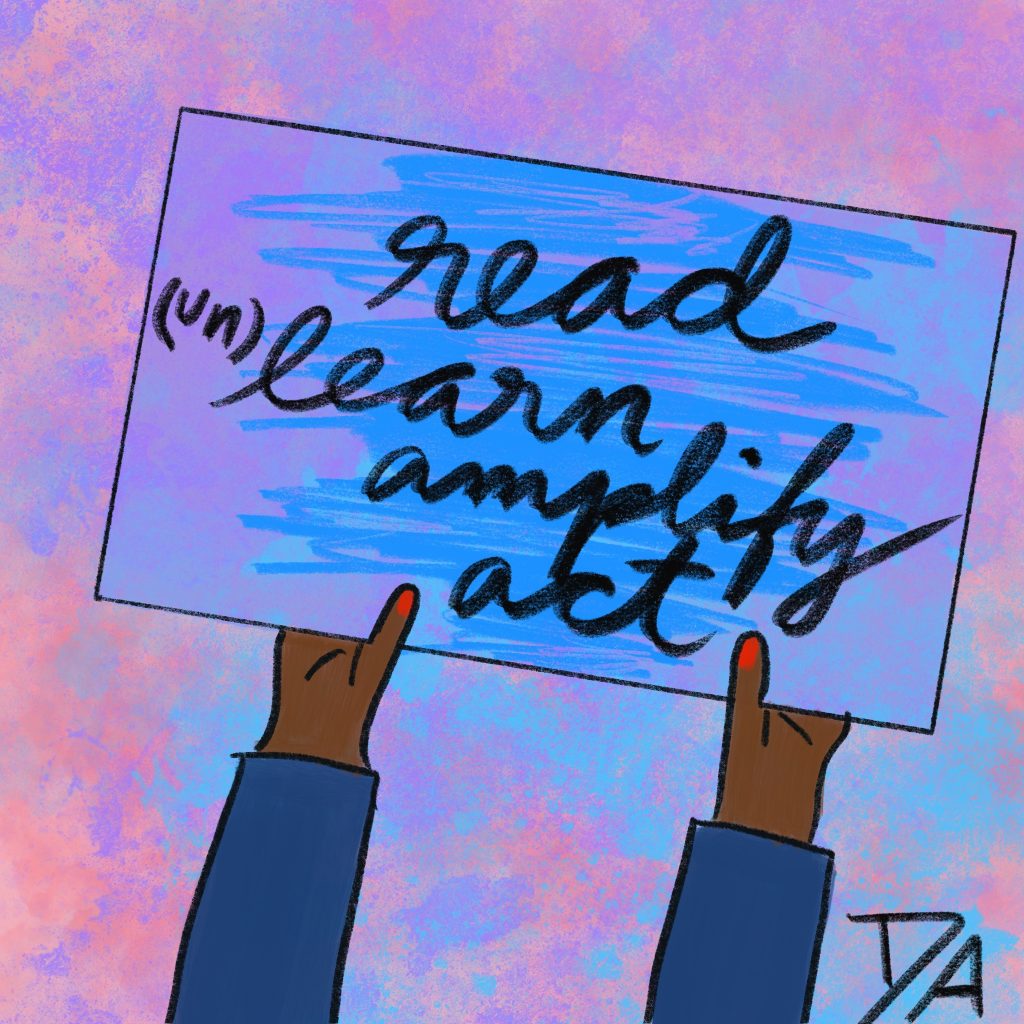 Over the last few days, protests have erupted all over the U.S., in the aftermath of yet another unnecessary Black death at the hands of the police. As someone who studies feminist activism and sexual violence, I see and read instances of violence, injustice and discrimination everyday. I always want to highlight these issues and fight for justice. But I've been struggling with how to help.
Learning how to be a good ally means listening to what the Black community says and understanding the issue of racial injustice deeply and completely. It does not mean asking them to educate us. It means stepping up, taking some initiative, and seeking out resources.
If you want to be an ally, and like me, have been struggling with where to start, perhaps reading is a good place. I've always sought books to (try to) understand the human condition, which is a good thing considering the copious amounts we have to read in grad school. Every book is a space to learn – each is a mirror and window to the world. Words, stories, essays, poems – they help me understand. Words light the way.
As a starting point, I'm sharing a reading list of books by Black writers that have illuminated various aspects of their lives. My intention is to amplify the voices of the Black community. These voices speak to the richness of Black lives – not only about racism, trauma or violence but also about joy, care and community. We must broaden our reading, unlearn some problematic ways of thinking, de-center the norm (White and male-centric work) and seek out words by diverse voices.
Most of the other published reading lists primarily include just non-fiction. But I am a firm believer in the power of fiction – as a way to build empathy, enhance social cognition, check our privilege, and upend biases. I also think fiction is more accessible than non-fiction. As a result, the list is broken down into 4 categories: fiction, non-fiction, memoir and poetry. It is composed of books I have read in their entirety, and therefore feel like can be recommended with sincerity. The entire list is available here. If you're interested in purchasing any of these books, please consider supporting Black-owned independent bookstores. Additionally, I've linked writers' social media, as available. Follow them, read their work, amplify their voices.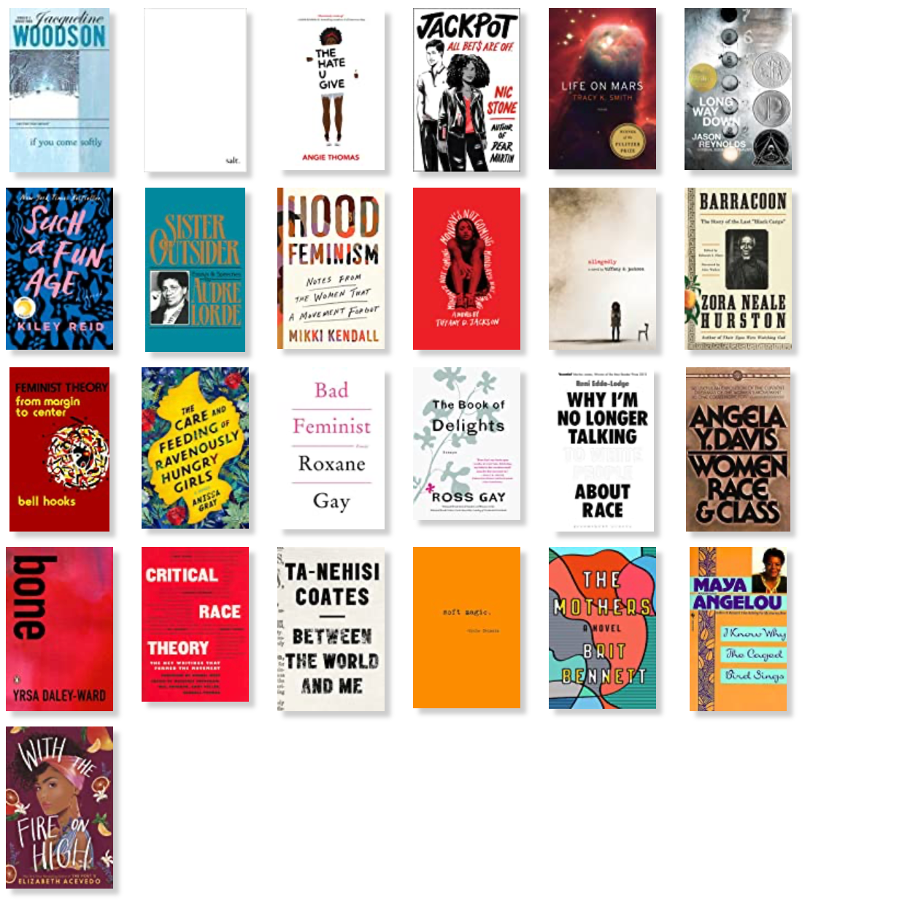 Fiction
1. The Hate U Give – Angie Thomas
Starr's life is upended when she witnesses a police officer shoots and kills her childhood friend, Khalil. The story follows the aftermath of the killing and sheds light on race relations, class, protest, and the impact on family/friends.
2. Long Way Down – Jason Reynolds
This stunning book takes place in sixty seconds – the time it takes Will to decide whether or not he's going to murder the guy who killed his brother, Shawn.
3. Monday's Not Coming – Tiffany D. Jackson
Monday's missing and only her friend, Claudia seems to notice. When Monday's mother and sister give her vague reasons, Claudia starts investigating her friend's disappearance. This book is a scathing account of the invisibility of Black girls, poverty and race.
4. Allegedly – Tiffany D. Jackson
A White baby dies under the care of a Black neighbour and her young daughter. After being convicted, Mary spends 6 years in juvenile prison and is now pregnant, while staying at a group home. When the state threatens to take her unborn baby, Mary decides it is time to tell the truth – was the death a mistake? did her mother kill the baby?
5. If You Come Softly – Jacqueline Woodson
Miah is one of the few African American students at Ellie's school. The two of them find each other, and fall in love – but they are hesitant to share their happiness with their friends and families, who will not understand.
6. Such A Fun Age – Kiley Reid
When Emira is apprehended at a supermarket for 'kidnapping' the White child she's actually babysitting, it sets off an explosive chain of events. Her employer Alix, a middle-class White blogger resolves to make things right. When Emira meets someone from Alix's past, the two women find themselves on a crash course that will upend everything they think they know – about themselves, each other, and the messy dynamics of privilege.
7. The Care and Feeding of Ravenously Hungry Girls – Anissa Gray
A small community is stunned when Althea and her husband Proctor are arrested, and in a heartbeat the family goes from one of the most respected in town to utter disgrace. As Althea awaits her fate, her sisters, Lillian and Viola care for their sister's teenage daughters. What unfolds is a portrait of family, identity and the past.
8. The Mothers – Brit Bennet
Brit Bennett's first novel is an emotionally perceptive story about community, love, ambition and secrets. It follows Nadia, Luke, and Aubrey who live in debt to the choices they made in their youth, and are caught in a love triangle. It deals with their nagging question: What if they had chosen differently?
9. Jackpot – Nic Stone
Rico's life consists of school, her job at the convenience store, and caring for her brother. When she sells a winning lottery ticket, she hopes it will change her luck. The book follows Rico as she tries to track down the buyer of the ticket, and expertly weaves in themes of class, poverty and luck.
10. With the Fire on High – Elizabeth Acevedo
Emoni juggles her responsibilities – school, her daughter and her grandmother. Acevedo writes beautifully about the weight of dreams and the magic of cooking.
Non-Fiction
1. Why I'm No Longer Talking to White People about Race – Reni Eddo-Lodge
Exploring issues from eradicated black history to the political purpose of white dominance, whitewashed feminism to the link between class and race, Eddo-Lodge offers a timely and essential new framework for how to see, acknowledge and counter racism.
2. Hood Feminism: Notes from the Women that a Movement Forgot – Mikki Kendall
Mikki Kendall questions legitimacy of the modern feminist movement arguing that it has chronically failed to address the needs of all but a few women. According to Kendall, the movement fails to see how gender intersects with race, class, sexual orientation, and ability.
3. Sister Outsider – Audre Lorde
This must-read illuminates the necessity to explicate the concept of difference—difference according to sex, race, and economic status.
4. Feminist Theory: From Margin To Center – bell hooks
bell hooks suggests that feminists have not succeeded in creating a mass movement because the foundations have not accounted for the complexity and diversity of female experience. bell hooks suggests that feminist theory must transform its own definition to encompass the lives and ideas of women on the margin.
5. Bad Feminist – Roxane Gay
Gay takes us on the journey of her evolution as a woman of color while also examining how culture and feminism have changed over the last few years.
6. Women, Race and Class – Angela Davis
Davis' book is a powerful critique of the women's movement in the U.S. She exmplains how the movement has been hampered by the racist and classist biases of its leaders.
7. Critical Race Theory: The Key Writings that Formed the Movement – Kimberle Crenshaw, Garry Peller, Kendall Thomas, Neil Gotanda.
This reader, edited by the principal founders and leading theoreticians of the critical race theory movement, gathers together for the first time the movement's most important essays on race, class, gender and identity.
Memoir
1. Between The World And Me – Ta-Nehisi Coates
Beautifully woven from personal narrative, reimagined history, and emotionally charged reportage,Coates clearly illuminates the past, bracingly confronts the present, and offers a transcendent vision for a way forward.
2. Barracoon: The Story of the Last "Black Cargo" – Zora Neal Hurston
Based on interviews, featuring Cudjo's unique vernacular, Hurston masterfully illustrates the tragedy of slavery and of one life forever defined by it.
3. I Know Why The Caged Bird Sings – Maya Angelou
This autobiography describes the early years of American writer and poet Maya Angelou. The first in a seven-volume series, it is a coming of age story that illustrates how character and kindness can help overcome racism and trauma.
4. The Book of Delights – Ross Gay
This is a meditation on delight that also presents a view of the complexities, even the terrors, in Gay's life, including living in America as a black man, the ecological and psychic violence of our consumer culture, and the loss of loved ones.
Poetry
1. Soft Magic – Upile Chisala
soft magic. is the debut collection of prose and poetry by Malawian writer, Upile Chisala. This book explores the self, joy, blackness, gender, and survival.
2. Bone – Yrsa Daley-Ward
Each of the poems in Daley-Ward's short collection resonate to the core of what it means to be human – from societal expectations of being a woman to growing up as a first generation Black immigrant.
3. Life on Mars – Tracy K. Smith
Smith imagines a soundtrack for the universe to accompany the discoveries, failures, and oddities of human existence.
4. Salt – Nayyirah Waheed
This is my all-time favourite collection of poetry. Waheed's raw and simple words reflect topics as diverse as racism, childhood abandonment, bisexuality, gender, Black identity, trauma and healing, writing, and love.
Do you have any recommendations?
Written by: Dipali Anumol, PhD Candidate, F19
For the original blog post and more of Dipali's writing on her experiences as a PhD student, mental health, and feminism, visit Dipali's blog: Field Notes from a Feminist Researcher.