The Women of Myanmar Sure Know How to Get the Junta's Knickers in a Knot
By: Sarah Rose Morehouse MALD F'22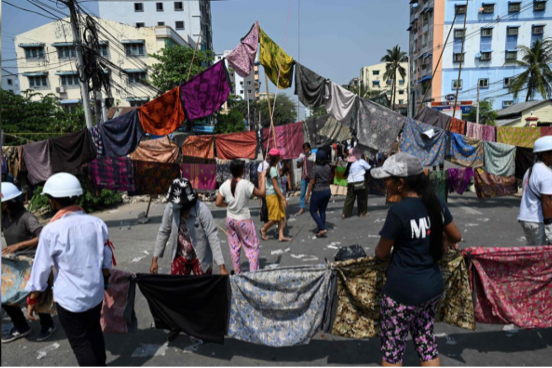 In the streets of Yangon, where makeshift barricades, barbed-wire, and the United Nations Security Council have all failed to protect civilians, an unlikely tactic has stopped the Junta in its tracks– women's undergarments.
On the morning of February 1, 2021, mere hours before Myanmar's parliament convened to certify the National League of Democracy (NLD) as the winning party of the 2020 elections, armored vehicles tore through the streets of Yangon. In a series of raids, Myanmar's Military (called the Tatmadaw) arrested General Secretary Aung San Suu Kyi, President Win Myint, and other leaders of the NLD, effectively seizing power in the first Coup d'état since 1962.[1]
The Coup put a dramatic end to the quasi-democracy that began in 2011. Though the international community has applauded the efforts of the Myanmar government to establish democracy, this freedom has not been felt by all. Under the NLD, ethnic areas have seen the continuation of a brutal 72-year long civil war, widespread human rights violations, ethnic cleansing, and acts of genocide against an ethnic minority population.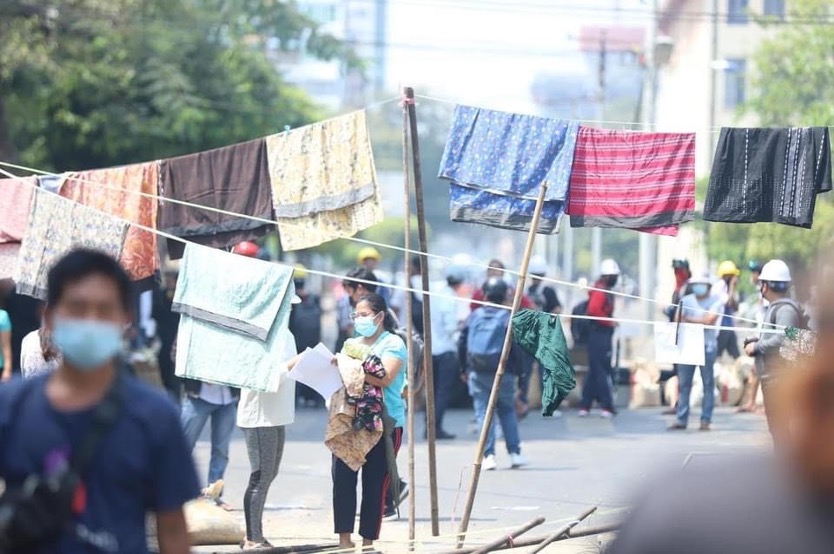 A wave of dissent gripped the nation . Many civilians, fearing that military rule would lead to a return to or escalation of violence, took to the streets in protest. Standoffs between protestors and the military have intensified. In addition to the use of tear gas, rubber bullets, and mass arrests, the military is firing rounds of live ammunition at peaceful protestors.[2]
While the military brutality targets civilians indiscriminate of gender, some argue that "women have the most to lose from the generals' resumption of full authority."[3] In addition to the horrific reality that Myanmar's military rapes women as a weapon of war[4], thinly veiled threats by the conservative General Min Aung Hlaing regarding a return to traditional gender roles foreshadows a further subjugation of women under Min Aung Hlaing who outwardly speaks of women as "weak and impure."[5]
Women across the country are flocking to the streets, and in acts that both defy and flout gender stereotypes are resisting the brutal military crackdown. Clotheslines draped with colorful, hand-sewn skirts (or longyis) are being erected in protest zones. And where barricades made of bamboo, tires, and debris have failed to protect protestors, the clotheslines of longyis and knickers have stopped security forces in their path.[6]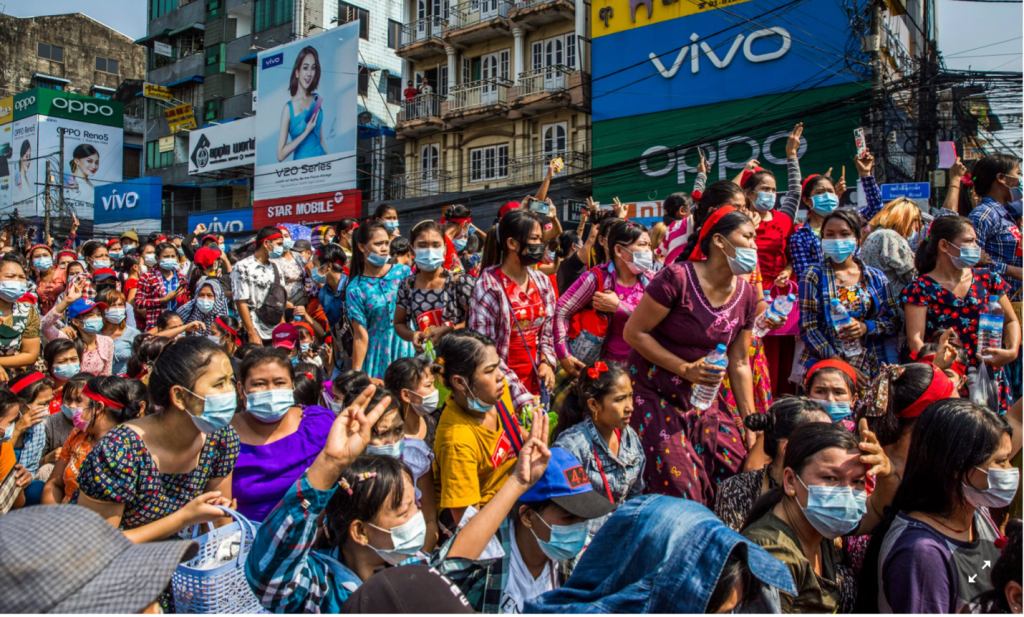 According to superstition, clothing that covers women's lower private areas sap men of their power and strength, known as "hpone". "In Myanmar, it is the belief that women are below men. If men touch or go underneath women's undergarments, they will lose their strength and luck. And if they go off to battle, they will lose for sure," explained Ahja, an activist in Myanmar and one of my closest friends. Women are "wielding this superstition as a defensive strategy"[7] as belief in this superstition is so prevalent that Tatmadaw soldiers are refusing to touch or pass by the garments.
The women of Myanmar are undeniably getting the Junta's knickers in a knot. As Cynthia Enloe exclaimed, "Map patriarchal masculine shame, then wield it!" This cheeky form of protest is aiding in the prevention of further violence, which has killed at least 60 people thus far. But as the situation escalates, the citizens of Myanmar will need more than colorful undergarments as protection. The United Nations Security Council and international community at large must unanimously condemn the actions of Myanmar's military and pressure it to return to democractic rule, lest it continues to terrorize its citizens with impunity.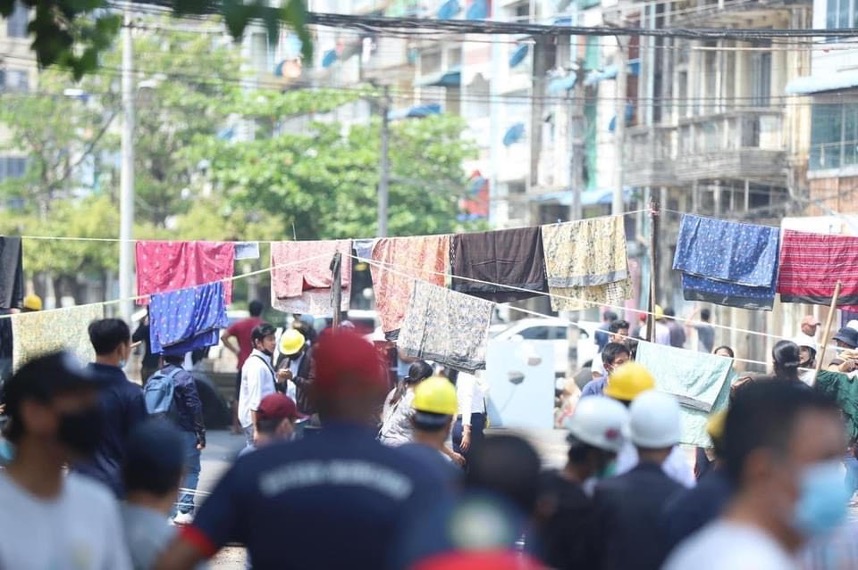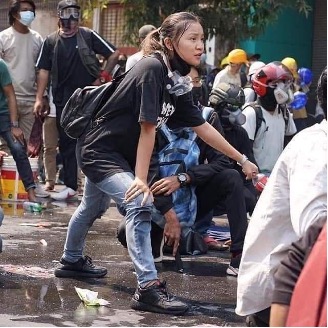 Prior to Fletcher, Sarah spent 2 years working in conjunction with local ethnic pro-democracy groups to train relief teams, document human rights abuses, and bring aid to civilians in the combat zones of Burma/Myanmar.
---
[1] Goldman, Russell. "Myanmar's Protests, Explained." The New York Times. The New York Times, February 1, 2021. https://www.nytimes.com/article/myanmar-news-protests-coup.html.
[2] "Reports: Myanmar Security Forces Kill at Least 34 Protesters." AP NEWS. Associated Press, March 4, 2021. https://apnews.com/article/myanmar-security-forces-kill-multiple-protesters-e378d9bc703f7363c71ca639d47df738.
[3] Beech, Hannah. "'She Is a Hero': In Myanmar's Protests, Women Are on the Front Lines." The New York Times. The New York Times, March 4, 2021. https://www.nytimes.com/2021/03/04/world/asia/myanmar-protests-women.html.
[4] Morehouse, S. R. (2020). Rape as a Weapon of War and the Women who are Resisting. Free Burma Rangers.
[5] Beech, Hannah. "'She Is a Hero': In Myanmar's Protests, Women Are on the Front Lines." The New York Times. The New York Times, March 4, 2021. https://www.nytimes.com/2021/03/04/world/asia/myanmar-protests-women.html
[6] "Superstitions about Women's Clothes Help Protesters Skirt Myanmar's Junta." The Japan Times, March 5, 2021. https://www.japantimes.co.jp/news/2021/03/05/asia-pacific/longyi-power-myanmar/.
[7] Ibid.