Putting a Puzzle Together: How classrooms are scheduled for AS&E courses
From cozy seminar rooms to giant auditoriums, our classrooms and learning spaces host more than 2,500 Arts, Sciences, and Engineering courses every semester. Nicole Reppucci Mahoney, Academic and Event Scheduling Coordinator at the AS&E Office of the Registrar, answers some questions about the classroom scheduling process.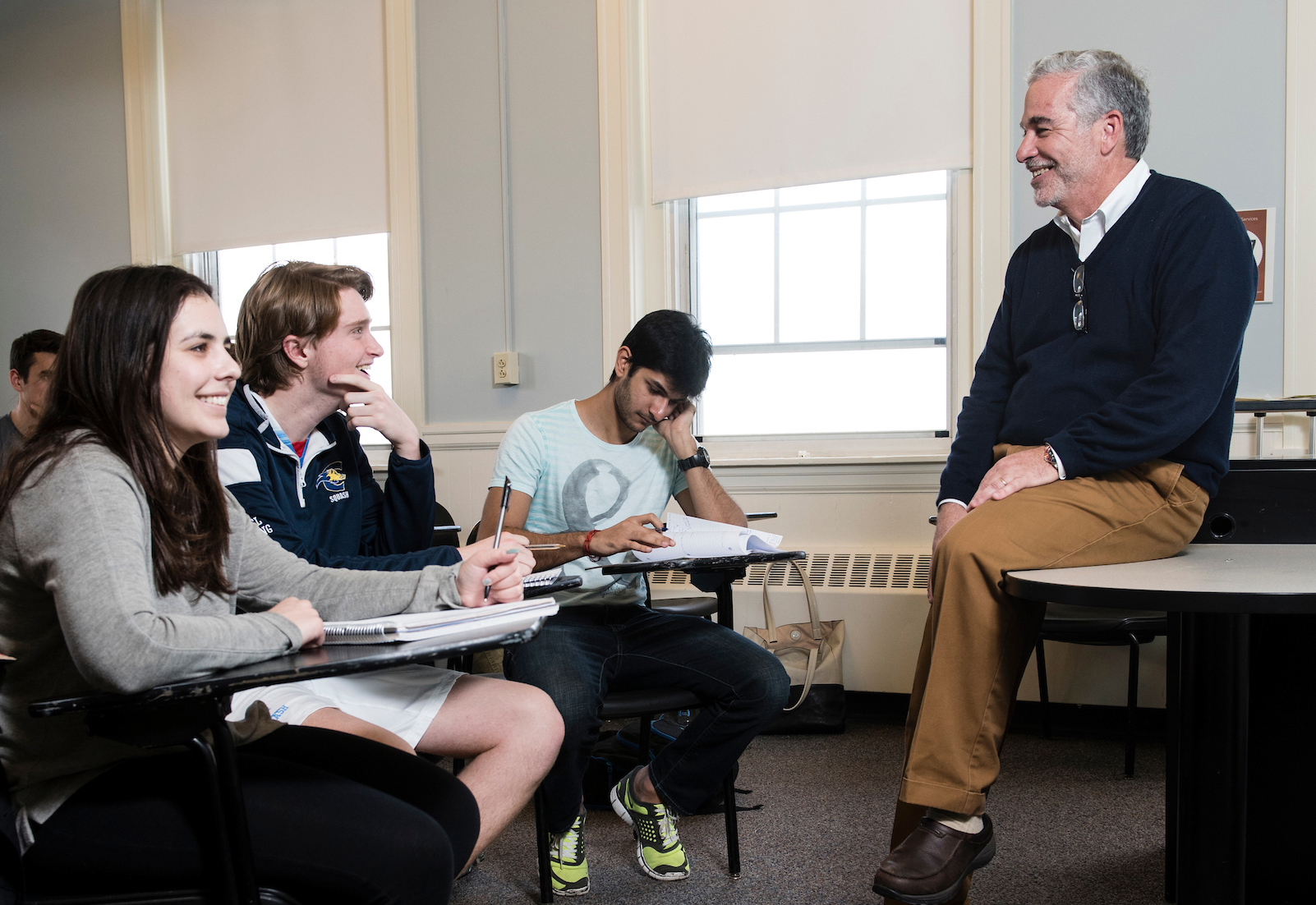 When does the Registrar's office start the process of scheduling classrooms for the semester?
At the start of each semester, the Registrar's office opens up the course data entry period for all academic departments. This is when the department staff enter in all of their course information into SIS. For fall semester courses, we open this up at the beginning of the spring semester, and close it after the first four weeks of classes, so departments usually have until the third week of February to add their course information and make any changes in SIS. For spring semester scheduling, we open this up at the beginning of the fall semester, and close it during the first week of October. After the data entry period is closed, I review all the data that has been submitted and start the process of scheduling classrooms for that semester.
Can you give us an overview of how classrooms get scheduled? How many people are involved? Is any of it automated?
I am typically the only person involved in classroom scheduling (with a few other staff in the Registrar's office serving as backup for when I am out of the office). We have found that having one person responsible for classroom scheduling, as well as the management of space reservations on campus, provides less confusion surrounding space utilization, and leaves minimal room for conflicts and scheduling issues than it would if multiple people and/or departments shared the scheduling responsibilities.
Once the course data entry period is over, I pull reports with all of the scheduling information that has been submitted by the academic departments. Specific items I look for are the course meeting dates and times, enrollment, and requested features (such as technology, types of seating, writing surfaces, location, etc.). After reviewing this data, I start the process by manually scheduling all courses that have an enrollment of 50 or more students. It's like putting a puzzle together— figuring out where each course should be scheduled based on all of the 50+ courses in that time block and the large spaces we have available. Since most of the large capacity rooms have the same features (i.e., fixed seating, full technology), I look first at highest enrollment capacity, and schedule that course in the largest room, and then go down the list from there. I then go back and look to see if there are any specific room or feature requirements that were requested. For example, if a department has requested a chalkboard or whiteboard for a course, I would not be able to schedule it in Cohen Auditorium because there is no writing surface.
After the large courses are scheduled, I transfer all of the course data from SIS into EMS, our room scheduling software. I then run the automated scheduling process for the remainder of the courses. This process optimizes room utilization based on course enrollment and requested features. I start with all of the "Home Court Advantage" courses first, meaning I run the scheduling process of one department's courses against all of the available rooms in their "home" building. For example, I will run the process for all Philosophy courses against all of the rooms in Miner Hall. Once all courses have been scheduled in their home court building that are able to be scheduled there, I run the scheduling process for all subjects against all available classrooms on campus. After all courses have been assigned, I manually go through each course to ensure that it is in a suitable space based on the information I have, and make changes and swaps where necessary. With 2,500+ courses each semester, this is the most time-consuming aspect of the scheduling process.
When can I see the room assignment for my course?
We aim to have all courses scheduled in a room by the time registration for that semester begins so we are not required to make any changes (meeting times/days, enrollment, etc.) once students are already enrolled. At that time, all locations are published on SIS, so instructors can view their course locations on their course schedule. If changes need to be made, please request them sooner rather than later, by either contacting your department administrator, or requesting the change in writing to course_updates@ase.tufts.edu (link sends e-mail).
I checked the room assignment for my course during registration, but it has since changed. What happened?
Since the first room we assign to many courses might not be deemed suitable by the instructor or department, we need to make changes and swaps between registration and the start of the semester. We recommend that instructors check the room assignment both around registration when they are initially posted, and then again closer to the start of the semester to ensure that the assigned room is a good fit for the course.
What's the biggest challenge you face in classroom scheduling?
My biggest challenges in scheduling classrooms all relate to one another. Departments tend to schedule the majority of courses in what we call "Prime Time" scheduling blocks—any block that falls into the time period of Monday-Thursday 10:30am-4:00pm. When the majority of courses are scheduled during this time, we have limited space available to accommodate all courses. What further exacerbates the issue is the "Home Court Advantage" policy, and the fact that not all spaces are created equal. Trying to accommodate the enrollment needs, specific feature requests, and desired location in the prime time blocks is extremely difficult. I'm also seeing an increase in the desire for seminar/conference style rooms with technology, but we only have a limited selection of these rooms to choose from that are available to be scheduled by the Registrar's office. Most of these style rooms are managed by individual departments and not available for courses.
How has the process changed over the years?
The biggest change that has occurred since I've been in this position is the fact that we used to roll course locations from year to year. What this means is if a course was taught in the previous "like" semester (fall-fall, spring-spring), it would be scheduled in the same room. While many instructors liked having the same room every year, this was extremely problematic for scheduling. As new courses are added to the schedule, we were able to accommodate fewer and fewer requests, and found that our seat utilization was extremely poor. We also migrated to a new scheduling software, in which we are able automate some of the process and gain valuable room utilization statistics.
How do you think the process will change in the future?
The biggest change I anticipate is the "Home Court Advantage" going away in most cases—there are departments that need home court advantage for certain courses, such as the sciences, in order to be in the specialized rooms that house lab equipment. However, these are the departments that are properly utilizing the number of seats in the rooms and scheduling outside of prime time blocks in order to accommodate all of their courses. We understand that there are many benefits to courses being scheduled in their "home" building—proximity to faculty offices, familiarity with technology in those particular classrooms, students in the program having a sense of "home" in the building, among others, but it is most often not the best use of the University's space resources.
Photo: Alonso Nichols/Tufts University