Virtual Classroom Visits Focus on Student-Centered Teaching at Tufts
Virtual Classroom Visits is a video series in which Tufts faculty from across disciplines and departments are recorded teaching, then later are interviewed while observing themselves on video and reflecting on specific moments of interaction with their students.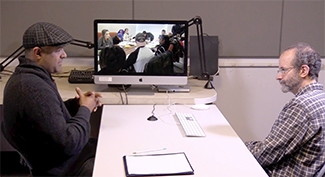 The episodes are part of the ongoing Student-Centered Teaching at Tufts project developed by David Hammer, Professor of Education and Physics, and Philip Gay, Project Manager for the Department of Education's Technology Learning and Media Center. The series seeks to offer insights into how faculty members elicit students' ideas and questions, interpret and respond to students' thinking, and encourage disciplinary reasoning practices.
Virtual Classroom Visits episodes include:
This Virtual Classroom Visits trailer offers a glimpse of the kinds of insights faculty members gain into their teaching methods: