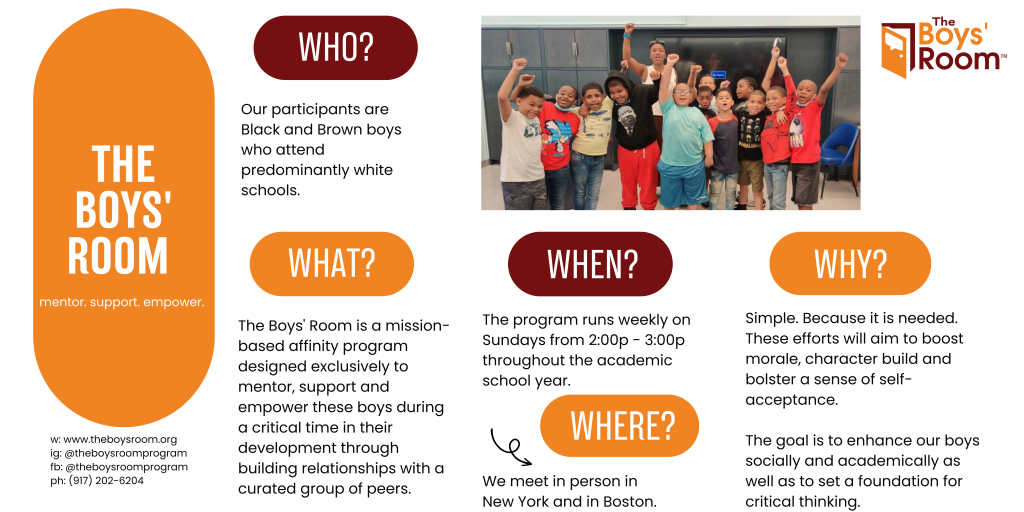 Seeking a Program Assistant/Intern/Instructor for the 2022-2023 academic school year. All are welcome to apply but a Black/Brown male student in their junior/senior or graduate year is preferred. The responsibilities of the Program Assistant/Intern/Instructor would be the following but are not limited to:
Attending weekly staff meetings in person and/or online
Attending weekly Boys' Room Group Meetings in person and/or online
Assisting Program Founder with devising weekly curriculum for the kids
Researching topics assigned by Program Founder
Organizing and coordinating visits for guest speakers
Seeking Leadership workshops for participants to attend
Identifying community service opportunities for participants to attend
Helping to maintain (Trello) calendar
Sending weekly informational emails to parents
Maintaining Social Media posts on FB and IG
Must be familiar with google docs
The hours needed weekly are anywhere from 6-10 hours.
For more information on this position, click here.
For more information on The Boys' Room, you can visit their website or view this informational video.