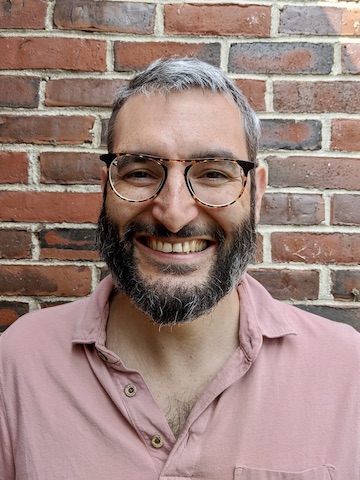 Matthew Slepin
Head Teacher, Orange Room
Matt has lived in quite a few places and pursued a number of interests. He taught courses in the evolving concept of magic in medieval Europe at Northwestern University and wrangled dishes at a dude ranch in the Sangre de Cristos mountains of Colorado. He taught Elizabethan history on a living history museum that not only sailed around Great Britain, but right through Loch Ness (he didn't see any monsters though). For almost a decade, Matt worked in Maui, Hawaii on community development issues. He spent some time teaching in the Concord and Cambridge public school systems, as well as at the Cambridge Friends School, before landing at Eliot-Pearson Children's School. His son says that he makes the best cinnamon rolls that he has ever eaten!
Katie Hustins
Assistant Teacher, Orange Room
Katie attended UMass Amherst and studied Sociology, Psychology, and Education. She has worked in schools for over six years and has worked with children from ages three to eighteen. During the school year, Katie is an assistant teacher in the Orange Room and during the summer is the head counselor of the green room. The areas of teaching she feels most passionately about are social justice awareness, being connected to nature and other living things, and literacy including poetry and writing stories.
Gabriela Herrera
Head Teacher, Green Room
Gaby has been in the field of early childhood education for over nine years. She has held both classroom and administrative positions in different school settings. Her experience working in several countries and with diverse populations have helped her understand the value of culturally diverse practices and integrating it into her daily work. Gaby is committed to fostering an environment, both physical and emotional, where every member feels safe and confident to explore, take risks, and be themselves. She is passionate about enabling students to use their unique perspectives and talents to contribute to their community. Gaby holds a B.A. in Psychology from Universidad de las Americas in Mexico City and an M.A. in Child Study and Human Development from Tufts University. When she is not working, she enjoys exploring local art and culture, cooking hiking, and traveling (when the world was a different place).
Danielle Hart
Assistant Teacher, Green Room
Danielle graduated from Connecticut College in 2018, where she studied English and Studio Art. She has worked extensively with children of all ages as an assistant teacher, nanny, camp counselor, and tutor. She has also worked as a Child Life Assistant at the Dana-Farber Jimmy Fund, where she used art and play activities to develop therapeutic relationships with pediatric hematology and oncology patients and their families. Danielle is passionate about fostering growth through creativity and self-expression. She is committed to supporting each child and to creating a safe, inclusive, and integrated learning environment. In her free time, she loves reading, making art, playing soccer, and spending time with friends and family. She is thrilled to be back with her Green Room and Life Project classes for another year of learning and growing!
Sarah Hausler
Head Teacher, Purple Room
Sarah is thrilled to join the EPCS community, returning to her Boston roots after living in the New York City area for the past six years. She went to the University of Vermont, receiving her Bachelor of Science in Early Childhood Education. There, she completed her teaching practicum at the University of Vermont's Campus Children's Center and felt inspired by the lab school environment. She is thrilled to be able to work in a similar environment at EPCS. After college, she worked at the JCC Manhattan Nursery School, a progressive school in the Upper West Side of Manhattan. Sarah earned her master's degree in Early Childhood Special Education from Fordham University in Fall 2018. Her favorite time of the school year is the Fall, when she gets to know her students and their families. She's looking forward to building a warm, inviting, and exciting learning environment. Sarah feels passionate about growing a generation of accepting and tolerant people, beginning with a classroom that prioritizes anti-bias education. During past summers, Sarah has worked at URJ Crane Lake Camp in the Berkshires alongside her husband and their spunky little dog, Buddy. She loves to cook, exercise, and read (especially historical fiction novels).
Eric Barrese
Assistant Teacher, Purple Room
Working in various childcare capacities as an Arts Lead Coordinator, Outdoor Living Specialist, and Assistant Music Teacher, Eric brings a love of music and excitement about nature to the classroom. He is children-centered, creative, and community-oriented. He is committed to maintaining a compassionate and caring classroom. In his prior position as Administrative Coordinator at Judge Baker Children's Center in the Massachusetts Child Abuse Emergency Line department, he gained insight into the child welfare processes that encompass the state. Eric is a graduate of Clark University, where he studied History, Geography, and Women's and Gender Studies. In his free time, he enjoys writing songs, reading the news, and spending time with his Shih Tzu. Eric is ecstatic to join the EPCS community.
Deanna Lieberman Flug
Head Teacher, Rainbow Room
Deanne is so excited to meet everyone and begin new adventures with her Rainbow Room class. One can usually find Deanna hiking mountains in New Hampshire or Vermont or reading a book in just about any corner she can find. She went to school at the University of Vermont where she studied Early Childhood Special Education and later went to Lesley University for her Master's in Education. This is her first year at Eliot-Pearson and she is thrilled to be learning and figuring out together with her children in the Rainbow Room on what works for everyone. Her favorite book to read with children is Giraffes Can't Dance by Giles Andreae. Deanna got married on Labor Day Weekend!
Jordin Luxenberg
Floating Teacher
This year is Jordin's third year at Eliot Pearson Children's School and marks over five years working full-time in classrooms. She is the Float Teacher, a.k.a., as the children say, "The Teacher That Works in All the Classrooms!" Jordin has a Bachelor of Arts Degree from Lesley University. She is currently pursuing an online master program at Teachers College, Columbia University, in Developmental Disabilities. In her spare time, she volunteers at Boston Children's Hospital. She enjoys exploring the city, watching documentaries, and catching up with friends. She is looking forward to another year of learning, growing and, exploring!