Andrey Makarychev: Russia and the EU: Spaces of Interaction in Times of Crisis
January 29, 2019 @ 5:30 pm

-

7:00 pm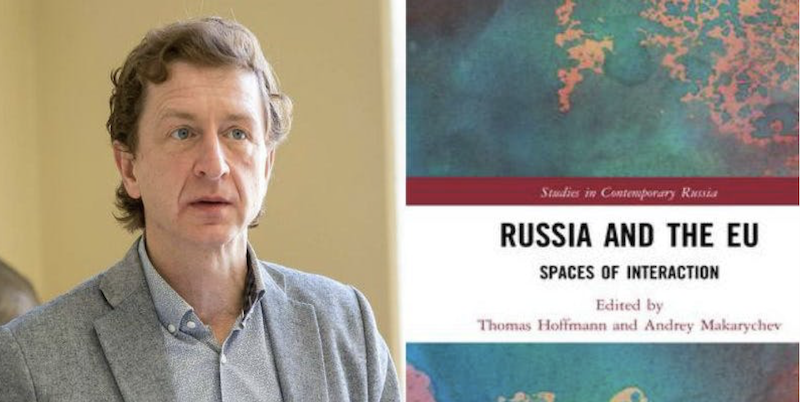 Please join the Russia and Eurasia Program at The Fletcher School for a book talk by Professor Andrey Makarychev of the University of Tartu on "Russia and the EU: Spaces of Interaction in Times of Crisis." He will discuss relations between Russia and the European Union after the outbreak of the Ukrainian crisis in 2014. Refreshments will be provided. Attendance is by registration only on Eventbrite.
Andrey Makarychev is Visiting Professor at the Johan Skytte Institute of Political Studies, University of Tartu. Before he came to Tartu, he was Alexander von Humboldt Foundation Fellow at the Institute for East European Studies, Free University of Berlin, as well as Professor of International Relations at the Linguistic University (Nizhny Novgorod, Russia). His research interests include Russian foreign policy discourses, international security and regionalism in EU – Russia common neighborhood. He has worked for the Center for Security Studies and Conflict Research, ETH Zurich (2000-2001) and the Danish Institute for International Studies (DIIS), Copenhagen (2003-2004). He was visiting fellow at several European and U.S. Research Institutes, among them the Copenhagen Peace Research Institute; Kennan Institute for Advanced Russian Studies (Washington, D.C.); George Mason University, Fairfax, and the JFK Institute for North American Studies, Free University of Berlin.
Russia and the EU: Spaces of Interaction (2018) is an important resource for researchers in Russian and Soviet Politics, Eastern European Politics and the policy, politics and expansion of the European Union. The annexation of Crimea in 2014 and Russia's support for military insurgency in eastern Ukraine undermined two decades of cooperation between Russia and the EU leaving both sides in a situation of reciprocal economic sanctions and political alienation. What is left of previous positive experiences and mutually beneficial interactions between the two parties? And, what new communication practices and strategies might Russia and Europe use? Previously coherent and institutionalized spaces of communication and dialogue between Moscow and Brussels have fragmented into relations that, while certainly not cooperative, are also not necessarily adversarial. Exploring these spaces, contributors consider how this indeterminacy makes cooperation problematic, though not impossible, and examine the shrunken, yet still existent, expanse of interaction between Russia and the EU. Analysing to what extent Russian foreign policy philosophy is compatible with European ideas of democracy, and whether Russia might pragmatically profit from the liberal democratic order, the volume also focuses on the practical implementation of these discourses and conceptualizations as policy instruments.