Geopolitics in the South Caucasus: Implications for U.S. Foreign Policy
February 24, 2021 @ 9:00 am

-

10:30 am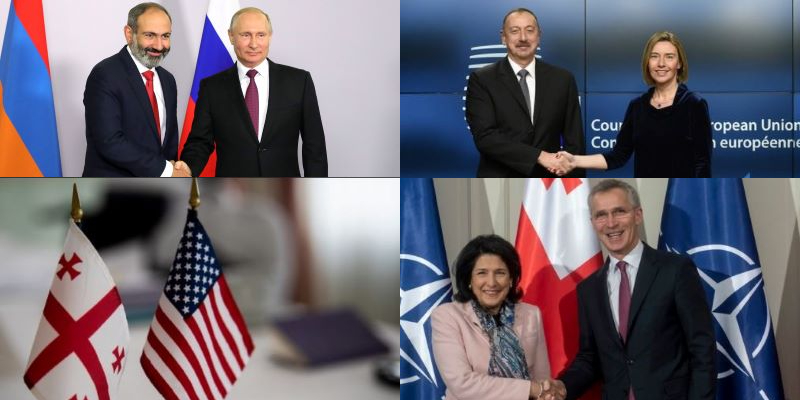 The Fletcher School of Law and Diplomacy at Tufts University and the Sokhumi State University in Tbilisi, Georgia welcome you to an online roundtable discussion among U.S. and Georgian experts on geopolitics in the South Caucasus. The event will be chaired by Deborah Nutter, former Senior Associate Dean and Professor of Practice at The Fletcher School. Please make sure to register via myFletcher to participate in the event on Zoom.
Questions:
What interests does the United States have in the South Caucasus?
How can the United States help preserve regional stability and prevent conflict escalation in Nagorno-Karabakh, South Ossetia, and Abkhazia?
How can the United States contend with the regional interests of Russia, China, Turkey, and Iran? How can the United States coordinate its policy toward the region with the European Union?
How will U.S. priorities in the region change over the next four years? Will the Biden administration expand U.S. support for democratic change, better governance, and international integration of Georgia, Armenia, and Azerbaijan?
Speakers:
| | |
| --- | --- |
| | Zurab Khonelidze is the rector of the Sokhumi State University (SU). Khonelidze is a graduate of the Faculty of History and Law of the Tbilisi Ivane Javakhishvili State University. Since becoming the Rector of the SU, Khonelidze led the effort to develop the concept of University Diplomacy, which has become a flagship academic program in the SU and has increasingly been shared among academic institutions in Georgia. As a passionate educator, Khonelidze deeply believes that education can serve as an intellectual bridge among societies torn by ethnic strife. He has authored an important work on Georgia and regional politics titled The Georgian Paradigm of Peace, where he makes a significant contribution to the intellectual milieu of the field of international relations and offers the South Caucasus as a geopolitical space open to be explored by the United States and the regional powers as a platform for peace. Prior to joining the SU, Khonelidze served as a diplomat and is an honorary recipient of the diplomatic rank of the Ambassador Extraordinary and Plenipotentiary to the Common Wealth of Independent States (CIS) and the Head of the Diplomatic Mission of Georgia to Belarus. He was awarded the highest diplomatic title by the government of Georgia in 1997. |
| | Lasha Kasradze is a graduate of the GMAP program of The Fletcher School of Law and Diplomacy at Tufts University. In 2020, he was appointed by the rector of the Sokhumi State University (SU) as a liaison and strategic business development officer. In this capacity, he leads the effort to raise awareness of the SU and the intellectual contribution it makes to the field of international affairs and regional security to the academic community in the United States. In his capacity as an international relations analyst with a focus on transatlantic security, Russia, and the South Caucasus, he has shared his analyses on the geopolitical podcast of Stratfor and has written for the Center for New America and New Eastern Europe. |
| | Levan Geradze is the Director of the Center for Peace Education of the Sokhumi State University and the Chief of Board at Association School of Attorneys of Georgia. Levan has extensive experience in the government institutions of Georgia. In 2007-2010, he served as a special assistant and later as a chief advisor to the Chairman of the Government of Abkhazia. In 2004–2007, he was a chief advisor to the State Minister of Georgia on conflict resolution issues. In 2001-2004, he served as a director of the Legal Department of the Office of the Minister for Special Affairs of Georgia. Prior to this position, he was responsible for legal affairs in the Ministry for Special Affairs of Georgia, a position he held in 2000-2001. Levan also has experience working in the civil society sector, and in 1999-2000 was a member of the board of the NGO Alliance for Unity of Georgia. His professional background also includes work in Committees of Foreign Affairs and Constitutional Legal Affairs in the government of Georgia. |
| | Tornike Shurgulaia is an associate professor of the Faculty of Social and Political Sciences at Sokhumi State University (SU). He is an elected member of the Academic Board of the Faculty of Social and Political Science at SU as well as an elected member of the Georgian Academy of Education and Science. In 2013, he served in the Foreign Relations Committee of the Parliament of Georgia. In 2014-2015, he was a lecturer on global security for diplomatic staff at the Levan Mikeladze Diplomatic Training Centre in Tbilisi, Georgia, which is part of an initiative of the Ministry of Foreign Affairs of Georgia. Tornike founded the Thomas Jefferson Research Center in Georgia in 2014. He is the author of numerous books and articles on historical and political aspects of the Georgian foreign policy and relations with the United States. |
| | Valeri Chechelashvili is a Senior Fellow at the Georgian Foundation for Strategic and International Studies. Chechelashvili has held this position since 2016. He has been a visiting professor of Sokhumi State University since 2019. Chechelashvili has been a career diplomat since 1989. He held various positions in the Ministry of Foreign Affairs of Georgia from Second Secretary to Deputy Foreign Minister (1998 -2000). He was a Minister of Finance in 2005 and the First Deputy Foreign Minister (2005 -2007). He has served as Ambassador to Ukraine (1994 -1998), Ambassador to the Russian Federation (2004 -2005), Secretary-General of the Black Sea Economic Cooperation Organization (2000 -2004), and Secretary-General of the GUAM Organization for Democracy and Economic Development (2007 -2016). Chechelashvili graduated from the Kyiv State University, Faculty of International Relations and International Law, Department of International Economic Relations (1983) and completed a Ph.D. in International Economy (1987). Chechelashvili has been a recipient of numerous state honors. He is the author of numerous articles on diplomacy, regional economic cooperation, and international relations. |
| | Maia Otarashvili is a Research Fellow and Deputy Director of the Eurasia Program at the Foreign Policy Research Institute (FPRI). Maia also serves as the Deputy Director of Research at FPRI. She is co-editor of FPRI's 2017 volume Does Democracy Matter? The United States and Global Democracy Support. Her research interests include geopolitics and security of the Black Sea-Caucasus region, Russian foreign policy, and the post-Soviet "frozen" conflicts of Abkhazia, South Ossetia, and Transnistria. Maia is a Ph.D. candidate at the War Studies Department at King's College, London. She holds an M.A. in Globalization, Development, and Transition from the University of Westminster in London, with emphasis on post-authoritarian transitions. |
| | Chris Miller is Assistant Professor of International History at The Fletcher School and Co-Director of the Russia and Eurasia Program. He has previously served as Associate Director of the Brady-Johnson Program in Grand Strategy at Yale, a lecturer at the New Economic School in Moscow, a visiting researcher at the Carnegie Moscow Center, a research associate at the Brookings Institution, and a fellow at the German Marshall Fund's Transatlantic Academy. He has written two books, The Struggle to Save the Soviet Economy: Mikhail Gorbachev and the Collapse of the USSR (2016) and Putinomics: Power and Money in Resurgent Russia (2018). He received his Ph.D. and M.A. from Yale University and his B.A. in history from Harvard University. He also serves as Director of the Foreign Policy Research Institute's Eurasia Program. |