Responding to the Humanitarian Crisis in Ukraine
April 20 @ 5:30 pm

-

7:00 pm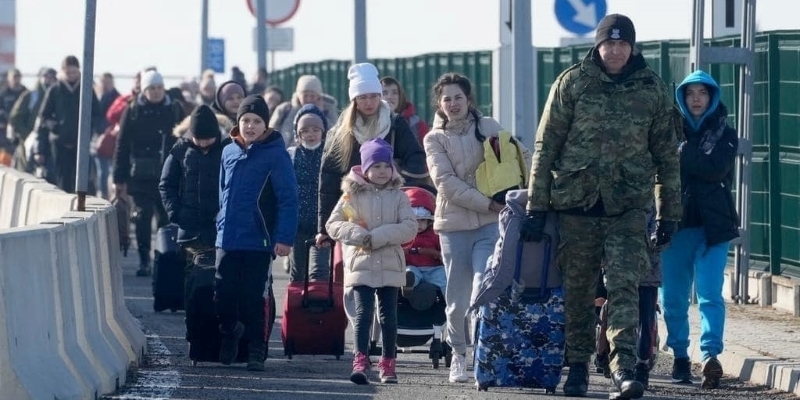 Please join the Russia and Eurasia Program at The Fletcher School for a conversation with professors of The Fletcher School and Tufts University. They will discuss international human rights and humanitarian law, allegations of war crimes committed by the Russian military, the impact of the war on women and children, as well as refugees and internally displaced people. The event is open to the public. Please make sure to register via myFletcher to participate in the event on Zoom.
Questions:
How many Ukrainians have fled their homes since the war began, and where have they gone? What are the rights, needs, and priorities of the refugees in the EU, Russia, and Belarus? How are the migrants being treated in their destination countries?
What humanitarian assistance and protection has been provided to Ukrainians? How has the international humanitarian aid system mobilized in response to the war?
What countries, nongovernmental organizations, and international organizations are most active in the humanitarian relief efforts? How is help being delivered to besieged cities such as Mariupol?
Do the refugees largely want to come back to Ukraine after the invasion? What help might be available to Ukrainians who are already returning to their homes amid Russian troops pulling back from cities such as Kyiv?
How has the war impacted women, children, and the elderly, including both those who remain in the combat zones and those who have been displaced by the hostilities?
What implications does the war have for international humanitarian and human rights law? What is the role of civilian militias, volunteer fighters, foreign fighters, and mercenaries in the war? Do they blur the line between combatants and non-combatants?
How might allegations of war crimes and genocide be investigated by Ukraine, Russia, and international bodies? Is the reported Bucha massacre an aberration or an example of Russian military tactics?
How has social media helped expose indiscriminate violence, summary execution, deportation, looting, targeting hospitals and schools, mistreatment of prisoners of war, and gender-based violence?
Who should be held accountable for the alleged atrocities? Who could someday be prosecuted for them? Will reconciliation between Ukraine and Russia ever be possible?
| | |
| --- | --- |
| | Dyan Mazurana, Ph.D., is Research Professor at the Friedman School of Nutrition Science and Policy and at the Fletcher School at Tufts University. At Fletcher, she co-directs the Gender Perspectives in International Studies field of study. She is also research director at the Feinstein International Center and a research fellow at the World Peace Foundation. Her areas of focus include women's and children's rights during armed conflict and post conflict, serious crimes and violations committed during armed conflict and their effects on victims and civilian populations, armed opposition groups and remedy and reparation. She works with a number of governments, U.N. agencies and NGOs on these areas. Her research interests include civilian populations' experiences of armed conflict, women's human rights, war-affected children, armed conflict, human security, protection, ex-combatants, transitional justice (remedy and reparation) and peacekeeping. |
| | Karen Jacobsen is the Henry J. Leir Professor in Global Migration at The Fletcher School of Law and Diplomacy at Tufts University, and directs the Refugees in Towns Project at the Feinstein International Center (Tufts). Professor Jacobsen's current research explores urban displacement and global migration, with a focus on the livelihoods and financial resilience of migrants and refugees, and on climate- and environment-related mobility. Her areas of expertise include refugee and migration issues, humanitarian assistance in developing countries, urban impact, and climate change and migration. She is currently at work on a book that examines the impact of displacement on cities. She consults and works closely with UNHCR and other UN agencies and international NGOs. |
| | Polina Beliakova is a Ph.D. candidate at The Fletcher School at Tufts University. Her research focuses on civil-military relations, intrastate conflict, and international security with a regional interest in Russia, Ukraine, and Israel. Being proficient in Russian, Ukrainian, Hebrew, and English she collects data through fieldwork, archival research, and the analysis of original sources. Her work had been published by Comparative Political Studies, Texas National Security Review, Perspectives on Terrorism, War on the Rocks, POLITICO, The Washington Post, and the World Peace Foundation. |
| | John Cerone holds faculty appointments at The Fletcher School at Tufts University, American University Washington College of Law, and the University of London. As a practicing international lawyer, he has worked for a number of IGOs and NGOs, including the U.N., the OSCE, the International Secretariat of Amnesty International, the Norwegian Refugee Council, and the International Crisis Group, and has served as a legal adviser to various international criminal tribunals. He also has extensive field experience in conflict and post-conflict environments, including in Afghanistan, Kosovo, Sierra Leone, and East Timor. He is an elected member of the International Institute of Humanitarian Law (IIHL) and has served on a number of expert groups for the International Committee of the Red Cross (ICRC) and for the Office of the U.N. High Commissioner for Human Rights. He served as Special Adviser to the first U.S. delegation to the U.N. Human Rights Council. His areas of expertise are Human Rights and International Business, Human Rights and Humanitarian Law, International Criminal Law , Refugee Law and Migration Law, International Courts and Tribunals, Hate Speech and the Freedom of Expression, Gender and International Law, Non-state Actors in International Law and International Law in Conflict and Post-conflict Settings. |
| | Arik Burakovsky is Assistant Director of the Russia and Eurasia Program at The Fletcher School. His research interests include the political role of the international media, public and elite opinion, soft power, public diplomacy, and U.S.-Russia relations. While pursuing his MALD from The Fletcher School, Arik interned in the Public Affairs Section at the U.S. Embassy Moscow and studied the Polish language and culture as a Boren Fellow at the University of Warsaw in Poland. He has twice served as Resident Director for the ROTC Project GO intensive summer Russian language program in Narva, Estonia, which is conducted in cooperation between the University of Pittsburgh and the University of Tartu Narva College. Arik received his B.A. in Political Science and International Relations at the University of California, San Diego. |