Kathryn Stoner: Russia Resurrected: Its Power and Purpose in a New Global Order
April 14, 2022 @ 5:30 pm

-

6:45 pm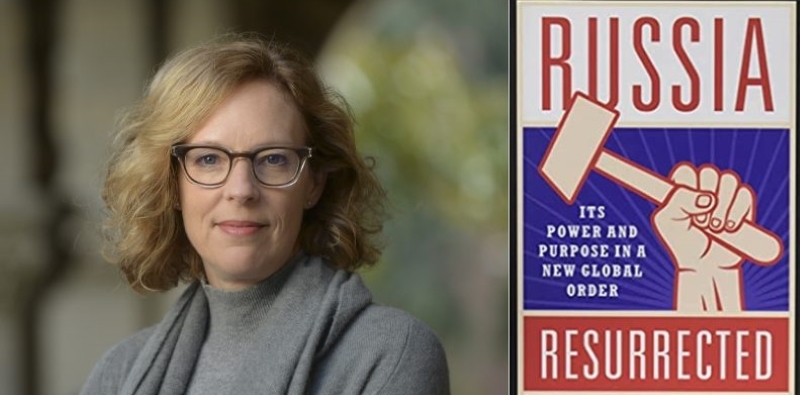 The Russia and Eurasia Program at The Fletcher School is pleased to award its third annual U.S.-Russia Relations Book Prize to Professor Kathryn Stoner of Stanford University for her new book Russia Resurrected: Its Power and Purpose in a New Global Order (2021). The award recognizes an outstanding book on historical or contemporary foreign policy discourse pertaining to the past or present of U.S.-Russia relations. Please join us for a book talk by Stoner about Russia's strength and capacity to disrupt international politics. The event is part of the 2022 Fletcher Political Risk Conference. Please make sure to register via myFletcher to participate in the event either in person or on Zoom. Refreshments will be provided.
Too often, we are told that Russia plays a weak hand well. But, perhaps the nation's cards are better than we know. Russia ranks significantly behind the US and China by traditional measures of power: GDP, population size, overall health, and military might. Yet 25 years removed from its mid-1990s nadir following the collapse of the USSR, Russia has become a supremely disruptive force in world politics. Kathryn Stoner assesses the resurrection of Russia and argues that we should look beyond traditional measures of power to assess its strength in global affairs. Taking into account how Russian domestic politics under Vladimir Putin influences its foreign policy, Stoner explains how Russia has battled its way back to international prominence.
From Russia's seizure of Crimea from Ukraine to its military support for the Assad regime in Syria, the country has reasserted itself as a major global power. Stoner examines these developments and more in tackling the big questions surrounding Russia's turnaround and future as an international actor. Stoner marshals data on Russia's political, economic, and social development and offers insights that shed new light on its domestic politics. Russian people are wealthier than the Chinese, debt is low, and fiscal policy is well-managed despite sanctions and a volatile global economy. Putin's autocratic regime faces virtually no organized domestic opposition. Yet, mindful of maintaining control at home, Russia under Putin also uses its varied power capacities to extend Russia's influence abroad. While we often underestimate Russia's global influence, the consequences are evident in the disruption of politics in the US, Syria, and Venezuela, to name a few countries. Russia Resurrected is an eye-opening re-assessment of the country, identifying the actual sources of its power in international politics and why it has been able to create so many problems for the West.
Kathryn Stoner is the Mosbacher Director at the Center on Democracy, Development and the Rule of Law, and a Senior Fellow at the Freeman Spogli Institute for International Studies. She is also Professor of Political Science (by courtesy), and a Senior Fellow (by courtesy) at the Hoover Institution at Stanford University. Prior to coming to Stanford in 2004, she was on the faculty at Princeton University for nine years, jointly appointed to the Department of Politics and the Princeton School for International and Public Affairs (formerly the Woodrow Wilson School). At Princeton, she received the Ralph O. Glendinning Preceptorship awarded to outstanding junior faculty. She also served as a Visiting Associate Professor of Political Science at Columbia University, and an Assistant Professor of Political Science at McGill University. She has held fellowships at Harvard University as well as the Woodrow Wilson Center in Washington, DC. She received a BA (1988) and MA (1989) in Political Science from the University of Toronto, and a Ph.D. in Government from Harvard University (1995). In 2016 she was awarded an honorary doctorate from Iliad State University, Tbilisi, Republic of Georgia.