Serhii Plokhy: Chernobyl: The History of a Nuclear Catastrophe
October 16, 2019 @ 5:30 pm

-

7:00 pm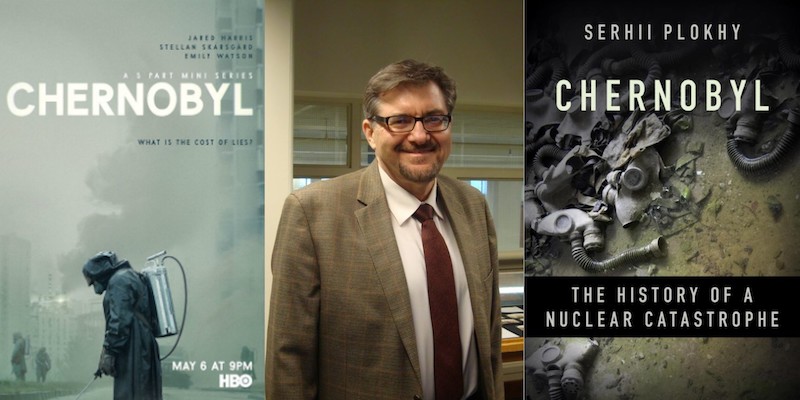 Please join the Russia and Eurasia Program at The Fletcher School for a conversation with Serhii Plokhy about his book Chernobyl: The History of a Nuclear Catastrophe (2018). The book talk will be accompanied by a screening of selected scenes from the critically acclaimed HBO historical drama television miniseries Chernobyl (2019), created and written by Craig Mazin and directed by Johan Renck. Attendance is by registration only on Eventbrite.
On the morning of April 26, 1986, Europe witnessed the worst nuclear disaster in history: the explosion of a reactor at the Chernobyl Nuclear Power Plant in Soviet Ukraine. Dozens died of radiation poisoning, fallout contaminated half the continent, and thousands fell ill. Plokhy draws on new sources to tell the dramatic stories of the firefighters, scientists, and soldiers who heroically extinguished the nuclear inferno. He lays bare the flaws of the Soviet nuclear industry, tracing the disaster to the authoritarian character of the Communist Party rule, the regime's control over scientific information, and its emphasis on economic development over all else.
Serhii Plokhy is the Mykhailo Hrushevsky Professor of Ukrainian History at Harvard University and the director of the Harvard Ukrainian Research Institute. A leading authority on Eastern Europe, he has lived and taught in Ukraine, Canada, and the United States. Plokhy is the author of ten books, including the award-winning The Last Empire: The Final Days of the Soviet Union (2015), which received the Lionel Gelber Prize, the Pushkin House Russian Book Prize and the Antonovych Ukrainian Book Prize.