Ukraine-West Relations: Common Challenges and Opportunities
September 15, 2020 @ 12:00 pm

-

1:30 pm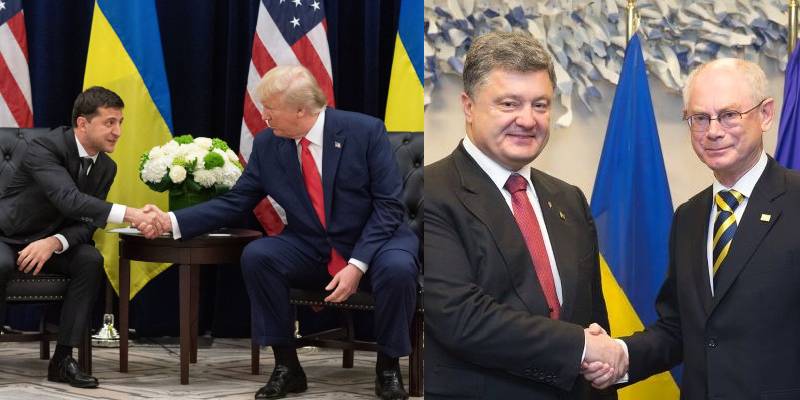 The Fletcher School of Law and Diplomacy at Tufts University and the Hennadii Udovenko Diplomatic Academy of Ukraine at the Ministry of Foreign Affairs of Ukraine welcome you to an online roundtable discussion on Ukraine-West relations. The speakers will identify the main common challenges and opportunities for the United States, the European Union, and Ukraine. The event will be chaired by Professor Chris Miller. Please make sure to register via myFletcher to participate in the event on Zoom.
Questions:
What lessons does the 2014 revolution in Ukraine provide the West in responding to mass protests and upheavals such as those currently taking place in Belarus?
How are the United States, the EU, and NATO perceived in Ukraine today?
How can Ukraine and NATO strengthen their cooperation to ensure security in the Black Sea and deterrence vis-à-vis Russia?
What has been the track record of Ukraine's relations with the EU since the establishment of the Deep and Comprehensive Free Trade Area in 2016? What are the most salient issues of convergence and divergence, such as energy and visa liberalization, for Ukraine and the EU?
How can Germany, France, and the United States assist Ukraine in negotiating with Russia over the war in Donbas and the annexation of Crimea?
What should be the agenda for Ukraine-U.S. relations beyond the 2020 presidential election?
Speakers:
Sergiy Korsunsky serves as Director of the Diplomatic Academy of Ukraine since 2017. He holds a diplomatic rank of Ambassador Extraordinary and Plenipotentiary. He has previously served as Ambassador of Ukraine to Turkey (2008-2016), Director-General of the Economic Department of the Ukrainian Ministry of Foreign Affairs (2006-2008), Minister-Counselor and Acting Ambassador at the Embassy of Ukraine in the United States (2000-2005), Deputy Director of the Department for Economic Cooperation at the Ukrainian Ministry of Foreign Affairs (1999-2000), Counselor for Economy at the Embassy of Ukraine in Israel (1994-1998). Korsunsky has extensive professional experience with strategic planning and development, including energy, trade, and investment policy, energy security, regional security, science, and technology. He earned a Doctor of Science Degree in Applied Mathematics in 1991 and is a well-known expert on the geopolitics of energy.
Yevgeniya Gaber is a Deputy Director of the Diplomatic Academy of Ukraine. She worked as a second secretary (political affairs) at the Ukrainian Embassy in Turkey (2014- 2018) and Associate Professor at the International Relations Department of Odesa National I. Mechnikov University (2009-2014). Gaber holds an M.A. in International Relations from Odesa National I. Mechnikov University (2007) and a Ph.D. in Political Science from Kyiv National T. Shevchenko University (2014). Her research interests include Black Sea regional security, with a focus on Turkish, Ukrainian, and U.S. policies towards the region. She has also specialized in the field of diplomatic interpretation and intercultural communication with an emphasis on the national, cultural, and religious aspects of international negotiation. Gaber has co-authored several books on the regional politics of the Black Sea and the Middle East and is a frequent speaker at international conferences. She is a Black Sea Young Reformers Fellow (2012-2013) and was selected as a Marshall Memorial Fellow (2000).
Volodymyr Dubovik is an Associate Professor at the Department of International Relations in the Faculty of International Relations, Political Science, and Sociology at the Odessa I. Mechnikov National University. He is also a Senior Research Fellow and Director of the Center for International Studies at Odessa I. Mechnikov National University. He earned his Ph.D. in Political Science from Odesa I. Mechnikov National University in 1996 with a dissertation titled "U.S. Policy towards Ukraine (1991 -1996): Analysis of Foreign Policy Concepts." He teaches courses on international relations theory, Ukrainian foreign policy, international conflict theory, and U.S. foreign policy.
Oxana Shevel is an Associate Professor in the Department of Political Science at Tufts University. Her research and teaching focus on the post-Communist region surrounding Russia and issues such as nation- and state-building, the politics of citizenship and migration, memory and religious politics, and challenges to democratization in the post-Soviet region. She is the author of Migration, Refugee Policy, and State Building in Postcommunist Europe (2011), which examines how the politics of national identity and strategies of the United Nations High Commissioner for Refugees shape refugee admission policies in the post-Communist region, leading countries to be more or less receptive to refugees. Shevel's current research projects examine the sources of citizenship policies in the post-Communist states; church-state relations in Ukraine; the origins of separatist conflict in Donbas; and memory politics in post-Soviet Ukraine. Shevel holds a Ph.D. in Government from Harvard University, an M.Phil in International Relations from the University of Cambridge in England, and a B.A. in English and French from Kyiv State University in Ukraine. Prior to coming to Tufts, she taught at Purdue University and held post-doctoral appointments at the Davis Center for Russian and Eurasian Studies and at the Harvard Ukrainian Research Institute.
Elizabeth Prodromou is Visiting Associate Professor of Conflict Resolution at The Fletcher School, where she directs the Initiative on Religion, Law, and Diplomacy. She is a Nonresident Senior Fellow in National Security and International Policy at the Center for American Progress and a Non-Resident Fellow at The Hedayah International Center of Excellence for Countering Violent Extremism. Prodromou previously served as Vice Chair and Commissioner on the U.S. Commission on International Religious Freedom (2004-2012) and was a member of the U.S. Secretary of State's Religion and Foreign Policy Working Group (2011-2015) under Secretaries Hillary Clinton and John Kerry. Her research interests focus on the intersection of religion, democracy, and security, with particular expertise on religion and geopolitics in the Near East and Southeastern Europe. Prodromou holds a MALD from The Fletcher School and a Ph.D. in Political Science from MIT.
Constantine Arvanitopoulos currently serves as Karamanlis Chair of Hellenic and European Studies at The Fletcher School. He is a Professor of International Relations at Panteion University in Athens. He previously served as Minister of Education of Greece; President of the European Council (level of Ministers of Education during Greece's Presidency of the EU in 2014; Chair of the Department of International and European Studies at Panteion University (2006-2010); Member of the High Council of the European University Institute in Florence (2004-2009); Senior Research Associate at the Wilfried Martens Center for European Studies; post-doctoral fellow at the Center for European Studies at Harvard University (1990-1992); Assistant Professor at the Department of Public and International Affairs at George Mason University (1992-1995). He has written books on transitions from authoritarianism to democracy, transatlantic relations, U.S. foreign policy, on European liberalism.