"Ukraine: Connected Histories & Vibrant Cultures" Exhibition at Tisch Library
By Sarah Baughn, MALD 2024 Candidate, The Fletcher School
As Russia justifies its invasion of Ukraine through the denial of Ukrainian statehood, the preservation of Ukrainian culture and history has become an issue of vital and immediate importance. Physically, many monuments and Ukrainian historical sites have been destroyed by the war. However, many communities around the world are working towards preserving more intangible Ukrainian history and art in order to counter the Russian narrative.
On March 6, 2023, the exhibition "Ukraine: Connected Histories & Vibrant Cultures" opened at Tisch Library with speeches from the organizers. Opening remarks were given by Tufts professor of history Alice Sullivan, Tufts professor of political science Oxana Shevel, and Fletcher Russia and Eurasia Program visiting scholar Volodymr Dubovyk. Traditional Ukrainian refreshments were served at the event, including desserts from a local Ukrainian-run bakery, Solodko Boston.
Professor Shevel's opening remarks emphasized the global and European heritage of Ukraine as a crucial element in need of preservation. Particularly, Ukrainian cultural heritage needed to be preserved to push back against the Russian narrative of Ukraine being a backwater and that "all great things came from Moscow."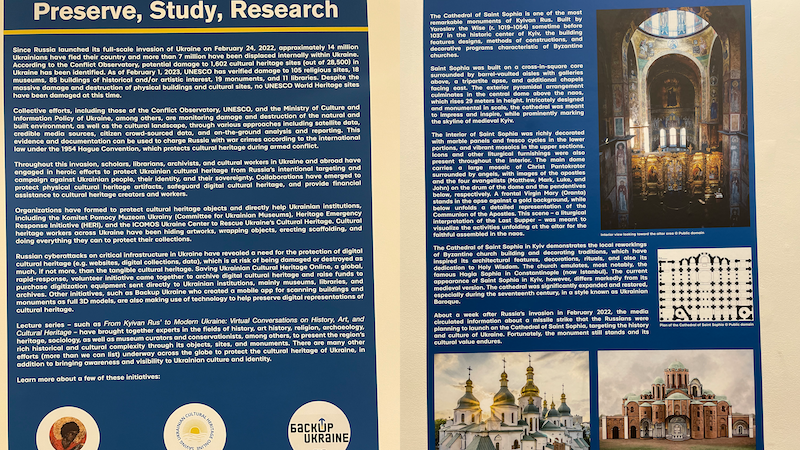 The exhibition was a collaborative effort from its conception, with Tufts University undergraduate and graduate students and Ukrainian community members in charge of bringing the exhibition to life. Students were involved in all parts of the project, from researching the history to the creation of the displays.
The exhibit focuses on the cultural heritage of modern Ukraine and the medieval Kyivan Rus. By covering current efforts to study, preserve, and archive Ukrainian cultural history in light of the war, the exhibition hopes to maintain as much virtual Ukrainian cultural history as possible. Most panels are also interactive, including QR codes linking to lectures, articles, music, 3D models of heritage sites, and other aspects of Ukrainian cultural heritage online. Through a live website, the staff hopes to preserve the exhibition and its resources so that it will live on and could even become a traveling project.
Featuring three contemporary icons by Ukrainian artists from the Museum of Russian Icons that were purchased from the "Buy an icon, save a life" project, the exhibit features both panels and the physical icons. The icons are painted on ammunition boxes by Ukrainian artists, and the funds go to support the war effort in Ukraine.When asked about the project's inception, librarian and co-organizer Anna Kijas stated, "Back in February, I had already decided to protect Ukrainian heritage, which is why I started Saving Ukrainian Cultural Heritage Online (SUCHO) project. Through that I met Alice, and we decided to do an exhibit that showcased the deep roots of history in medieval Ukraine and how it was impacted by all these different cultures and countries. Ukraine continues to have this complicated history of 'What is Ukrainian? What is Russian?,' but there isn't one answer.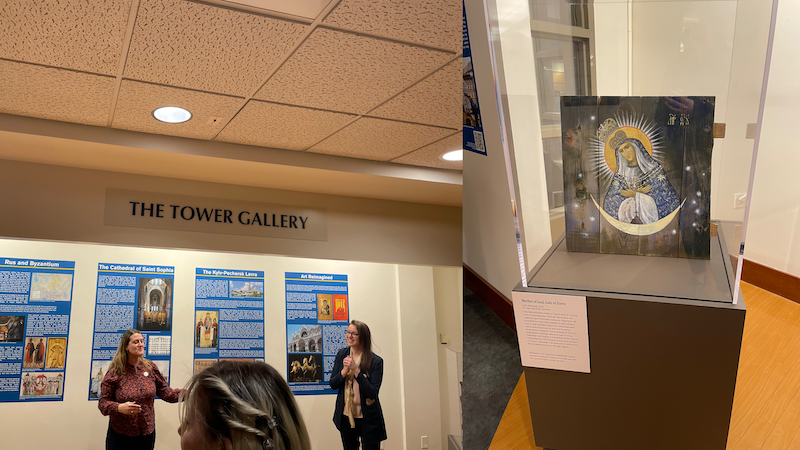 We're hoping that between these panels and the different images displaying all the different key architecture and religious influences and so forth give people just a small snapshot of this rich history."
The panels were put together by student researchers. When asked about their thoughts on their tile, Tufts master's student Emmi Farrell commented, "Through my research, I found that the dynamics of power and possessing a piece of art or the dynamics in power of moving a piece of art from one place to another were really poignant to us. So I worked on a panel about how a lot of times in history, power plays were done using material objects. I also did another panel on diplomatic marriages between the Kyivan Rus and Europe, as it's something I'm really interested in."
The exhibition also features a book display with key titles about the history of Ukraine and Eastern Europe more broadly, along with a booklet featuring profiles of Ukrainian students, faculty, staff, and visiting scholars. Beyond the exhibition at Tisch library, other related projects by the staff involved include the SUCHO project and a lecture series.
Professor Sullivan, the organizer of the exhibit, commented about the ultimate goals of the project, saying, "We hope this exhibition and its various components will help put the history of the region of modern Ukraine and Eastern Europe more broadly in the spotlight, underscoring how diverse and well-connected the territory was during the Middle Ages, and countering modern narratives that have marginalized and manipulated this history and cultural heritage."