The Henry J. Leir Human Security Award was established in 2015 to honor Fletcher alumni who have made significant contributions to the scholarship and/or practice of human security. The award is named after Henry J. Leir in recognition of his philanthropy to humanitarian causes. To date, there have been three recipients of the award:
---
Dr. Patrick Meier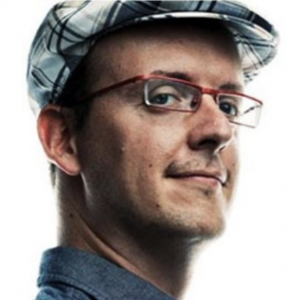 Patrick Meier is an internationally recognized expert and consultant on humanitarian technology and innovation. After earning his PhD at Fletcher in 2011, Patrick provided strategic guidance to the United Nations Office for the Coordination of Humanitarian Affairs on developing and launching the Digital Humanitarian Network, an official interface providing humanitarian organizations with access to highly skilled volunteer & technical groups during major disasters. Patrick then served as Director of Social Innovation at Qatar Computing Research Institute, where he and his team used artificial intelligence, crowdsourcing and computer vision to help international aid organizations make sense of social media, pictures, videos, aerial imagery and text messages generated during and after major disasters.  
 In 2013, Patrick joined the UN humanitarian information management team in the Philippines to support response efforts in the wake of Typhoon Haiyan. The Category 5 Typhoon devastated the country and resulted in an unprecedented use of UAVs or Unmanned Aerial Vehicles (aerial robots). Shortly after leaving the Philippines, Patrick founded the Humanitarian UAV Network UAViators, which actively promotes the safe, responsible and effective use of UAVs in humanitarian settings.  
Since 2015, Patrick has served as the co-founder and executive director of WeRobotics, a nonprofit whose mission is "to shift power from the global back to the local by ensuring that local experts with local knowledge and lived experience have the leadership opportunities they seek to implement technology for good projects themselves." WeRobotics co-creates and facilitates a network of local knowledge hubs, or "Flying Labs," in Africa, Asia and Latin America, to build on existing expertise in the responsible and ethical use of drones, data and AI in order to accelerate the positive impact of local aid, health, development and environmental solutions.
The presentation of Dr. Meier's Human Security Award was initially scheduled for April 2020 but was postponed due to the global COVID-19 pandemic. Dr. Meier was honored in a virtual ceremony on February 12, 2021.
---
Tsering Gellek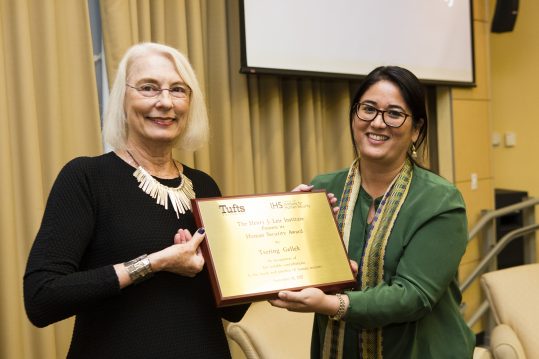 Tsering Palmo Gellek received the Henry J. Leir Human Security Award in 2017. She is a Visiting Fellow at the Feinstein International Center and the director of the newly-established Sarnath International Nyingma Institute (www.sinibridge.org) in India. The Sarnath Institute provides a unique opportunity for students, researchers, and practitioners from around the world to deepen their studies in a interdisciplinary approach to human development, social well-being, and environmental stewardship, bridging the wisdom, knowledge, and best-practices of the East and West.
Gellek completed her bachelors degree in International Affairs at Lewis and Clark College in 1991 and in 1998 went on to pursue a Masters of Law at the Fletcher School of Law and Diplomacy. Following her graduate studies, she served as the project manager of Alchemy Project at the Feinstein International Center, under the directorship of Professor Karen Jacobsen. Since 2002, Tsering has been engaged in Buddhist cultural preservation and education. From 2008-2010, Tsering led the renovation of the Swayambhu Stupa; a major national monument in Nepal. Her primary focus is to strengthen the institutional roots of the Institute, including developing the curriculum for Tibetan refugees and monastics, developing exchange programs with universities and other centers of learning around the world, and designing seminars to harness the power of sharing great ideas.
Gellek was honored in a ceremony at The Fletcher School's ASEAN Auditorium on September 18, 2017.
This event also included a tribute to Henry J. Leir by Tufts University President Anthony Monaco and Leir Charitable Foundations President Margot Gibis, as well as a discussion on the challenges facing today's refugees between newly appointed Leir Professorship holders Karen Jacobsen and Daniel Maxwell.
---
Dr. Maria J. Stephan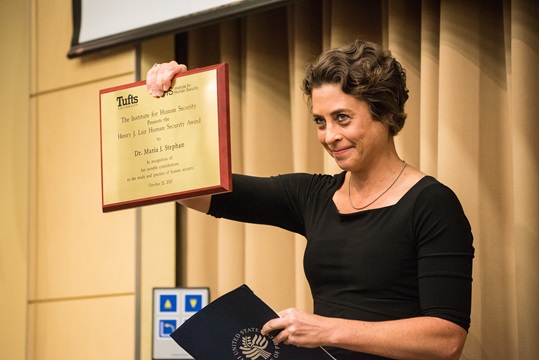 The inaugural recipient of the Henry J. Leir Human Security Award was Dr. Maria J. Stephan, F02, FG05, an accomplished scholar and practitioner committed to the study of the dynamics of civil resistance and their relevance for violent conflict prevention and democratic development. Dr. Stephan, who received her MALD and Ph.D. from The Fletcher School, currently serves as Senior Policy Fellow at the United States Institute of Peace, and as nonresident Senior Fellow at the Atlantic Council.
Previously, Dr. Stephan was lead foreign affairs officer in the U.S. State Department's Bureau of Conflict and Stabilization Operations (CSO), where she worked on both policy and operations. Her last assignment entailed engaging the Syrian opposition in Turkey. Earlier, she was detailed to the U.S. Embassy in Kabul, Afghanistan to focus on subnational governance and civil-military planning. Prior to government service, Dr. Stephan directed policy and research at the International Center on Nonviolent Conflict (ICNC), a DC-based NGO dedicated to developing and disseminating knowledge about nonviolent struggle. She also was an adjunct professor at Georgetown University's School of Foreign Service and American University's School of International Service.
Dr. Stephan is the editor of Civilian Jihad: Nonviolent Struggle, Democratization and Governance in the Middle East (Palgrave, 2009), a co-editor of Is Authoritarianism Staging a Comeback? (Atlantic Council, 2015) and the co-author of Why Civil Resistance Works: The Strategic Logic of Nonviolent Conflict (Columbia University Press, 2011). The latter book was awarded the 2012 Woodrow Wilson Foundation Prize by the American Political Science Association for the best book published in political science and the 2012 University of Louisville Grawemeyer Award for Ideas Improving World Order.
"Throughout her career, Maria has worked tirelessly with scholars, activists, and policy makers to effectively promote and support struggles for freedom and dignity. Her dedication to assist societies fighting injustice and oppression by nonviolent means makes Maria an inspiration to her colleagues here at Fletcher."

Eileen F. Babbitt, Director, Henry J. Leir Institute, and Professor of Practice of International Conflict Analysis and Resolution, The Fletcher School of Law and Diplomacy
Dr. Stephan was honored in a ceremony at The Fletcher School's ASEAN Auditorium on October 21, 2015.
This event also included a lecture by Kimberly Theidon, the Henry J. Leir Professor in International Humanitarian Studies, as well as remarks by Arthur Hoffman on the history of the Leir Charitable Foundations.