Since 2021, the Refugees in Towns project has worked with the Hello Neighbor Network to assess how refugees come to understand and experience race in the U.S.
The first phase of research, completed in August 2022, investigated understandings of race before, during, and after migrating, finding that refugees learned about US race relations through school, media (digital and print), word of mouth, and personal experiences of discrimination. However, the degree of this learning is heavily dependent on education level, age, and country of origin. Learn more about these findings in the literature review and report below, which were the foundation of RIT's 3rd annual convening, the Race and Migration Symposium.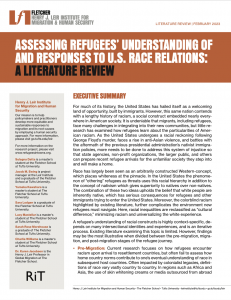 Assessing Refugees' Understandings of and Responses to U.S. Race Relations: A Literature Review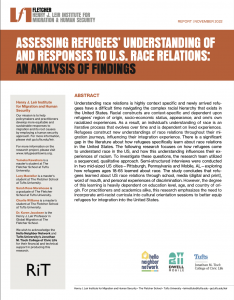 Assessing Refugees' Understandings of and Responses to U.S. Race Relations: An Analysis of Findings
In addition to the literature review and findings report, RIT published two case reports from research sites–Mobile, Alabama and Pittsburgh, Pennsylvania. Both case reports have also been adapted into StoryMaps, allowing readers to interactively explore Mobile and Pittsburgh while showcasing RIT's reflexive and localized methodology. View the StoryMaps below.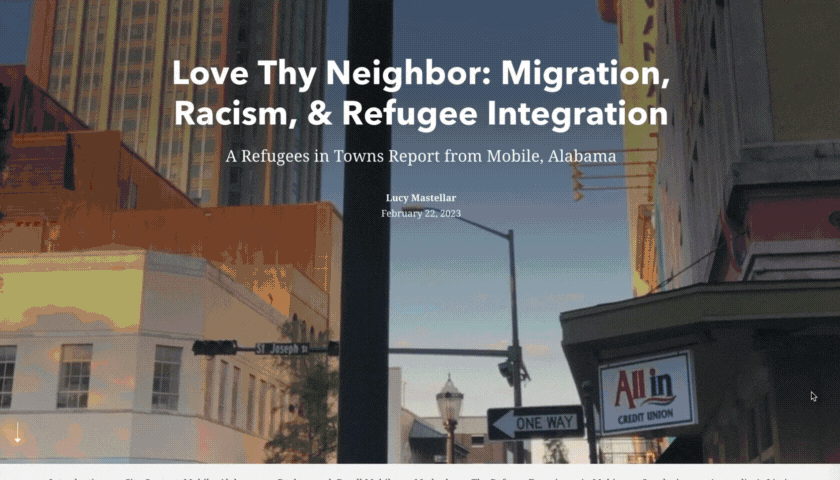 Love Thy Neighbor: Migration, Racism, & Refugee Integration
Mobile, AL
"Our needs are different": Integration in the 'Steel City'
Pittsburgh, PA
The second phase of research, which is ongoing, seeks to create community-developed, anti-racist interventions to better educate and support refugees as they are resettled in the U.S. Interviews with community leaders and practitioners will be conducted in Lincoln, Nebraska and Utica, New York, in addition to Mobile and Pittsburgh.
---
Race & Refugees Research Team
Karen Jacobsen, Ph.D.
Principal Investigator
Henry J. Leir Professor of Global Migration
Karen Jacobsen is the Henry J. Leir Professor in Global Migration at The Fletcher School of Law and Diplomacy at Tufts University, and directs the Refugees in Towns Project at the Leir Institute for Migration and Human Security. Professor Jacobsen's current research explores urban displacement and global migration, with a focus on the livelihoods and financial resilience of migrants and refugees, and on climate- and environment-related mobility. In 2013-2014, she was on leave from Tufts, leading the Joint IDP Profiling Service (JIPS) at United Nations in Geneva. From 2000-2005, she directed the Alchemy Project, which explored the use of microfinance to support people in refugee camps and other displacement settings.

Prof. Jacobsen's Ph.D. in Political Science is from the Massachusetts Institute of Technology. Her areas of expertise include refugee and migration issues, humanitarian assistance in developing countries, urban impact, and climate change and migration. She is currently at work on a book that examines the impact of displacement on cities. Her previous books include A View from Below: Conducting Research in Conflict Zones (with Mazurana and Gale, Cambridge UP 2013 ); and The Economic Life of Refugees (Lynne Rienner, 2005), which is widely used in courses on forced migration. She consults and works closely with UNHCR and other UN agencies and international NGOs. She is a citizen of both South Africa and the U.S., and splits her time between Brookline, MA and western Maine (Andover, ME).
Yumeka Kawahara

MALD Candidate
Research Assistant
Yumeka Kawahara is a second-year MALD studying Human Security and International Organizations. Her main academic focus is refugee integration processes in Europe and the role of civil society. She is from Japan and earned LLB at Kyoto University with 1-year study abroad experience at Sciences Po Paris. Prior to Fletcher, she worked with several think tanks and non-profit organizations in Japan, France, Singapore, and Cameroon and worked on migration issues and international affairs.
Lucy Mastellar

MALD Candidate
Research Assistant
Lucy is a second-year MA candidate at the Fletcher School of Law and Diplomacy, where her studies focus on migration and international law. Prior to Fletcher, Lucy worked in a variety of roles throughout the private and public sectors, including the U.S. Department of Homeland Security and a leading international Big Law firm. Lucy has hands-on experience navigating refugee and asylum crises in Greece and at the United States - Mexico border. Lucy earned her BA at American University, where her final thesis assessed the intersection of religious extremism and migration.
Charlie Williams

MALD Candidate
Research Assistant
Charlie is a second-year MALD student at Fletcher, focusing on gender analysis and international organizations. Prior to Fletcher, Charlie received her BA in history from Cal Poly, San Luis Obispo and worked with a food security non-profit in Senegal. She is passionate about community engagement and advocacy, and through her studies hopes to work in resettlement post Fletcher.
RIT would like to acknowledge the Hello Neighbor Network, Dwell Mobile, and the Jonathan M. Tisch College of Civic Life for their financial and technical support in producing this research.