Designing Effective Courses: CELT's Course Design Institute (CDI)
In June, CELT staff, in collaboration with ETS, offered the second of two Course Design Institutes (CDI) held this year. The CDI is designed to provide faculty with the tools, time, and collegial support to design or re-design a course.
During this session, eleven faculty met for four activity-packed days, sometimes working together in pairs and groups, to apply the principles of "backward design" developed by Wiggins and McTighe. Participants received rigorous feedback from facilitators and peers as they honed core goals and refined learning objectives.
I am so grateful to be part of a community that cares so much about good teaching and where there are such great resources and expertise to support it – participant, Course Design Institute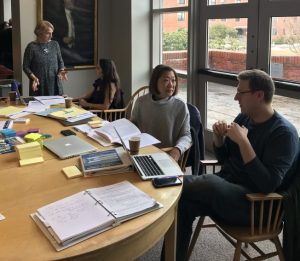 The institute is structured as an active engagement of faculty from a variety of disciplines who create "maps" of their courses, in which they align goals and learning objectives with assignments, assessments and course content. In the process they uncover "non-content" skills, such as writing or critical thinking, that are necessary for student learning, but may not not been articulated in the original course goals. The maps give faculty the necessary framework for constructing their syllabus.
After attending the workshop participants were ready to take the next steps in planning and teaching their courses. Some of their comments:
"I have a clear idea of what I want to achieve with the course."
"I plan to try to empower students, giving them more choices; to explicitly assess low levels of comprehension, and maybe to replace exams with frequent smaller quizzes."
"I will adopt the techniques for students to work with each other."
CELT staff plan to follow up with participants to determine what effect participating in the CDI actually had on the courses they designed. For more information about the next CDI, see http://provost.tufts.edu/celt/course-design-institute/.