Working In-Depth after Flipping Certain Lectures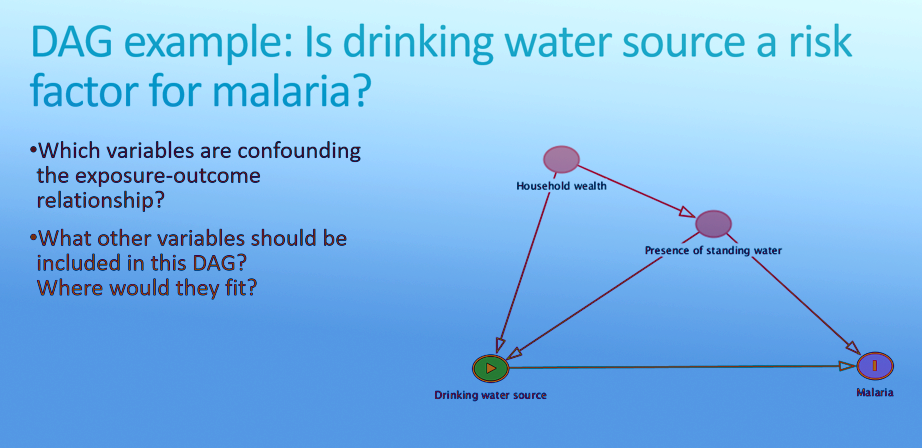 During the Fall of 2018 professor Laura Corlin, adjunct faculty member in Tufts Public Health and Professional Degree program, decided to try the practice of "flipping" parts of her lectures for her graduate-level course, Principles of Epidemiology. When the course was over, we interviewed Corlin to learn about her process, and its impact on her students.
T@T: Where did you get the idea to "flip" some lectures in your course?
Corlin: As a Triple Jumbo, I've taken a lot of fantastic courses at Tufts. In a few of my favorite classes, professors used short pre-lecture videos summarizing core content. The purpose of the pre-lecture videos varied by class, but in general they served to prime student learning, to allow a deeper discussion of course content, and to structure classes with more time spent actively learning and applying concepts. Both because of my experiences in classes that used pre-lectures effectively and because of the literature showing that students learn more when they are actively engaged, I decided to partially flip one of my Fall 2018 courses.
T@T: What course was it, and what about it made it flippable?
Corlin: PH-201 Principles of Epidemiology is a core course required of students in several degree programs across Tufts including the Master of Public Health (MPH) program and the undergraduate Community Health major. I had 13 students in my course and most of them were MPH students. We met for one three-hour block each week and I knew that lecturing for three hours straight would not result in the learning outcomes I wanted. Instead, I decided to partially flip the class. This involved several structural changes:
1) Students watched 15-30 minute pre-lecture videos on Canvas covering core content. In each pre-lecture, I opened by situating students to where we were in the course and to the learning objectives of that class period. I closed each pre-lecture by reminding students that I was always available to answer questions and by telling them that I looked forward to seeing them in class. As a wonderful feature of the technology, students could listen to the lectures as 0.5x, 0.75x, normal, 1.5x, or 2x speed. Also, based on student feedback I solicited halfway through the term, I starting giving students the script I used to record the videos.
2) Before each class period, I also asked students to fill out a three question pre-class check-in using Qualtrics surveys (What do you want to get out of class today? What are the most important questions you want answered? Is there anything else I should know?). In the pre-class check-in survey, students raised questions from the pre-lectures and from the optional (but strongly recommended) practice problems. They also told me about how they were applying class concepts in other areas of their lives and how issues in their personal lives were affecting their ability to learn. This allowed me to connect with my students and help them problem solve ways to be successful in school.
3) During each class, I would start by responding to the questions raised in the pre-class check-in surveys. Then we would spend most of the rest of the class period working together on problems, case studies, and simulations applying the concepts covered in the pre-lecture. Near the end of each class period, I asked each student to share one thing they learned or one concept that still confused them. Students also completed in-class quizzes each week.
4) Physically, I set up the classroom in a way to promote engagement. Since my class was small, I had students sit in a semi-circle. If the class were larger, I would have used blocks of 4-6 students.
T@T: What technologies did you use to "flip", how did your students access the recorded content?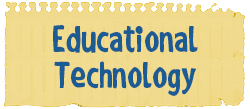 Learn more about apps for "flipping" lectures in this
Video Tools for Teaching guide . . .
Corlin: I used Kaltura to record my videos. I was able to use the built-in mic on my computer and get reasonable sound quality. Kaltura was easy to use and it only took a couple minutes to link the videos to Canvas. There were options to draw on the screen, to select the part of the screen to include in the video, and to pause the recording. Kaltura had very limited editing abilities; you can only trim recorded parts from the middle of videos and chop the ends of the video. I didn't do much editing and instead preferred to spend time preparing the videos carefully beforehand.
Since there were several files and links for each class, consistent organization of the Canvas site was important. I chose to group everything by class period (see screenshot below from my Canvas site) and students reported that they liked this method. The first link was always to the Qualtrics pre-class check-in survey and the second link was always to the pre-lecture video on the Media Gallery of Canvas.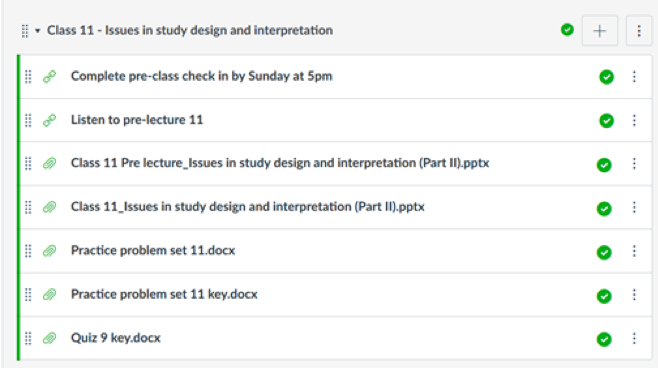 T@T: Can you describe what were you hoping to accomplish by "flipping"?
Corlin: I wanted to increase the rigor, relevance, and retention of course material. I was also hoping that students would be more engaged during class time and develop stronger study skills. I assumed that by giving students more opportunities for problem-solving, case studies, and simulations, they would be better prepared for the workforce.
T@T: Tell us about the outcome – what were the main successes, and what would you do differently next time?
Corlin: Overall, both the students and I were happy with the flipped structure of the course. Students liked being able to learn at their own pace and at times of the day that made sense for them. I felt that I was able to provide a more rigorous, relevant, and engaging course than if I had used more class time lecturing. I was able to cover content at a much deeper level, provide more real-world examples, and appeal to students with different pre-course knowledge levels better. Students generally kept up with the fast pace of the class – though student absences tended to cost students more because getting notes from a classmate is less helpful when class time is used for active learning rather than lecturing.
Throughout each class period, students remained engaged and I observed very little use of technology during class time for non-class activities (sorry, Facebook!). I also noticed that over the course of the semester, my (mostly 1st year) students became close friends and I would frequently see them in the cafeteria studying together. The students report that they feel like a true cohort.
While it seemed that the partially flipped structure was beneficial, it was also new to students. Therefore, explaining how the course would be run (and why) before the semester started was crucial. I sent them a detailed email, explained the class structure in the first pre-lecture, and spent time in the first class period answering logistic questions and setting the tone for the course. In the future, I will also have a discussion early in the term about how to study most effectively in flipped classrooms. We did this partway through the course and afterward, students felt more prepared and performed better on their weekly quizzes. In particular, the advice to spend some time soon after class synthesizing their notes from the pre-lecture, lecture, and practice problem resonated with students.
T@T: And lastly, what, if anything, happened that was unexpected or surprising about flipping the class?
Corlin: I discovered that having students start each class period feeling a little bit confused (though hopefully not frustrated) about course material we planned to cover was beneficial to the learning process. Students were highly motivated to delve into the content introduced in the pre-lectures. They came prepared with questions and relevant comments – and I realized that these were exactly the questions and comments that they would have if I presented the lecture in the traditional style except that with the traditional style, they wouldn't have the chance to work through the answers. Students visibly gained confidence during class periods as they worked through material they originally thought was very challenging.