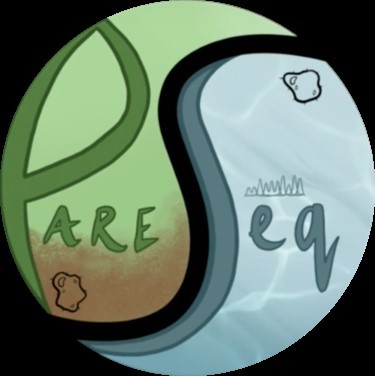 Background videos produced by undergraduates provide students with the context necessary to understand the Galaxy-based bioinformatics activity. In the bioinformatics workflow, students analyze authentic soil and water metagenomic sequence files for the presence of antibiotic resistance genes.
Meet the PARE-Seq undergraduate developers
Background Videos
It is recommended that students watch all five background videos here prior to the bioinformatics activity (also available on the Background page). In particular, we suggest they focus on video 4 (Spotlight on Antibiotic Resistance Genes of Clinical Significance) and 5 (Tools of Bioinformatics) below.
---
Bioinformatics Activity
Analyzing a Metagenomic Sample in Galaxy
This video covers the concepts of evolutionary conservation and homology that underlie bioinformatics research. We discuss the Bioinformatics workflow in the Galaxy online platform and interpreting the key outputs of Galaxy workflow.
---
Galaxy Tutorial
This video provides step-by-step instructions on how to use the Galaxy bioinformatics workflow in the PARE-Seq module.
---
Assessments
Please complete the following Quiz and Post-Assessment surveys as instructed within the course curriculum. More information can be found in the materials at the start of each survey.
---
Resources (Downloads)
Background Videos 1-5
PARE-Seq sequence analysis
Lab Report Assignment
Poster Assignment
Galaxy Bioinformatics Activity
Step-by-Step Instructions
Instructor Manual
Discussion Toolkit