Anders Åslund: Russia's Crony Capitalism: The Path from Market Economy to Kleptocracy
September 18, 2019 @ 5:30 pm

-

7:00 pm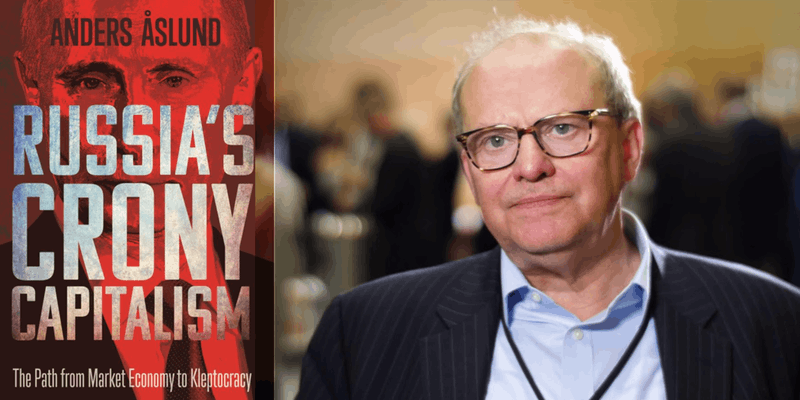 Please join the Russia and Eurasia Program at The Fletcher School for a conversation with Anders Åslund, a senior fellow at the Atlantic Council in Washington, D.C. and an Adjunct Professor at Georgetown University, about his new book Russia's Crony Capitalism: The Path from Market Economy to Kleptocracy (2019). Attendance is by registration only on Eventbrite.
The book provides a penetrating look into the extreme plutocracy Vladimir Putin has created and its implications for Russia's future. This insightful study explores how the economic system Putin has developed in Russia works to consolidate control over the country. By appointing his close associates as heads of state enterprises and by giving control of the FSB and the judiciary to his friends from the KGB, he has enriched his business friends from Saint Petersburg with preferential government deals. Thus, Putin has created a super-wealthy and loyal plutocracy that owes its existence to authoritarianism. Much of this wealth has been hidden in offshore havens in the United States and the United Kingdom, where companies with anonymous owners and black money transfers are allowed to thrive. Though beneficial to a select few, this system has left Russia's economy in untenable stagnation, which Putin has tried to mask through military might.
Anders Åslund has served as an economic adviser to several governments, notably the governments of Russia (1990-1994) and Ukraine (1994-1997). He is a member of the Academy of the Natural Sciences of the Russian Federation, chairman of the Advisory Council of the Center for Social and Economic Research, Warsaw, and chairman of the Scientific Council of the Bank of Finland Institute for Economies in Transition. He has published widely and is the author of fifteen books, including Europe's Growth Challenge (2017), and Ukraine: What Went Wrong and How to Fix It (2015).
He is a non-executive director of the Ukrainian state railways. He earned his Ph.D. from Oxford University. He was a professor at the Stockholm School of Economics and the founding director of the Stockholm Institute of East European Economics. He served as a Swedish diplomat in Kuwait, Poland, Geneva, and Moscow. He has also worked at the Peterson Institute for International Economics, the Carnegie Endowment for International Peace, the Brookings Institution, and the Kennan Institute for Advanced Russian Studies at the Woodrow Wilson Center. He is fluent in Swedish, Russian, German, Polish, and French.