Angela Stent: Putin's World: Russia Against the West and with the Rest
April 10, 2019 @ 5:30 pm

-

7:00 pm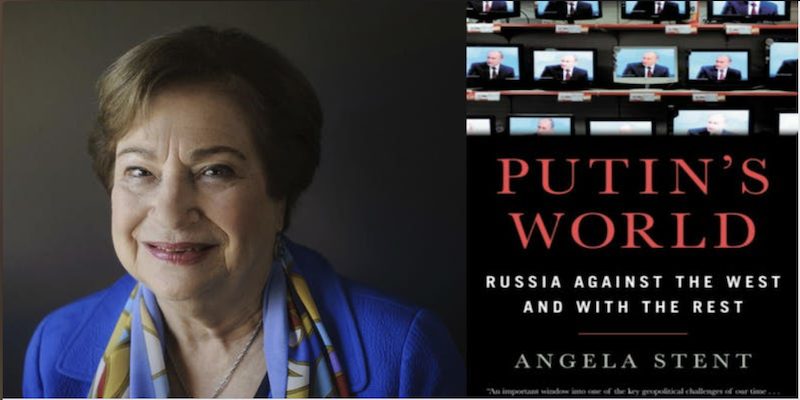 The Russia and Eurasia Program at The Fletcher School is pleased to award its first annual U.S.-Russia Relations Book Prize to Professor Angela Stent of Georgetown University for her new book Putin's World: Russia Against the West and with the Rest (2019). The award recognizes an outstanding book on historical or contemporary foreign policy discourse pertaining to the past or present of U.S.-Russia relations. Please join us for a book talk by Stent on Russia's foreign policy and its role in contemporary world affairs. Refreshments will be provided. Attendance is by registration only on Eventbrite.
How did Russia manage to emerge resurgent on the world stage and play a weak hand so effectively? Is it because Putin is a brilliant strategist? Or has Russia stepped into a vacuum created by the West's distraction with its own domestic problems and U.S. ambivalence about whether it still wants to be a superpower? From renowned foreign policy expert Angela Stent comes a must-read dissection of present-day Russian motives and actions on the world stage. Putin's World examines the country's turbulent past, how it has influenced Putin, the Russians' understanding of their position on the global stage and their future ambitions—and their conviction that the West has tried to deny them a seat at the table of great powers since the Soviet collapse.
Angela Stent is Director of the Center for Eurasian, Russian and East European Studies and Professor of Government and Foreign Service at Georgetown University. She is also a non-resident senior fellow at the Brookings Institution and co-chairs its Hewett Forum on Post-Soviet Affairs. From 2004-2006, she served as National Intelligence Officer for Russia and Eurasia at the National Intelligence Council. From 1999 to 2001, she served in the Office of Policy Planning at the U.S. Department of State. Stent's academic work focuses on the triangular political and economic relationship between the United States, Russia, and Europe. Her last book is The Limits of Partnership: U.S.-Russian relations in the Twenty-First Century (2014), for which she won the American Academy of Diplomacy's Douglas Dillon prize for the best book on the practice of American Diplomacy.
She was a member of the senior advisory panel for NATO's Supreme Allied Commanderin Europe for Admiral James Stavridis and General Philip Breedlove. She is a member of the Council on Foreign Relations. She is a contributing editor to Survival and is on the editorial boards of the Journal of Cold War Studies, World Policy Journal, Internationale Politik, and Mirovaia Ekonomika i Mezhdunarodnie Otnosheniie. She has served on the World Economic Forum's Global Agenda Council for Russia and Central Asia. She is a Trustee of the Eurasia Foundation. Stent received her B.A. from Cambridge University, her M.Sc. with distinction from the London School of Economics and Political Science, and her M.A. and Ph.D. from Harvard University.