Astrid Wendlandt: Is There Any Freedom of Expression Left in Russia?
November 4, 2021 @ 12:00 pm

-

1:30 pm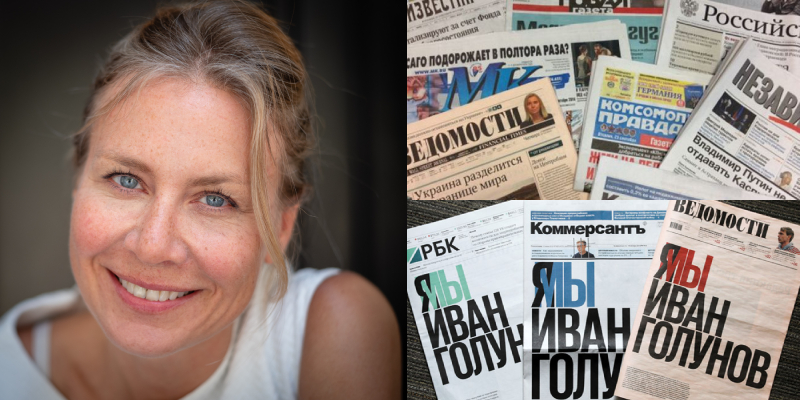 Please join the Russia and Eurasia Program for a conversation with author and journalist Astrid Wendlandt, F99, about the media landscape in Russia today. Please make sure to register via myFletcher to participate in the event in person. The event is reserved for members of the Fletcher community. Lunch will be provided.
This past year has become a major turning point in the Russian government's attitude toward dissent. The authorities have cracked down on numerous Russian news outlets, including Meduza, Proekt, and independent television channel Dozhd, which were labeled foreign agents or "undesirable organizations." Ekho Moskvy radio station, which belongs to energy giant Gazprom, is one of the last media organizations in Russia still operating more or less freely. Dmitry Muratov, editor-in-chief of Novaya Gazeta and recent co-winner of the Nobel Peace Prize, has acknowledged that it is a dangerous era for journalists in Russia.
Astrid Wendlandt has covered the luxury industry for more than 15 years. She is the editor and founder of Miss Tweed, an online media company based in Paris specialized in fashion and luxury. Miss Tweed is read by luxury industry heavyweights and is rapidly establishing itself as the go-to place for exclusive stories and analysis. Several media including Bloomberg and Reuters have quoted Miss Tweed's reports. In 2019, Wendlandt published her third book How Luxury Conquered the World: The Inside Story of its Pioneers, a four-year investigation into the business of luxury. Prior to Miss Tweed, Astrid worked for more than a decade as Reuters' European luxury goods correspondent based in Paris. Previously, she wrote for the Financial Times in London and Moscow. She started her career in Moscow in the mid-1990s at The Moscow Times daily newspaper. Wendlandt holds a Bachelor of Arts in Political Science and Russian Studies (Joint-Honors) from McGill University and a Master of Arts in Law and Diplomacy and a Certificate in International Finance and Banking from The Fletcher School of Law and Diplomacy at Tufts University, which included coursework at Harvard Business School.