Hammer and Silicon: The Soviet Diaspora in the U.S. Innovation Economy
September 25, 2018 @ 4:30 pm

-

6:00 pm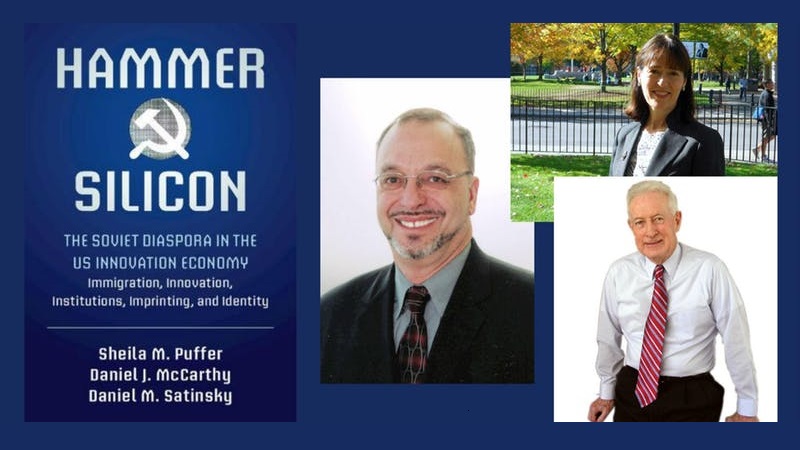 Please join the Russia and Eurasia Program at The Fletcher School for a talk by Sheila M. Puffer (Northeastern University), Daniel J. McCarthy (Northeastern University), Daniel M. Satinsky (Business Development Consultant and MALD 1990) on their new book Hammer and Silicon: The Soviet Diaspora in the U.S. Innovation Economy – Immigration, Innovation, Institutions, Imprinting, and Identity (2018). Refreshments will be provided. Attendance is by registration only on Eventbrite.
This deeply personal book tells the untold story of the significant contributions of technical professionals from the former Soviet Union to the U.S. innovation economy, particularly in the sectors of software, social media, biotechnology, and medicine. Drawing upon in-depth inteiviews, it channels the voices and stories of more than 150 professionals who emigrated from 11 of the 15 former Soviet republics between the 1970s and 2015, and who currently work in the innovation hubs of Silicon Valley and Boston. Using the social science theories of institutions, imprinting, and identity, the authors analyze the political, social, economic, and educational forces that have characterized Soviet immigration over the past 40 years, showing how the particularities of the Soviet context may have benefited or challenged interviewees' work and social lives. The resulting mosaic of perspectives provides valuable insight into the impact of immigration on U.S. economic development, specifically in high technology and innovation.
Daniel J. McCarthy is University Distinguished Professor Emeritus and the Alan S. McKim and Richard A. D'Amore Distinguished Professor of Global Management and Innovation at the D'Amore-McKim School of Business, Northeastern University and is also an Associate at the Davis Center for Russian and Eurasian Studies at Harvard University. He is cofounder, codirector and Chair of the strategy advisory council of Northeastern University's Center for Entrepreneurship Education. Additionally, he is cofounder of the Northeastern University Venture Mentoring Network and a member of the Steering committee, as well as a Board member for IDEA, the Northeastern University Venture Accelerator. McCarthy has more than 110 publications, including Business Policy and Strategy (1987), The Russian Capitalist Experiment(2000), and Corporate Governance in Russia (2005). He served until 2016 as the lead director of Clean Harbors, Inc., a multi-billion dollar NYSE-listed company, and has consulted in North America and Europe for more than 40 companies. McCarthy holds AB and MBA degrees from Dartmouth College and the Tuck School of Business, and a DBA from Harvard University.
Sheila M. Puffer is University Distinguished Professor at Northeastern University, where she is a professor of international business at the D'Amore-McKim School of Business. She is also an Associate at the Davis Center for Russian and Eurasian Studies at Harvard University and has served as program director of the Gorbachev Foundation of North America. In 2015, she was a visiting research professor at the Graduate School of Business at Stanford University where she studied entrepreneurs and other technical professionals from the former Soviet Union. Puffer was recognized in 2005 as the top scholar internationally in business and management in Russia, the former Soviet Union, and Eastern Europe by the Journal of International Business Studies. Shehas more than 160 publications, including over 80 refereed articles and 11 books. She served as the editor of The Academy of Management Executive as well as a member of the Academy's Board of Governors (1999-2002). She worked for six years as an administrator in the Government of Canada and has consulted for a number of private and nonprofit organizations. Puffer earned a diploma from the executive management program at the Plekhanov Institute of the National Economy in Moscow, and holds B.A. (Slavic Studies) and MBA degrees from the University of Ottawa, Canada, and a Ph.D. in business administration from the University of California, Berkeley.
Daniel Satinsky is a Business Development Consultant and Independent Scholar. For more than 20 years, Daniel has been engaged in technology-related international business projects and building practical business networks, with a concentration on Russia-related projects. He collaborated with Sheila Puffer and Daniel McCarthy on the journal article "Emerging Innovation in an Emerging Economy: Can Institutional Reforms Help Russia Break through Historical Barriers." Other past publications include: co-author of Yaroslavl Roadmap 10-15-20, a New York Academy of Sciences study of worldwide innovation best practices, author of Buyer's Guide to the Russian IT Outsourcing Industry; co-author of Perm Innovation Roadmap and author of Industrial Giants, Entrepreneurs and Regional Government-The Changing Business Environment in the Yaroslavl' Oblast 1991-98. He was President of the Board of the U.S.-Russia Chamber of Commerce of New England for more than 15 years and is an Associate of the Davis Center for Russian and Eurasian Studies of Harvard University. He holds a Master of Arts in Law and Diplomacy degree from The Fletcher School of Law and Diplomacy at Tufts University, a Juris Doctor degree from Northeastern University Law School and a Bachelor of Arts degree from James Madison College of Michigan State University.