Astrid Wendlandt: How Luxury Conquered the World: The Inside Story of its Pioneers
November 3, 2021 @ 5:30 pm

-

7:00 pm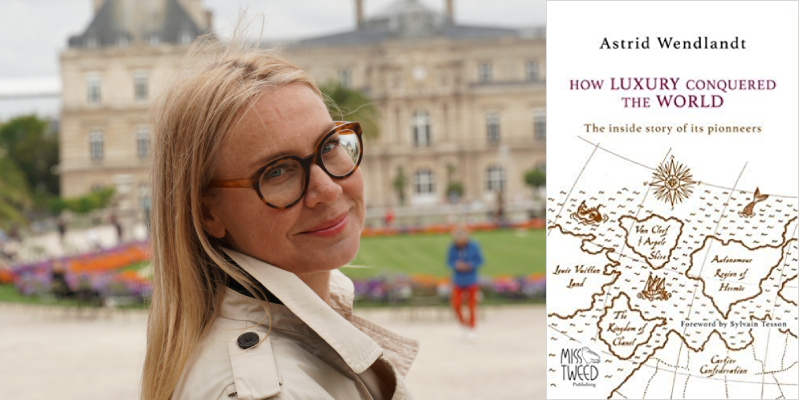 Please join the Institute for Business in the Global Context (IBGC), the Russia and Eurasia Program, and the Edward R. Murrow Center for a Digital World at The Fletcher School for an IBGC Speaks fireside chat with author and journalist Astrid Wendlandt, F99, about the secretive world of fashion and luxury. She will discuss her latest book How Luxury Conquered the World: The Inside Story of its Pioneers (2019). The conversation will be moderated by Bhaskar Chakravorti, Dean of Global Business at The Fletcher School, as part of IBGC's Global Speaker Series. Please make sure to register via myFletcher to participate in the event either in person or on Zoom.
How Luxury Conquered the World explains how the luxury industry has become one of the pillars of the global economy, putting it on a par with Google, Amazon, Facebook, and Apple combined in terms of job creation and economic might. Karl Lagerfeld, the last great couturier, shares his thoughts in an exclusive interview. Three pioneers reveal what it takes to turn a small maison into an international brand: Alain-Dominique Perrin, Jean-Louis Dumas and Yves Carcelle, who respectively built Cartier, Herme`s and Louis Vuitton. These hugely successful business empires would not exist if consumers did not crave social recognition and status symbols. Then three contemporary leaders confide their ambitions and their doubts: Jose´ Neves, founder and CEO of fashion and luxury online giant Farfetch; Ralph Toledano, chairman of the French Federation of Haute Couture and Fashion and of British brand Victoria Beckham; and Jacques von Polier, author of the renaissance of Raketa, Russia's oldest watchmaker. Through the prism of their own experiences, each one of these "Magnificent Six" tells a bigger story about the mysterious, magical and ruthless world of luxury.
Astrid Wendlandt has covered the luxury industry for more than 15 years. She is the editor and founder of Miss Tweed, an online media company based in Paris specialized in fashion and luxury. Miss Tweed is read by luxury industry heavyweights and is rapidly establishing itself as the go-to place for exclusive stories and analysis. Several media including Bloomberg and Reuters have quoted Miss Tweed's reports. In 2019, Wendlandt published her third book How Luxury Conquered the World: The Inside Story of its Pioneers, a four-year investigation into the business of luxury. Prior to Miss Tweed, Astrid worked for more than a decade as Reuters' European luxury goods correspondent based in Paris. Previously, she wrote for the Financial Times in London and Moscow. She started her career in Moscow in the mid-1990s at The Moscow Times daily newspaper. Wendlandt holds a Bachelor of Arts in Political Science and Russian Studies (Joint-Honors) from McGill University and a Master of Arts in Law and Diplomacy and a Certificate in International Finance and Banking from The Fletcher School of Law and Diplomacy at Tufts University, which included coursework at Harvard Business School.