Robert Kagan: The Jungle Grows Back: America and Our Imperiled World
October 25, 2018 @ 1:55 pm

-

3:10 pm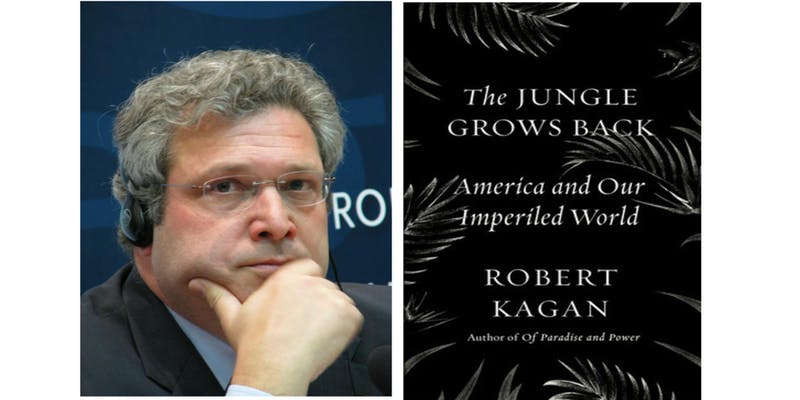 Please join the Russia and Eurasia Program at The Fletcher School for a talk by U.S. foreign policy historian and commentator Robert Kagan on his new book The Jungle Grows Back: America and Our Imperiled World(2018). The book assesses America's role as an enforcer of peace and order throughout the world and predicts what is likely to happen if we withdraw and focus our attention inward. Refreshments will be provided. Attendance is by registration only on Eventbrite.
Recent years have brought deeply disturbing developments around the globe. American sentiment seems to be leaning increasingly toward withdrawal in the face of such disarray. In this powerful, urgent essay, Kagan elucidates the reasons why American withdrawal would be the worst possible response, based as it is on a fundamental and dangerous misreading of the world. Like a jungle that keeps growing back after being cut down, the world has always been full of dangerous actors who, left unchecked, possess the desire and ability to make things worse. Kagan makes clear how the "realist" impulse to recognize our limitations and focus on our failures misunderstands the essential role America has played for decades in keeping the world's worst instability in check. A true realism, he argues, is based on the understanding that the historical norm has always been toward chaos — that the jungle will grow back if we let it.
Robert Kagan is the Stephen and Barbara Friedman Senior Fellow with the Project on International Order and Strategy in the Foreign Policy program at the Brookings Institution. He is a contributing columnist at the Washington Post. His previous books include The World America Made (2012), The Return of History and the End of Dreams (2008), Dangerous Nation: America's Place in the World from its Earliest Days to the Dawn of the 20th Century (2006), Of Paradise and Power (2003), and A Twilight Struggle: American Power and Nicaragua, 1977-1990(1996). For his writings, Politico Magazine in 2016 named Kagan one of the "Politico 50″, the "thinkers, doers and visionaries transforming American politics." He served in the U.S. Department of State from 1984 to 1988 as a member of the policy planning staff, as principal speechwriter for U.S. Secretary of State George P. Shultz, and as deputy for policy in the Bureau of Inter-American Affairs. He is a graduate of Yale University and Harvard University's Kennedy School of Government and holds a doctorate in American history from American University.