War in Ukraine: Humanitarian Crisis
May 19 @ 12:00 pm

-

1:30 pm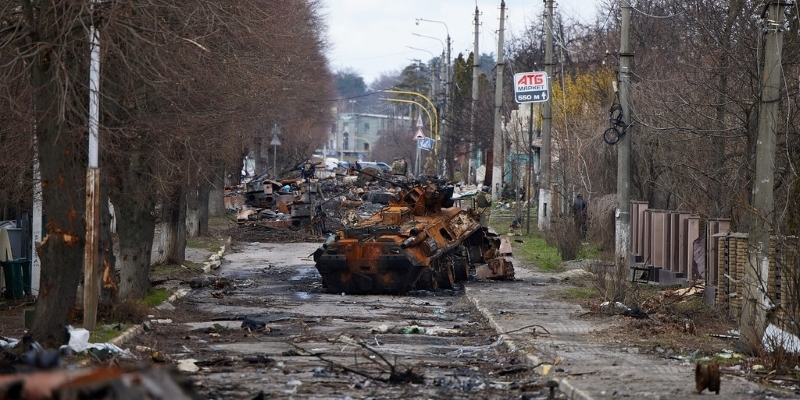 Please join the Russia and Eurasia Program for a conversation with alumni of The Fletcher School and Harvard University. They will discuss allegations of war crimes committed by the Russian military, humanitarian relief efforts in Ukraine, refugees and internally displaced people, and the role of the media in bringing the reported atrocities to light. The event is open to the public. Please make sure to register via myFletcher to participate in the event on Zoom.
Speakers:
Tim Judah is a journalist, author, and Balkans correspondent for The Economist but often covers other areas for them as well. For the New York Review of Books he has covered wars from Afghanistan to Ukraine. To date Judah has published twelve in depth stories on the subject on Balkan Insight / Reporting Democracy and am increasingly being asked to brief people and organisations about this. Recently he has been working with UNDP and UNFPA on demography issues. He is the author of three books on the Balkans: The Serbs: History, Myth and the Destruction of Yugoslavia, Kosovo: War & Revenge and Kosovo: What Everyone Needs to Know. In 2016 his book: In Wartime: Stories from Ukraine was published. Tim Judah is an Alum of The Fletcher School of Law and Diplomacy
Mike Eckel is a senior correspondent reporting on political and economic developments in Russia, Ukraine, and around the former Soviet Union, as well as news involving cybercrime and espionage. He's reported on the ground on Russia's invasion of Ukraine, the wars in Chechnya and Georgia, and the 2004 Beslan hostage crisis, as well as the annexation of Crimea in 2014. Mike Eckel is an Alum of The Fletcher School of Law and Diplomacy at Tufts University.
Daniel Langenkamp  is Embassy Kyiv's Spokesperson and press attaché. He has worked in the State Department since 2003, serving in Afghanistan, Iraq, Uganda, Vietnam, and Cote d'Ivoire, as well as in Washington, serving as Watch Officer in S/ES-O, NATO desk officer, Turkey desk officer, and head of public affairs for the Bureau of Population, Refugees and Migration. He was a reporter in the 1990s, working for Reuters, the Boston Globe, and other news organizations in Budapest and the Balkans. He graduated from Columbia University in New York City in 1992 and the Fletcher School in 2002 and served in Hungary in the Peace Corps from 1993-1005. He is married to Sarah Langenkamp, also a U.S. diplomat, has two children, and hopes to return soon to Kyiv, where the family lived until Russia's invasion. 
Mr Esteban G. Sacco, an Argentine national, has over 25 years of field experience in complex humanitarian emergencies across Africa, Middle East and Central Asia. Esteban is passionate about protecting the human rights and basic needs of the most vulnerable communities affected by humanitarian crises and conflicts. He has extensive experience in field coordination, humanitarian access negotiation and civil-military coordination. He holds a Masters' Degree in Filosofía and Humanitarian Affairs from Tufts University.



He started his humanitarian journey with Caritas Germany working with refugees in Tabou, Cote d'Ivoire from 1994 to 1996 and then continued working with returning refugees from South East Liberia from 1997-1999. Between 2002 and 2005, Esteban worked on different assignments and IDP programs with UNOPS and as an independent consultant in Northen Iraq, before joining UN OCHA in Northern Uganda as Head of Gulu Sub-office in 2006.



Since then, Esteban has worked with UN OCHA in different assignments at the senior level: Deputy Head of Humanitarian Unit in Kabul, Afghanistan in 2008 to 2009; Head of the OCHA Goma, DRC sub-office in Nord Kivu from 2009 to 2010; Deputy Head of Office/Strategic Planner for OCHA in Haiti from 2010 to 2012; Darfur Coordinator for OCHA based in El Fasher and responsible of the 5 OCHA sub-offices in Darfur from 2012 to 2013; Deputy Head of Office in South Sudan where he was responsible for field operations, humanitarian access and civil-military coordination; and most recently, as Head of Office a.i. in Ukraine.
Chris Miller is Assistant Professor of International History at The Fletcher School and Co-Director of the Russia and Eurasia Program. He has previously served as Associate Director of the Brady-Johnson Program in Grand Strategy at Yale, a lecturer at the New Economic School in Moscow, a visiting researcher at the Carnegie Moscow Center, a research associate at the Brookings Institution, and a fellow at the German Marshall Fund's Transatlantic Academy. He has written three books, The Struggle to Save the Soviet Economy: Mikhail Gorbachev and the Collapse of the USSR (2016), Putinomics: Power and Money in Resurgent Russia (2018), and We Shall Be Masters: Russian Pivots to East Asia from Peter the Great to Putin (2021). He received his Ph.D. and M.A. from Yale University and his B.A. in history from Harvard University.