Commencing a New Chapter: MIB Annin Peck Reflects on Fletcher Experience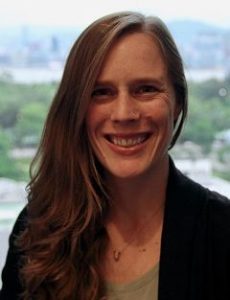 As part of the run-up to commencement, The Fletcher School is profiling a number of graduating MIBs, looking back on their time at Fletcher and ahead to their future. Dive deep into the Fletcher experience with 2017 MIB graduate, Annin Peck.
---
Why did you choose The Fletcher School?

I chose Fletcher for several reasons. When thinking about going back to graduate school, I knew I wanted a business program with an international focus. My research into international business programs showed me there were not many schools that fit the criteria I was looking for, but The Fletcher School more than met my criteria — it passed with flying colors. The program is interdisciplinary, internationally focused in all subject matters, has a diverse faculty, staff and student body and has a broad course offering.

The alumni and student body were also critical to my decision-making process. I couldn't believe how helpful, engaging and passionate every alum was. I recognized the passion that alumni still held for their school immediately, and by the time I made the decision to attend Fletcher, I already felt that I was a part of the community. I knew if the engagement from the alumni network was this good even before I had chosen Fletcher, it would be an alumni network I could always count on.

Do you have a favorite Fletcher memory?


By far my favorite memories have been the trips I've taken with my classmates. I've been fortunate to find a group of friends I travel well with and who enjoy travel just as much as I do. One memorable trip was winter break my first year, to Colombia. My classmate, Natalia, invited a few of us to her wedding there in January. We had the opportunity to celebrate this special occasion with her and her family, explore her home town, Bogota, and meet the couple's friends.

The trip epitomizes everything I love about Fletcher — the openness of the student body to welcome each other to their home countries and the strong relationships that form so quickly in the home that Fletcher has created. That trip set a high standard, and it's one we continue to try to break for all of our other trips!

What are your plans after graduating?

I am still working to figure out what my plans are after I graduate. I have an offer to work with Gap Inc. in Hong Kong on Sustainability and Business Strategy. This opportunity is particularly exciting because the role would draw upon the work that I've completed at Fletcher in my classes and my capstone project.

How did Fletcher lead you to this next step?

I feel prepared and completely unprepared at the same time. On the one hand, I have spent much of my time at Fletcher studying the apparel industry, its impact on the Sustainable Development Goals and how the industry can more positively contribute to sustainable development. I have gained in-depth knowledge of business strategy through my Corporate Finance, Fiscal and Financial Law, International Investment Law, Leadership and International Finance courses. These courses and my capstone research have prepared me for the exact role that I am considering with Gap Inc.

On the other hand, the relationships that I've built at Fletcher, including my friends, make it hard to consider moving (literally) across the world. I deeply value the relationships I've built at Fletcher and while I love the idea of a global network, the local network I've built at Fletcher will be sad to leave. I must remind myself that this part of the preparation is, inevitably, impossible to prepare for.

How can new students make the most of their Fletcher experience?

When I speak with prospective students, my advice is always the same — know what you want to do and then be open to all of that changing when you arrive here. The first part of this advice is important because Fletcher can be quite overwhelming when you first arrive. It's much more manageable if you have an idea of where to start, and have some professional and life experiences to back that up.

The second piece is crucial to be able to take full advantage of all that Fletcher has to offer. Take a few exploratory classes, engage with classmates who have opposing ideas to yours, speak with students in all the different degree programs and go to talks you think you wouldn't be interested in. By doing so, you expose yourself to new ideas, perspectives and individuals.