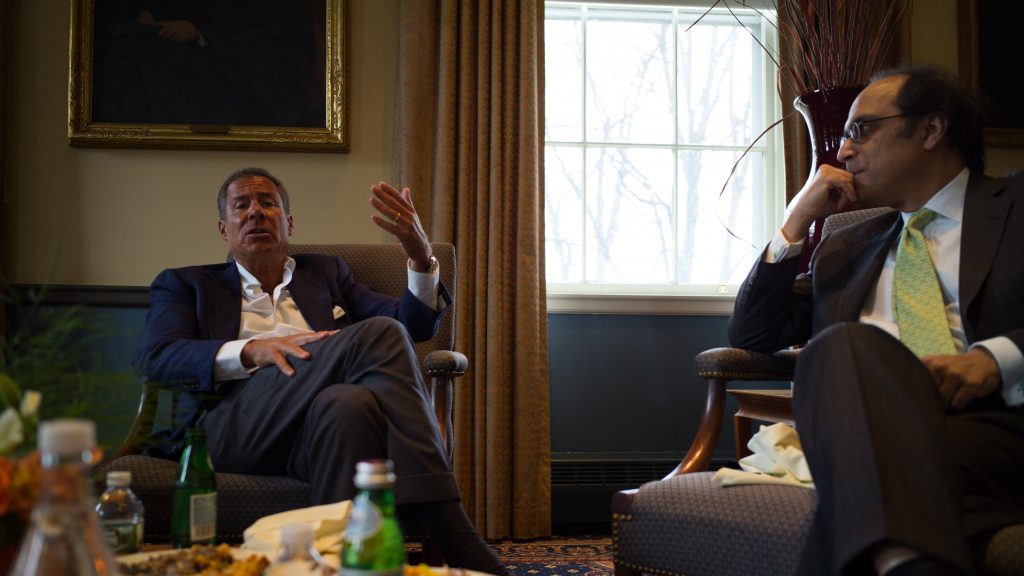 Richard Plepler (left), CEO of HBO, joins the IBGC Speaker Series with Dean Bhaskar Chakravorti
Each academic year, the Institute for Business in the Global Context (IBGC) Speaker Series hosts a number of high profile events featuring a industry leaders and entrepreneurial visionaries from diverse international business fields to share their experiences, insights and advice with students and the community at large. These international business leaders render culturally stimulating, entertaining and thought-provoking discussions on topics as compelling as cross border trade and finance, developing capital markets, emerging market entry strategy, business diplomacy, and international entrepreneurship.
Check Out IBGC's 2019 Events on the Fletcher Calendar
Since 2001, our Speaker Series has hosted these executives, entrepreneurs, and innovators to share insights and debate the issues shaping global business. Our purpose is to examine inclusion, sustainability, risk, innovation, and other challenges as experienced by leaders navigating them firsthand, inspiring and offering a "breadcrumb trail" for the next generation.
Recent speakers have included:
Ajay Bhalla | Chief Security Solutions Officer, Mastercard
Bill Browder | CEO, Hermitage Capital
Subir Gokarn | Executive Director, International Monetary Fund
John Gordon | Chief Digital Officer, Current, powered by GE
Angela Hansen| Partner, Dalberg
Rachel Hudson | CFO, ADM
Scott McDonald | CEO, Oliver Wyman
Art Peck | CEO, Gap, Inc.
Guadalupe Phillips | CEO, Empresas ICA
Richard Plepler| CEO, HBO
Amlan Roy | Senior Managing Director, State Street Global Advisors
Christina Sass | Co-Founder & COO, Andela
John Sculley | Former CEO, Apple
Shamina Singh | President, MasterCard Center for Inclusive Growth
Sunny Verghese | CEO, Olam
David Young | Senior Partner & Managing Director, Social Impact, Boston Consulting Group