The Fletcher School and the Institute for Business in the Global Context (IBGC) are involved in a wide range of entrepreneurship initiatives and partnerships. Learn more about these activities:
Fletcher D-Prize Poverty Solutions Venture Competition
The Fletcher D-Prize Poverty Solutions Venture Competition is for those who want to launch a new social enterprise in the developing world. As opposed to many other competitions, D-Prize is not about coming up with the next new poverty solution, but figuring out the best way to distribute the effective solutions already in existence — solar lamps, vaccines, among many others — to those who could most benefit from them in the developing world. Winners will receive up to $20,000 to pilot their new venture, with an additional $10,000 in-kind support. In order to participate, at least one member of the team either be a current student or graduate of The Fletcher School.
Learn More About Fletcher D-Prize
Check out our previous Fletcher D-Prize Winners: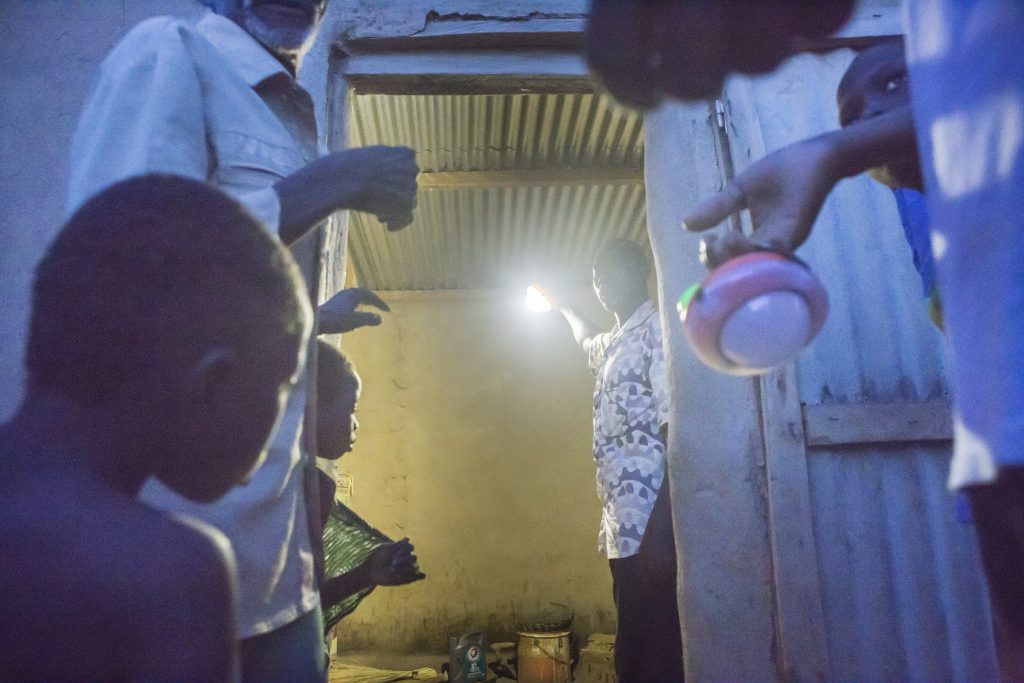 2014 D-Prize Winners Clair de Lune on the ground in Burkina Faso
Entrepreneurship Coaching
Need some more help working through your D-Prize plan or another entrepreneurial idea you've been kicking around? Enlist the help of The Fletcher School's Entrepreneur Coaches, Marilyn Davison & Rockford Weitz.
Learn more about Marilyn & Rockford
You can make an appointment for coaching by contacting:
Marilyn: davisonmarilyn@gmail.com
Rockford: rockford.weitz@tufts.edu
As Entrepreneurship Coaches, Marilyn & Rockford will help students and alumni:
Think through business, social, and policy ideas where entrepreneurship or intrapreneurship could be part of the solution
Create business plans, go-to-market strategies, and presentations to potential customers and investors
Connect with potential customers, potential investors, and service providers that an help aspiring Fletcher entrepreneurs turn their ideas into viable enterprises
Collaborate and problem solve team dynamic challenges
Entrepreneurship in Boston
Beyond the offerings on campus at Tufts, the Boston area is a hub of innovation and entrepreneurship. With a wealth of exciting offerings and prestigious universities, there is always a place to put your ideas to the test. Networking opportunities, ideation groups, and seed funding competitions exist through Boston, Cambridge, Somerville, and beyond, including the Boston Entrepreneurs Network, Venture Café, MassChallenge, and many many more. Get in touch with our entrepreneurship coaches to learn more about opportunities around Boston.
Tufts $100K New Ventures Competition
A university-wide event, the Tufts $100K New Ventures Competition draws entries from recent alumni, faculty, staff, undergraduate and graduate applicants from across the university. In April 2017, Fletcher team Adelante Shoes took first place in the Social Venture Track. Peter Sacco, F'17, has gone on to expand his social enterprise, which hand-makes top of the line leather shoes while providing a living-well wage for its Guatemalan craftspeople. As winner of the Tufts $100K Social Venture Track, Peter is participating in the Tufts California roadshow in October, meeting with potential investors and venture capitalists. Other Fletcher teams have had success in the past, with two Fletcher School teams receiving Honorable Mention in the Social Impact track in 2014, including the Audience Appreciation Award for D-Prize winner Clair de Lune.
Learn More About the Prize and the Tufts Gordon Institute
Read about Adelante Shoes in the Boston Globe
Upcoming Events
From time to time, IBGC and other groups on campus with bring entrepreneurship to the forefront through lectures, conferences, and other events. Stay tuned for opportunities to embrace the entrepreneurship ecosystem at Fletcher and Tufts during the Spring 2019 Semester.