GE Chief Digital Officer John Gordon Talks Technology Advances with Fletcher Students
"It's a pretty exciting time for you all to be coming out of Fletcher," John Gordon told an audience of Fletcher students. After all, the technology field is developing rapidly, and ideas once-considered "crazy" are driving major industry progress. Gordon knows a thing or two about noteworthy technology developments; he's the Chief Digital Officer of Current, powered by General Electric  (GE) — an energy company that integrates GE's LED, Solar, Energy Storage and Electric Vehicle businesses to deliver cost-effective, efficient energy solutions.
Understanding how technology evolves and the "implications of new technology trends" is of the utmost importance, Gordon told students. He referred to GE as a "big industrial company in transition" and said staying on top of the latest technology is one of the ways it stays current and drives progress.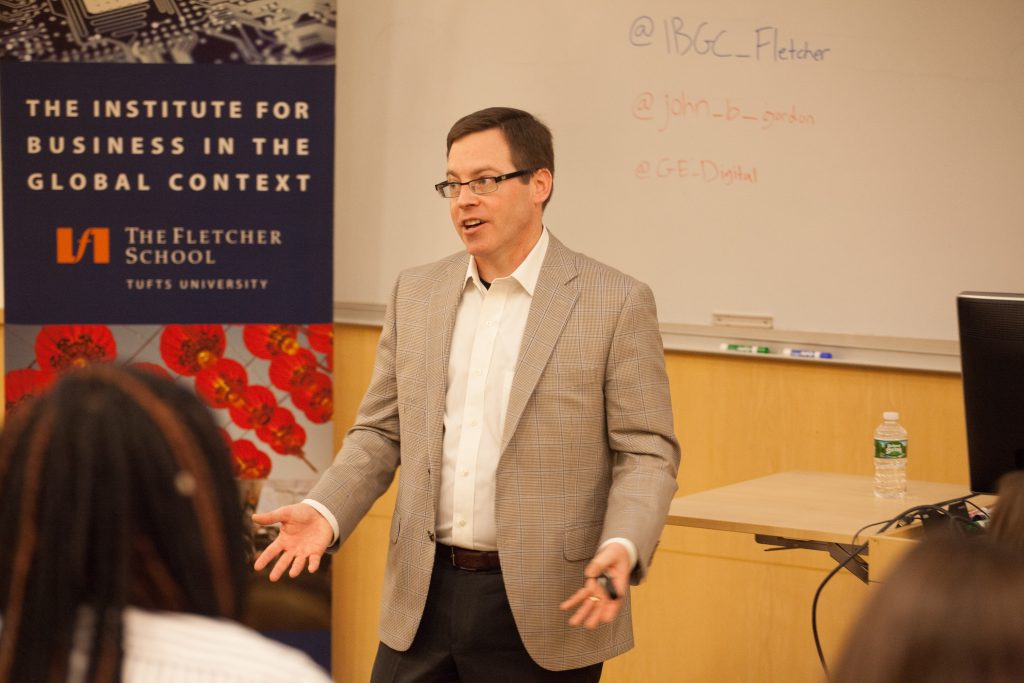 Case in point? GE is known for building locomotives and engines, but at a certain point the company realized they needed to update the way they approach technology to better understand how their systems actually perform. "We decided that we needed a different type of technology that would allow us to service things better," he explained. So GE sought out additional data to teach them how various machines, like airplanes, were operating, then started the process of analyzing.
Tackling information in this way meant the company relied on the "Internet of things (IoT)" analysis, Gordon explained. IoT focuses on the connection of devices, buildings and other items that are embedded with sensors and software and can collect and exchange data.
This small tweak in GE's business approach amounted to major profits for the company without sacrificing quality. "We're still running the same business but because we thought of data in the IoT way, it's driving billions in profits," he explained. How? Data that comes from the machines GE builds (like airline engines) helps maintain the engines themselves.
Today, in addition to simply creating machinery, GE is focusing their technology on buildings, retail spaces and hospitals. They've also dabbled in "smart cities," building custom technology for cities to improve the way they approach various problems. At the end of the day, it's basically a matter of putting solutions in the city's hands so they can better serve their populations, Gordon said.
Lately, GE has made a fundamental shift in the way it thinks about digital technology, and the company has been asking some crucial questions such as how they can put digital infrastructure in intelligent environments. "If these environments — spaces, buildings, sites — are intelligent, the innovation can move faster," Gordon said.
The way people think about the technology industry is changing by the day, so Gordon advised students to always think creatively to stay ahead of the curve: "As you guys think about your leadership in the international area, understand that technology is evolving, so think about engaging your team with key questions."
IoT has some implications for our current and future economy, Gordon explained. IoT will create more opportunities for the consumer, for starters. It will also impact the way investors and entrepreneurs do their jobs, and create new business models. The good news? Different environments like offices, cities and retail spaces are all in need of certain solutions such as intelligent lighting sensors, for instance, so the room for growth in the IoT space is strong.
"IOT is changing in the business world to something that you need to think of as a utility service that can provide a lot of value," Gordon explained. So the challenge for companies is to look at their niche market, find out what makes them stand out from the competition and drive growth: "Ask yourself, 'What are we good at?' Find out your personal differentiation. And own it."