Student Research: Grandeur & Marvels: Expositions as a Vehicle to Brand a Nation
by Jeremy Blaney (MIB 2016)
When London's Great Exhibition opened in 1851, it was met with anticipation and excitement not only by attendees but also by Queen Victoria herself. Indeed, the grandeur of the Crystal Palace, which housed much of the exhibition, combined with the technological marvels showcased within it communicated a message to the world: Britain was the most powerful and advanced nation on Earth.
Since then, nations have vied to host a world exposition (sometimes referred to as a world's fair), viewing it as a global platform to advertise prowess, ambitions, and identity. In other words, expositions are seen as a vehicle by which host nations – and those nations that have a pavilion on site – can introduce or advance a self-defined narrative to visitors from around the world.
In September 2015, I went to Milan as an alumni of the United Nations Alliance of Civilizations Fellowship Programme. There, I visited Expo 2015 Milan, which features pavilions from more than 140 countries around the world. Though all pavilions include exhibits that are central to the Expo's theme (Feeding the Planet, Energy for Life), side-narratives (an olive tree, sacred to all three Abrahamic faiths and associated with the concept of peace, is central to the Palestinian pavilion), and architectural magnificence (a 30-meter-long mirrored cantilever welcomes visitors to the Russian pavilion) suggest an intent to communicate much more than problems of nutrition and information about the resources of our planet. Indeed, each nation appears to be affecting a carefully crafted place branding campaign.
What is Place Branding?
Over the past ten years, place branding has grown in popularity, both as a field of practice and academic study. Currently, there is much disagreement about the meaning and scope of place branding as it crosses several disciplines, blurring the lines between marketing, public relations, public diplomacy, national security, and more. Despite the lack of a singular conceptualization, place branding can generally be defined as the process by which a place (city, region, country, or other geographic entity) creates or alters, monitors, evaluates, and proactively manages its image in order to enhance its reputation among a target audience for the purpose of increasing exports, attracting foreign tourists, enhancing foreign direct investments, increasing enrollment of foreign students, or achieving political (i.e., soft power) gains.
Place Branding in Action
Mega-events such as the Olympics, the FIFA World Cup, and a World Expo are some of the methods by which a place affects its branding strategy. Expo 2010 Shanghai, for example, boasted 246 official exhibitors, including 190 countries, all of which defined and communicated a brand to 73 million visitors. The United Arab Emirates was one such country. Understanding that the Chinese public had little prior knowledge of the UAE, the pavilion opted to create awareness and highlight its national story of development through films, displays, and exhibits instead of strictly adhering to the Expo's theme (Better City, Better Life). According to researchers, the UAE's strategy succeeded and was, thus, a winner in the contest of place branding. Indeed, the UAE pavilion made a distinctive, positive impact on the image of the country among the Chinese public.
Not all agree mega-events are worth the money spent – that is, some argue mega-events do not generate a positive return on investment. Officials, for example, estimate that Italy will have spent $14 billion by the time the Expo closes in October but only realize a gross domestic product increase of $11 to $15 billion.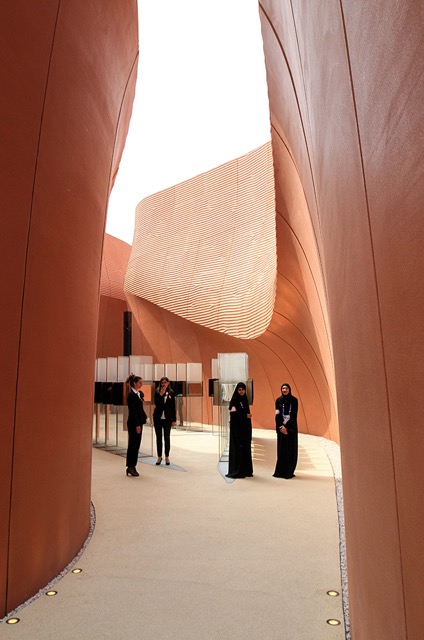 The UAE: Enchanting Today but Looking to the Future
Undeterred by the questionable financial gain of hosting an Expo is the UAE – Dubai made history by winning the bid to host Expo 2020, a first for the Middle East, North Africa, and South Asia (MEASA) region.
Following the success of the UAE pavilion at Expo 2010 Shanghai and realizing its presence at Expo 2015 Milan will serve as a springboard for Expo 2020, the UAE invested $55 million in its pavilion. The expenditure does not go unnoticed. Visitors enter the pavilion through 12-meter tall sinuous rippled walls, which are meant to resemble shimmering sand dunes. Once inside, all are treated to a film, The Family Tree, which features special effects on par with any major Hollywood production and a dramatic storyline that follows Sara, a young Emirati girl, who learns that the values and experiences of past generations can help us build a sustainable future. At the end of the pavilion, visitors view one last film, which introduces them to Dubai and Expo 2020 and explains how the UAE has grown from a primarily nomadic society into a thriving, world-class economy.
Previews of Expo 2020 Dubai and its theme (Connecting Minds, Creating the Future) suggest splendor and innovation will not be in short supply. Nor will financial gains, official say. Though the event will cost an estimated $8.4 billion (with the government spending an additional $6.5 billion on infrastructure projects), officials say the Expo will bring in around $23 billion.
Moreover, BrandFinance, an independent brand valuation and strategy consultancy, projects that Expo 2020 Dubai could boost the UAE's nation brand value by $8 billion dollars. Currently, the UAE sits at No. 32 with a valuation of $293 billion; in 2011, the UAE was ranked No. 36 with a valuation of $133 billion.
What Will Your Pavilion Say?
As I walked amidst the glass fiber-reinforced concrete dunes of the UAE pavilion at Expo 2015 Milan, I could not help but feel myself transported to 1851. Between the design and films, the grandeur and marvel, the UAE had communicated a message to me and millions of visitors: in the past 40 years a dramatic transformation has taken place, and in 2020 the UAE will showcase what more can and will be done.
Jeremy Blaney is a Master of International Business Candidate at The Fletcher School of Law & Diplomacy