Student Research: How Tech Companies Handle Fallout of Digital Trust
by Venkat Prasath Perumal (MALD 2018)
The number of people using the internet around the world is increasing at a rapid pace. With that, there has been steep expansion in global e-commerce. According to Euromonitor, in the US (the world's biggest consumer market by sales volume), e-commerce accounts for 10% of all retail sales. Further, Euromonitor predicts that share will increase to 16.6% in 2021. All this growth brings immense business opportunities for companies like Amazon and Alibaba. At the same time, the number of people using social platforms on the web is also on the rise. As of 2017, Facebook had 2 billion global monthly users, followed by YouTube's 1.5 billion, WeChat's 889 million, and Twitter's 328 million. Many of these internet companies generate revenue using targeted, personalized ads.
The growth of any platform-based business depends fundamentally on digital trust — the trust that the platforms create between sellers and customers which leads customers to buy seller's products and services. For example: if Amazon's product listings — the goods sold directly by Amazon and its partner merchants — couldn't be verified as authentic products, customers wouldn't buy them and might switch to a competitor. Similarly, a fraudulent phishing attack using customer's stolen credit card is common in platforms. When this happens, the seller would suffer because, in addition to loss of merchandise, he would have to bear the costs of preparing and shipping the merchandise.
In the case of social platforms like Facebook and YouTube, user retention and ad revenue are strongly correlated to efforts by the companies to moderate content. For example: if Facebook doesn't moderate postings and weed out images of such things as beheadings, bestiality, and sexual abuse of children,  many sensible users would abandon the platform and governments would clamp down on the technology giant. Recently, YouTube came under scathing criticism, and a few companies froze their advertising, when the BBC and The Times of London reported the ads of the major brands were shown alongside the videos of nude children accompanied by lewd comments.
Though people are increasingly dependent on digital platforms, they also are becoming increasingly distrustful of them. In recent research on Digital Trust in 42 countries (a collaboration between Tufts University's Fletcher School of Law and Diplomacy and MasterCard), this paradox is found to be a global phenomenon. If web- based companies do not focus on improving digital trust, they risk losing their unique differentiation, thereby losing business to competitors with better capabilities to inspire digital trust.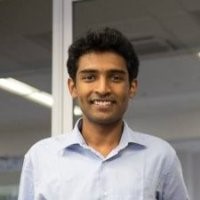 With the funding generously offered by IBGC, I embarked upon a journey to San Francisco, San Diego, and Los Angeles to understand what tech companies do to improve their digital trust. In my conversations with the Fletcher Alums working at Uber, Facebook, McKisney, and Twitter, I found interesting insights. Facebook and Twitter have invested heavily to improve image recognition and text analysis algorithms that are used to automate many of the mundane tasks related to the moderation of postings on its pages. Further, it is recruiting moderators in large numbers to categorize pictures that shouldn't be allowed on the platform based on the different requirements that each country has. Many data analytics start-ups have arisen to detect abnormal patterns of user purchases and use this information to conclude whether an online transaction has involved stolen credit card numbers. The point is to reduce costly chargebacks. While all these efforts are well-intentioned steps in right direction, more needs to be done to keep internet platforms safer and to increase public trust in them.
One prominent solution to the problem of declining trust is to use a combination of machine-learning algorithms and crowd-sourcing to remove unwarranted pictures, product listings and other types of content from websites. Given the scale of the content and the the need to understand its context, something that machines cannot solve by themselves, crowd-sourcing combined with well-designed algorithms could become a potent force and establish a successful business model. Startups like SquadRun Inc and Hive.ai, which bring in both the human and automation capabilities, could be examples of how digital trust can be improved. In essence, the idea is using humans to double-check the validity of images and text that are selected by computer algorithms — adding an essential layer of scrutiny to make the Internet a most trustworthy place. As the world becomes more digitized and more people join the Internet ecosystem, it is almost inevitable that distrust in the online platforms will increase. Hence, it becomes imperative for companies to invest in ways to improve trust among consumers and Internet uses. Those who do will likely enjoy a competitive advantage, winning more loyalty from customers and thereby, better revenues.
Venkat Prasath Perumal is a 2018 Master of Arts in Law and Diplomacy Candidate at The Fletcher School