Student Research: Tech for Social Change: How social impact organizations are pushing the boundaries of Salesforce.com
by Aditi Patel (MALD 2016) and Gaspar Rodriguez (MA 2016)
Over the last 15 years, Salesforce has grown from a simple customer relationship management (CRM) tool to a suite of cloud-based business applications, analytics and mobile products with over 100,000 customers. Force.com is Salesforce's Platform-as-a-Service (Paas) offering that allows users to build custom applications and data models within the existing Salesforce infrastructure. Around the world, social impact organizations (SIOs) are leveraging Salesforce and Force.com to build customized solutions around their programming activities.
During the last few months, we've been conducting a global survey and interviews directly with decision makers and users at SIOs to better understand the internal implementation process and identify key areas that have led to successful, and failed, systems. With almost 50 respondents and 10 in-depth interviews from Kenya, India, and the US, we've been tracking the specific uses that are pushing the boundaries of Salesforce platform use in the developing world.
Thus far, we've identified an increasing need for customization as international development interventions and on the ground programming become much more rigorous and complex, including the integration of various third party tools in the field, such as mobile data collection and GIS.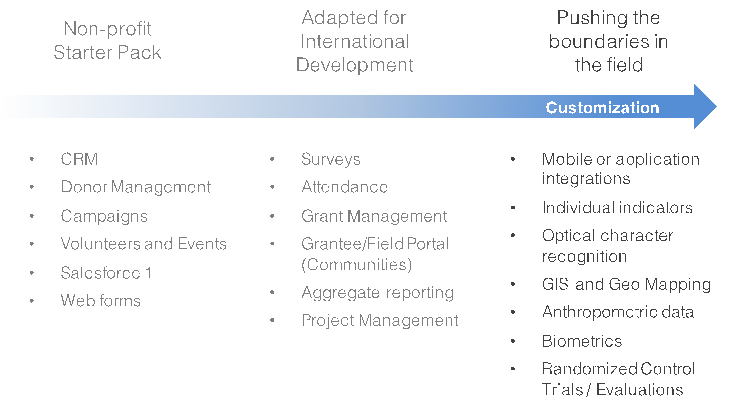 With support from the Institute for Business in the Global Context (IBGC) we were able to visit Chile, Uruguay, Rwanda, Kenya, and India to conduct interviews with implementers and SIOs who are using Salesforce and Force.com. From maternal health clinics to schools in urban slums to eliminating education inequity in India, customized implementations are leveraging the platform and helping hundreds of SIOs track their data and services on a cloud-based tool.
One of the areas being explored in this study is the interaction between Salesforce the company and SIOs, which starts with how organizations heard about the platform. Preliminary results show that 51% of respondents heard about it through another organization and 41% heard about it from a friend or colleague. Only 3% of organizations chose the platform based on direct marketing efforts. This means that Salesforce has relatively little knowledge of how SIOs are using their platform. Since platform use is being transferred mainly through informal channels, we believe this inhibits the sharing of best practices and common needs between SIOs and Salesforce the company. Understanding these needs and creating products specifically for SIOs could be a major value-add, given that most organizations struggle with similar issues during implementation.
As demand for Salesforce and Force.com continues to grow for SIOs, we hope to highlight the ways that organizations in the developing world are pushing the boundaries of the platform and how Salesforce could better support these use cases. During the next few months, we'll take what we've learned from the field to Salesforce implementers and Salesforce the company in the U.S. to make sure SIOs need are being better understood by implementers and developers.
Aditi Patel is a Master of Law and Diplomacy candidate and Gaspar Rodriguez is a M.A. candidate, both at The Fletcher School of Law & Diplomacy.