Fletcher Reads the Newspaper | The Russia-Ukraine Crisis: What is the impact on international and local businesses and the future of the global economy?
By Miriam Silverman Israel, A'24
On Monday, April 4, the IBGC hosted a special edition of "Fletcher Reads the Newspaper" where current students and faculty welcomed several prospective students who were visiting campus as part of Admitted Student Day. In typical Fletcher fashion, the event featured professors from a range of disciplines to discuss a timely and complex current event, while also leaving time for conversation between students who were able to bring their own interdisciplinary expertise to the issue. The event focused on the ongoing Russia-Ukraine crisis and aimed to answer the question, "What is the impact of the crisis on international and local businesses and the future of the global economy?"
To answer this question, Bhaskar Chakravorti, Dean of Global Business, moderated a panel featuring several esteemed Fletcher faculties, including Joel Trachtman, Professor of International Law; Amy Myers Jaffe, Professor of Energy and the Environment and Managing Director of the Climate Policy Lab and Monica Toft, Professor of International Politics.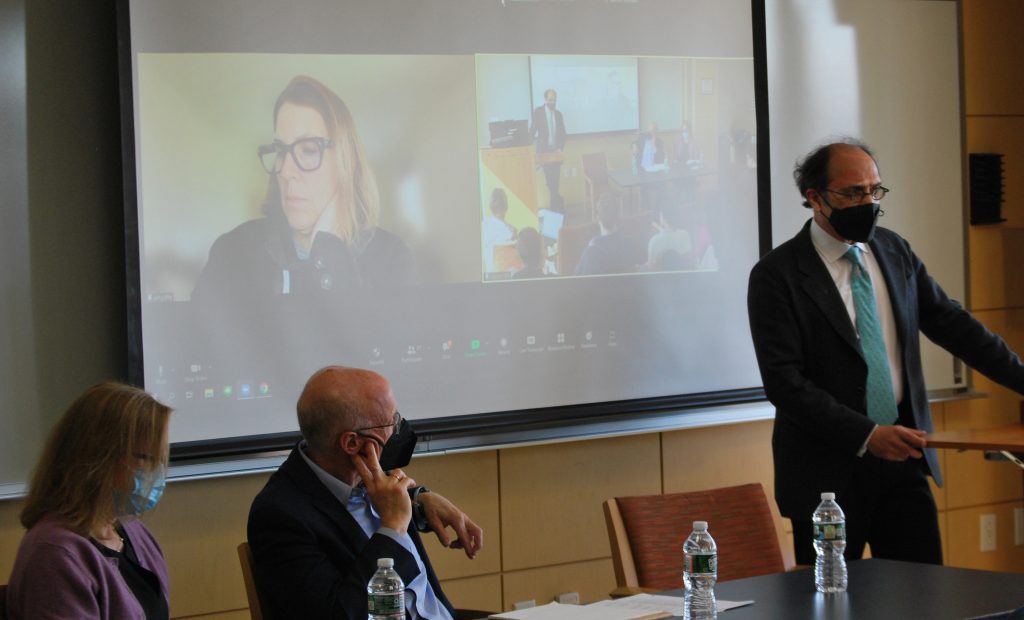 To begin the discussion, Professor Toft gave an overview of the geopolitics and different levels of analysis necessary for understanding the roots of the current conflict, as well as the potential outcomes. Toft laid out four levels of analysis relevant to this issue: the interpersonal level; the interlocuter level; the domestic political level; and the international level. At the international level, Toft noted that there has been strategic ambiguity from the West regarding NATO and EU expansion, leading to distrust and defensiveness from Russia.
Professor Toft also gave an overview of the current sanctions regime against Russia and explained how it has been expanded quite rapidly, with a current total of 5,581 individual sanctions across the Russian economy. At the same time, these sanctions have mainly been enacted by U.S. allies and could have severe effects on other regions who depend on Russian exports like wheat and oil or natural gas. In addition, China has not gotten on board with sanctions, which is a key weakness in the regime, and Russia has spent significant resources trying to "sanction-proof" its economy since earlier sanctions in 2014. These factors make it unlikely that sanctions alone will be enough to stop the current conflict.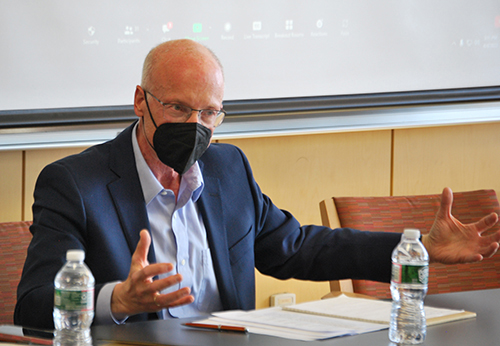 In fact, as Toft explained, it is possible that by isolating Putin, the sanctions could in fact make the situation worse. If Putin is backed into a corner and left without options to save face, he might resort to even more extreme or violent action to secure a victory.
Next, Professor Trachtman discussed the issue of sanctions in the context of geo-economics and a global economy. A global economy means that the costs of non-participation are higher for individual parties, and that countries like Russia have more to lose by undermining international norms. As a result, it is interesting the Putin has chosen to continue the conflict in Ukraine, despite the potential for severe economic losses due to sanctions. In contrast to Professor Toft, Trachtman noted the historic nature of the current sanctions which have been far more global than in the past. In addition, these sanctions have targeted high-tech products for export and import as well as critical financial infrastructure. For example, Russia has been banned from the SWIFT system which is a critical mechanism that banks use to communicate with each other and make transfers. Taken together, Trachtman argued that these sanctions do have the potential to bring the Russian economy grinding to a halt.
Following this analysis of the current sanction regime, Trachtman pivoted to discuss the impacts on businesses operating in Russia, and the choices that many international corporations have had to make during the crisis. A record number of companies have already ceased operations in Russia, which may be partly due to Russia's relatively small share of the global market. As such, large companies like McDonalds or Apple are better off losing that revenue than dealing with potential backlash in the U.S. or EU. In addition, businesses might decide that it is not worth the effort to try and comply with the many sanctions. They also might be unable to reasonably continue their operations considering the limitations posed by sanctions. It is possible that this domino effect from businesses, combined with ongoing sanctions may be enough to influence the outcome of the conflict, but Trachtman cautioned that it is still too early to tell.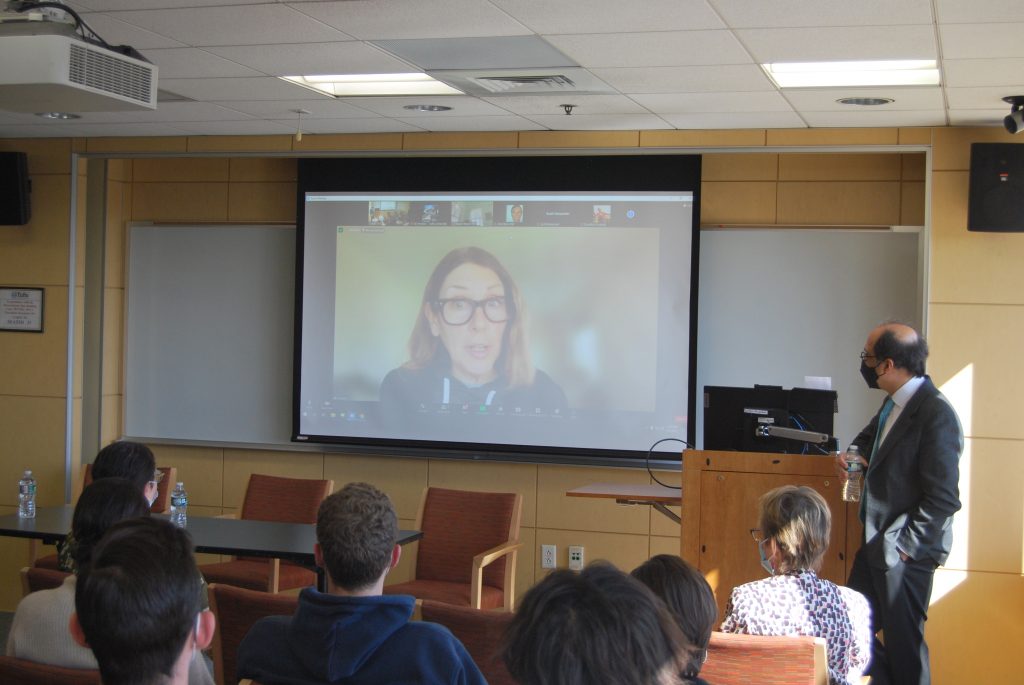 The final panelist, Professor Myers Jaffe, proceeded to break down the energy implications of the current crisis, particularly considering the recent decisions by fossil fuel giants Exxon and BP to halt investment in new oil and gas assets in Russia. Although it's likely these companies faced pressure from their national governments, they also face steep risks for remaining tied to assets within Russia. First, as the world responds to the conflict by moving away from Russian natural gas, these assets could become less valuable. Second, the executives and personnel of these companies have often been put at personal risk during disputes with Russia, going so far as to need safehouses and to be smuggled out of the country. As such, they were perhaps better prepared than most to recognize the severity of the situation and respond quickly once it escalated.
Although there are promising signs that the conflict will spur a shift towards renewable energy, Myers Jaffe said that it's unclear how feasible this is in the short-term, and if the stigma against Russian energy will remain in the long-term. The global energy market has also become more fragmented, and it has been difficult for the U.S. and its allies to create enough control over global energy prices and supply to have real leverage over Russia.
Following these presentations, students had the opportunity to discuss amongst themselves. Professor Chakravorti provided a prompt for attendees and suggested they try to think of recommendations for an international corporation like Google on whether they should remain in Russia given the restrictions on businesses and media.
Several students visiting for Admitted Student Day weighed in, including John Izzo who thought that it would be best for Google to remain in the country, particularly since "…although you could stand on principle, that won't help the situation. The state won't miss you [i.e. Google] but the Russian people will lose access to important information." A theme emerged that it was more important for Google to provide as much information to citizens as possible, despite media censorship.
Overall, students appreciated the opportunity to learn from professors and each other and discuss this important topic. Admitted student Kira Akka-Seidel summarized this point nicely when she said, "Even though professors have such different takes, it is interesting to hear their perspectives and exciting that debate within faculty can be so fruitful."
To watch the video of the talk click here.