This series provides a space for conversation about corruption in fragile states. Since its inception in 2016 as part of the CDA Perspectives Blog, the series has sought to challenge status quo thinking with a particular emphasis on exploring systems-based approaches to understanding and acting on corruption dynamics. Topics in the series range from new research findings in Uganda, Iraq or the DRC to provocative thought pieces intended to contest dominant paradigms or practices.
Now hosted by the Henry J. Leir Institute, our contributions are inspired by, but not limited to, the Corruption, Justice and Legitimacy project as well as the, now concluded, Central Africa Accountable Service Delivery Initiative. We are privileged to also have posts from a number of prominent thinkers, policy makers and practitioners as guest bloggers.
As we continue to examine our own thinking, we welcome reflections and questions and encourage you to comment on the posts. If you are interested in submitting a guest post please contact the Series Editor: Cheyanne Scharbatke-Church (cheyanne@besacsc.org)
Featured Post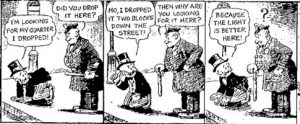 Esteemed corruption author and academic Michael Johnston encourages us to look up from our data from time to time, to challenge the evidence we often rely on to define and analyze corruption. In this latest post from our series on corruption in fragile states, Professor Johnston asks us to take a fresh look at the lives and histories of those living in corrupt contexts, in hopes of finding richer, more useful, possibilities for peacebuilding and corruption control.
Professor Johnston's post sparked a response by Professor Matthew Stephenson, Editor of the Global Anticorruption Blog.  Professor Johnston, in turn, addressed Professors Stephenson's concerns through his 1.39 Cheers for Quantitative Analysis.