For additional information, please contact the lead researchers of this study, Cheyanne Scharbatke-Church and Diana Chigas.
This program is committed to improving the effectiveness of anti-corruption programming as a means of unlocking the barrier to development outcomes caused by corrupt patterns of behavior. Starting with the assumption that the traditional strategies used to combat corruption do not align with the nature of the problem itself, this program first sought to develop an alternative analytic method that reflected the full range of related factors such as political dynamics and social norms. Based on research in the criminal justice sectors in Central African Republic, Uganda, and the Democratic Republic of the Congo, the program developed and tested a methodology derived from causal loop mapping that reflects corruption as a complex adaptive system. This methodology creates actionable analysis that enables policy makers and practitioners to identify leverage points, develop strategic collaborations, test theories of change and avoid unintentional harm. This holistic analysis of the corruption dynamics also considers whether and how corruption affects state legitimacy.
At present, the program is focusing its efforts on expanding the understanding of the role social norms play in maintaining corrupt patterns of behavior, and ways in which social norms could be leveraged in anti-corruption programming. To stay up to date on the program, please subscribe to the Corruption in Fragile States blog series, where we regularly post our latest findings, request input and feedback, and provide provocative thought pieces from actors challenging the status quo in anti-corruption work.
Publications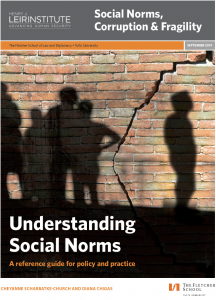 Understanding Social Norms: A Reference Guide for Policy and Practice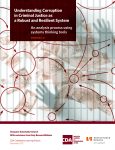 Understanding Corruption in Criminal Justice as a Robust and Resilient System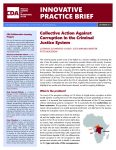 Collective Action Against Corruption in the Criminal Justice System