Advanced Skills Workshop: Empathy in Conflict Resolution
March 7 @ 9:00 am

-

March 8 @ 1:00 pm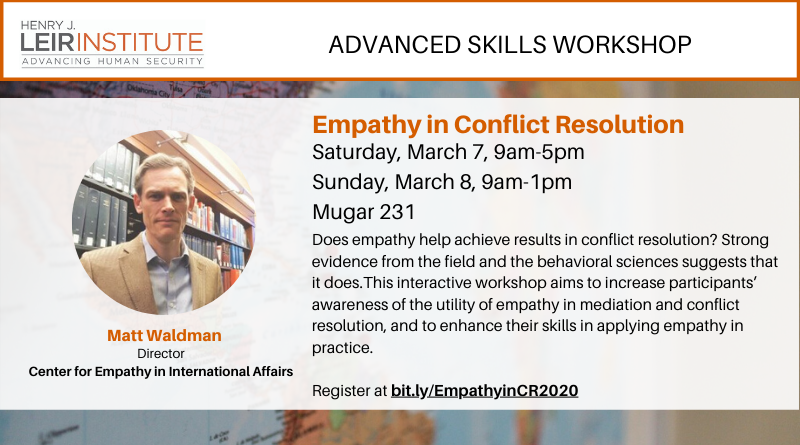 Does empathy help achieve results in conflict resolution? Strong evidence from the field and the behavioral sciences suggests that it does. The best mediators and diplomats use empathy, which underpins their ability to understand, anticipate and influence others. Moreover, research has shown that we can enhance our empathy and related skills. This strengthens our ability to understand conflict, make informed decisions, build relationships and engage effectively.
This one and a half day Advanced Skills Workshop, run by mediator and conflict specialist Matt Waldman, aims to increase participants' awareness of the utility of empathy in mediation and conflict resolution, and to enhance their skills in applying empathy in practice. In particular, the workshop seeks to develop participants' appreciation of psychological dimensions of conflict, especially biases and emotions, and enhance their skills in empathizing, perspective-taking, active-listening and trust-building.
Workshop sessions will be interactive involving presentations with insights from behavioral and social sciences, facilitated whole-group and small-group discussions, structured exercises, simulations and role-plays with mutual feedback, and real-world case studies.
Matt Waldman is a Special Advisor to the United Nations Envoy for Yemen, Visiting Fellow at Harvard Law School's Program on Negotiation, and Director of the Center for Empathy in International Affairs. Previously, Matt served as an Advisor to United Nations envoys for Somalia, Syria and Afghanistan and has undertaken mediation work in the Middle East and Africa for the European Institute of Peace and Inter Mediate. Matt was a Fellow at the Belfer Center in Harvard University's Kennedy School, and Senior Lecturer at the Fletcher School of Law and Diplomacy, Tufts University. He was also previously a Fellow at Harvard's Carr Center for Human Rights, a Visiting Fellow at Clare College, Cambridge University, and an Associate Fellow at Chatham House.