Conversation with Suraj Yengde
December 11, 2020 @ 9:00 am

-

10:00 am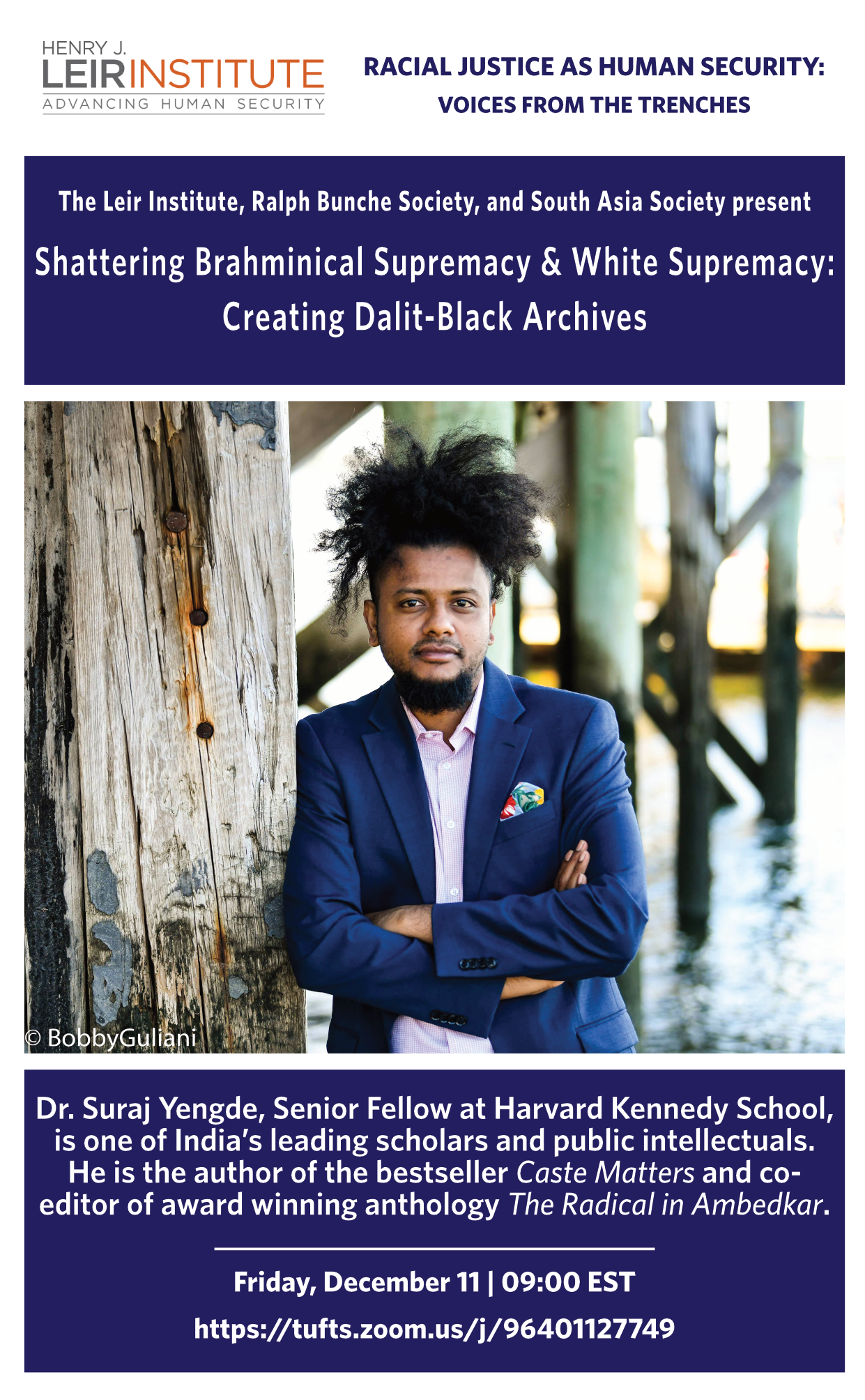 See the event video below

Leir Institute Event Series
Racial Justice as Human Security: Voices from the Trenches
A Conversation with Suraj Yengde – Shattering Brahminical Supremacy & White Supremacy: Creating Dalit-Black Archives
Join the Leir Institute, Ralph Bunche Society, and the Fletcher South Asia Society for a conversation with Dr. Suraj Yende, Senior Fellow at the Harvard Kennedy School on Friday, December 11, 9am Eastern. Q&A to follow.
Dr. Suraj Yengde is one of India's leading scholars and public intellectuals. He is the author of the bestseller Caste Matters and co-editor of award winning anthology The Radical in Ambedkar. Caste Matters was recently featured in the prestigious "Best Nonfiction Books of the Decade" list by The Hindu.
Suraj is currently a Senior Fellow at the Harvard Kennedy School. He holds a research associate position with the department of African and African American Studies, a non-resident fellow at the Hutchins Center for African and African American Research, and is part of the founding team of Initiative for Institutional Anti-Racism and Accountability (IARA) at Harvard University. He has studied in four continents (Asia, Africa, Europe, North America), and is India's first Dalit Ph.D. holder from an African university (University of the Witwatersrand, Johannesburg). He is an International Human Rights attorney by qualification from India and the UK.
Suraj has published in multiple languages in the field of caste, race, ethnicity studies, and inter-regional labor migration in the global south. Currently, he is involved in developing a critical theory of Dalit and Black Studies.