Human Security and Contemplative Practice: A Conversation with Jack Petranker
March 18, 2021 @ 11:00 am

-

12:00 pm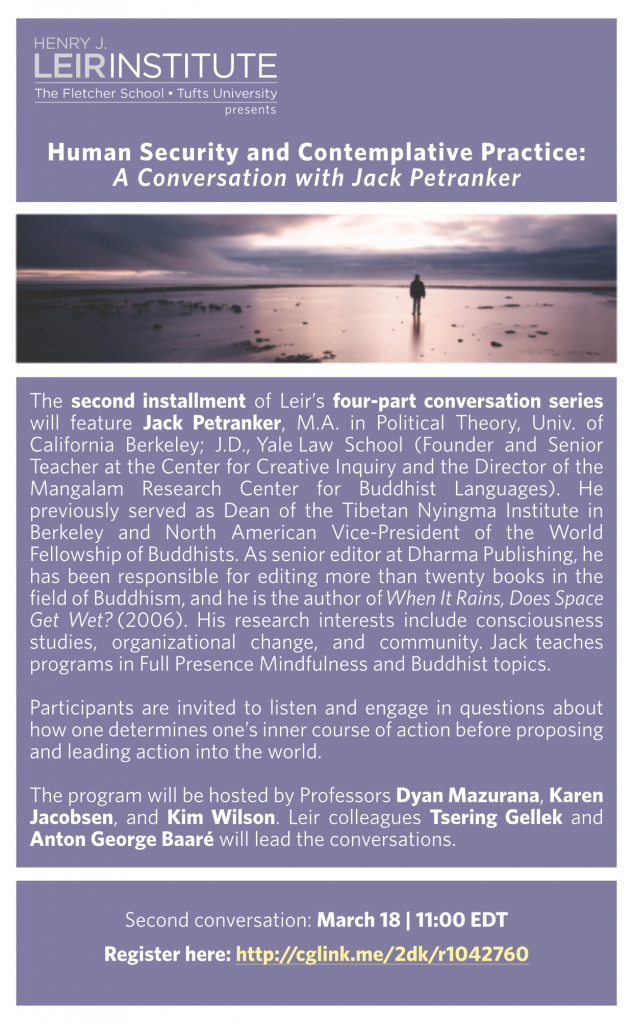 The Henry J. Leir Institute is pleased to announce a conversation series dedicated to exploring the intersection of Human Security and Contemplation. As complexity multiplies across all disciplines, the question of providing human security rests on fundamental aspects of what being human means. In this four-part conversation series, participants are invited to listen and engage in questions about how one determines one's inner course of action before proposing and leading action into the world. Contemplation is in essence learning to quiet the mind, to make the temple of our being into a place where decisions are made mindfully and perhaps more humbly. Learning to engage honestly with inner inquiry and contemplation allows one to explore the ambiguities and uncertainties of making decisions – and to become a more effective listener and leader. This program is open to all who share a sincere interest in self-reflection.
The second conversation will feature Jack Petranker, M.A. in Political Theory, Univ. of California Berkeley; J.D., Yale Law School (Founder and Senior Teacher at the Center for Creative Inquiry and the Director of the Mangalam Research Center for Buddhist Languages). He previously served as Dean of the Tibetan Nyingma Institute in Berkeley and North American Vice-President of the World Fellowship of Buddhists. As senior editor at Dharma Publishing, he has been responsible for editing more than twenty books in the field of Buddhism, and he is the author of When It Rains, Does Space Get Wet? (2006). His research interests include consciousness studies, organizational change, and community. Jack teaches programs in Full Presence Mindfulness and Buddhist topics.
The program is hosted by Profs Mazurana, Jacobsen and Wilson, and the conversations will be led by Leir colleagues, Tsering Gellek (F01) and Anton George Barré.
The second conversation is on March 18th at 11 am EST.
Register here. Zoom link to follow.