Racism, Police Violence, and the Fight for Rights in the Favelas of Rio de Janeiro
September 29, 2020 @ 5:15 pm

-

6:15 pm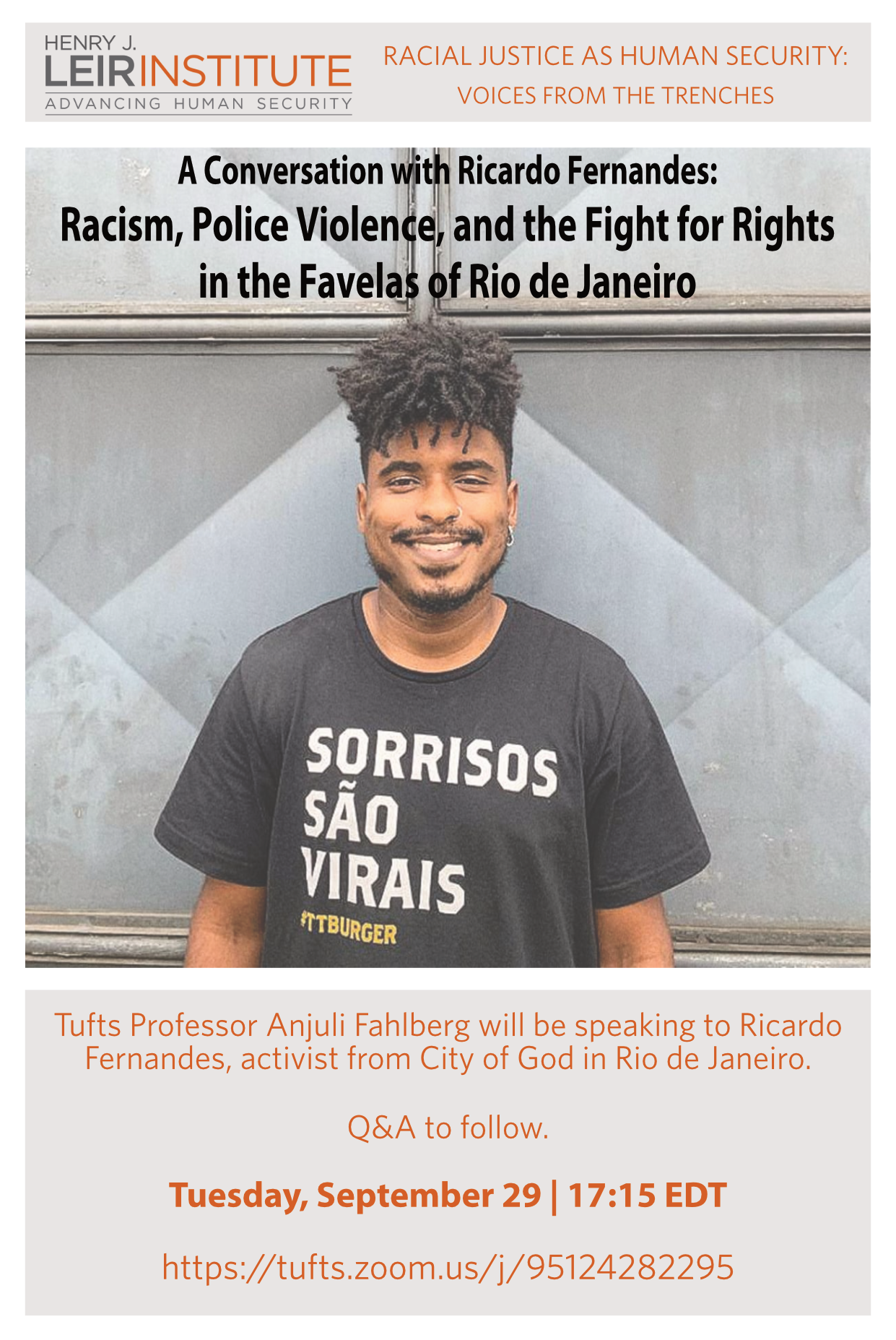 See the event video below
Leir Institute Event Series
Racial Justice as Human Security: Voices from the Trenches
A Conversation with Ricardo Fernandes: Racism, Police Violence, and the Fight for Rights in the Favelas of Rio de Janeiro
September 29, 2020 | 5:15pm Eastern
Join the Leir Institute in viewing a conversation between Tufts University Professor Anjuli Fahlberg and Ricardo Fernandes, an Afro-Brazilian activist, actor, and researcher from City of God in Rio de Janeiro. Q&A to follow.
Ricardo Fernandes is an activist, actor and researcher from Cidade de Deus, Rio de Janeiro. Ricardo's work focuses on addressing urban inequality in Brazil, particularly in regards to race, poverty, youth, and drugs. He was co-founder of Movimentos: Drogas, Juventude e Favela (Movements: Drugs, Youth and Favela) in Rio de Janeiro in 2017, which seeks to debate and change Brazil's drug policies, particularly in regards to racism, mass incarceration and police violence. He also co-leads Os Arteiros, an NGO in Cidade de Deus that teaches youth about theater and performance while providing them with college preparatory courses. He co-leads the Building Together Research Collaborative with Anjuli Fahlberg, Assistant Professor in Sociology at Tufts University. Most recently, Ricardo co-founded and is leading FrenteCDD, a mutual aid group providing food and other resources to families in Cidade de Deus impacted by the pandemic.
Anjuli N. Fahlberg is Assistant Professor in the Department of Sociology and Co-Director of the community-engaged Research Center Construindo Juntos (Building Together), based in Rio de Janeiro. Her research spans a host of topics, including politics, violence, urbanization, poverty, gender, race, social movements, and Latin America. More specifically, her research employs an intersectional lens to examine the effects of urban violence and racialized poverty on social mobilization across the Americas. She employs a participatory action research (PAR) approach in both ethnographic fieldwork and survey research. Her current book project, Activism under Fire: The Politics of Non-Violence in Rio de Janeiro's Most Dangerous Favela documents how activists residing in Rio de Janeiro's poor neighborhoods mobilize for social services, local development, and citizenship rights in a context of armed drug gangs and a racist and violent state. For more information, visit www.anjulifahlberg.com.