Maryville University's Center for Access and Achievement (CA2) partners with high need school districts and nonprofits to help prepare students with the skills and abilities they need to succeed in STEM fields in college and the careers of the future. Associate professor Steve Coxon, PhD, serves as executive director. CA2 offers a variety of programs with a common focus to give students the boost they need to thrive. The Maryville University group already serves more than 2,000 pK-12 students and their teachers through outreach programs into high-need St. Louis County schools, after-school clubs, and 9 weeks of summer programs – largely around LEGO Robotics – and partners with the St. Louis HeadStart program.  Through this project, the Maryville team brought more Learning through Play (LtP) assets into their outreach efforts by developing a new set of activities centered around math and science.
---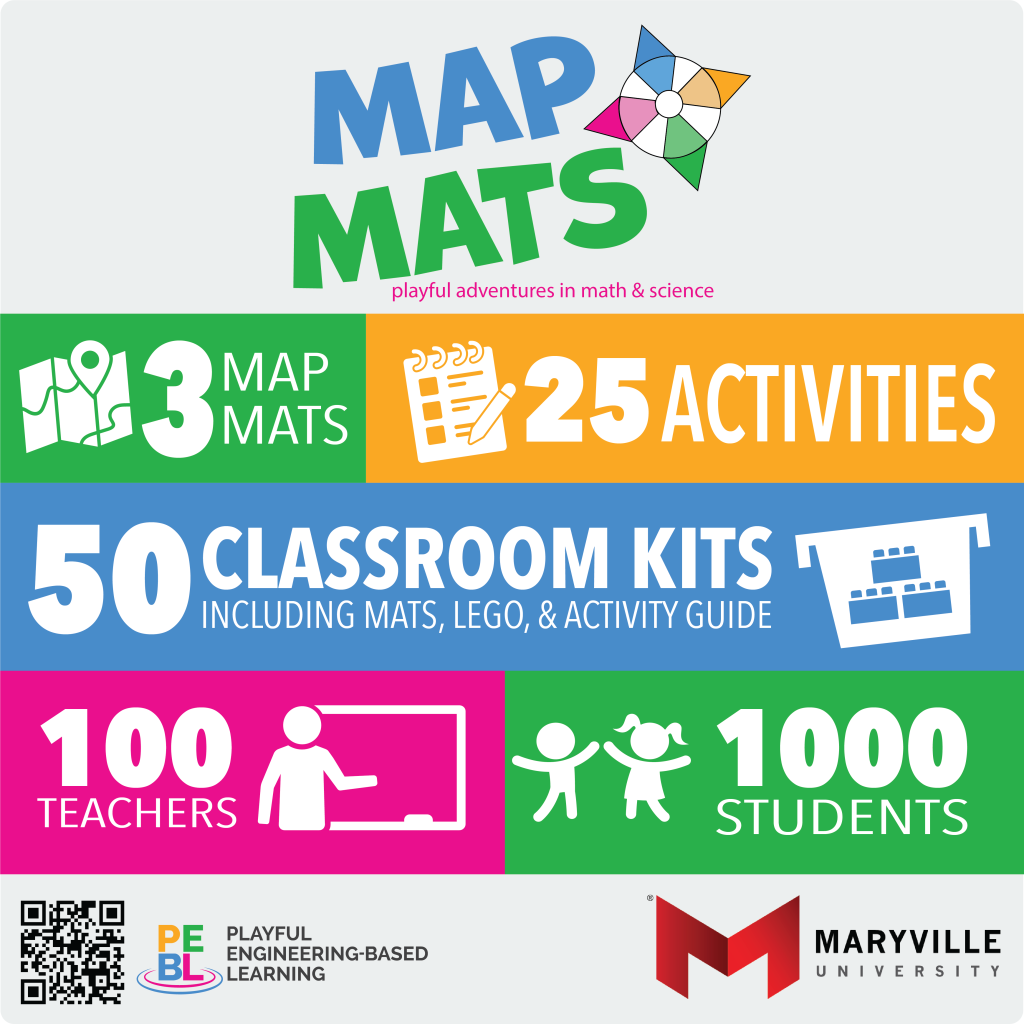 ---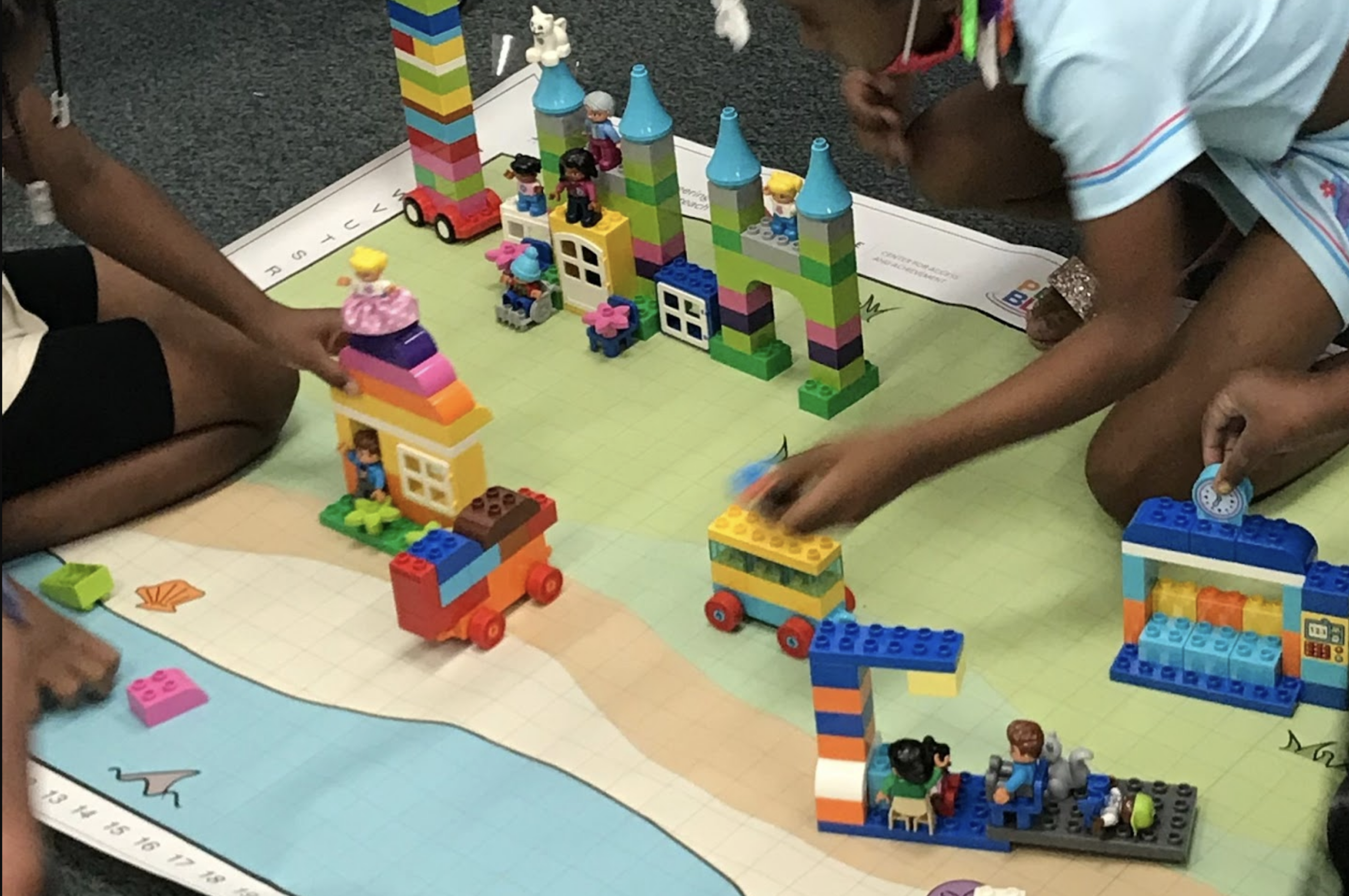 MAP MATS
MAP MATS: Playful Adventures in math and science is a set of activities using LEGO DUPLO and three large floor MAP MATS.
---

MAP MATS Classroom kits
Developed three floor mats with different scenery and a map grid sized to a DUPLO 2×2 brick.
Developed activity guide with 25 science and math activities.
Created MAP MATS webpage with PDF versions of all three MAP MATS and the activity guide available as free downloads.
Recorded MAP MATS sessions in a Kindergarten classroom and an afterschool 4th grade STEM Club. The footage will be used to develop training videos posted on the MAP MATS site.
MAP MATS were used as the core curriculum in Maryville summer STEM programs. 9 teachers and 250+ students used the MAP MATS materials during the summer of 2023.
53 MAP MATS classroom kits were assembled and distributed to local classrooms. Each kit includes the following:

LEGO STEAM Park set
LEGO My XL World set
LEGO Tubes set
LEGO Creative Bricks set
DUPLO people set
Three MAP MATS printed on vinyl
MAP MATS Activity Guide
Slopes, Slides, and Ramps book

Held MAP MATS training sessions.

A 55-minute introductory session was given during Maryville's Center for Access and Achievement STEM Workshop Day.
A three-hour workshop took place at the Jackie Joyner Kersee School for the teaching staff.
Introductory lesson for Teachers in the Maryville STEM Certificate program.
MAP MATS Webinar. The recorded version will be made available on the MAP MATS webpage.
Builders Boxes
In Collaboration with The Magic House: St. Louis Children's Museum, Maryville CA2 designed Builders Boxes. The boxes are made of modular panels with large holes and contain materials like flexible tubing, wooden ramps, and pipes, allowing students to construct their own ramps for balls.
The boxes were tested and redesigned based on feedback.
Five sets of the final version were built and distributed to local schools.
---
---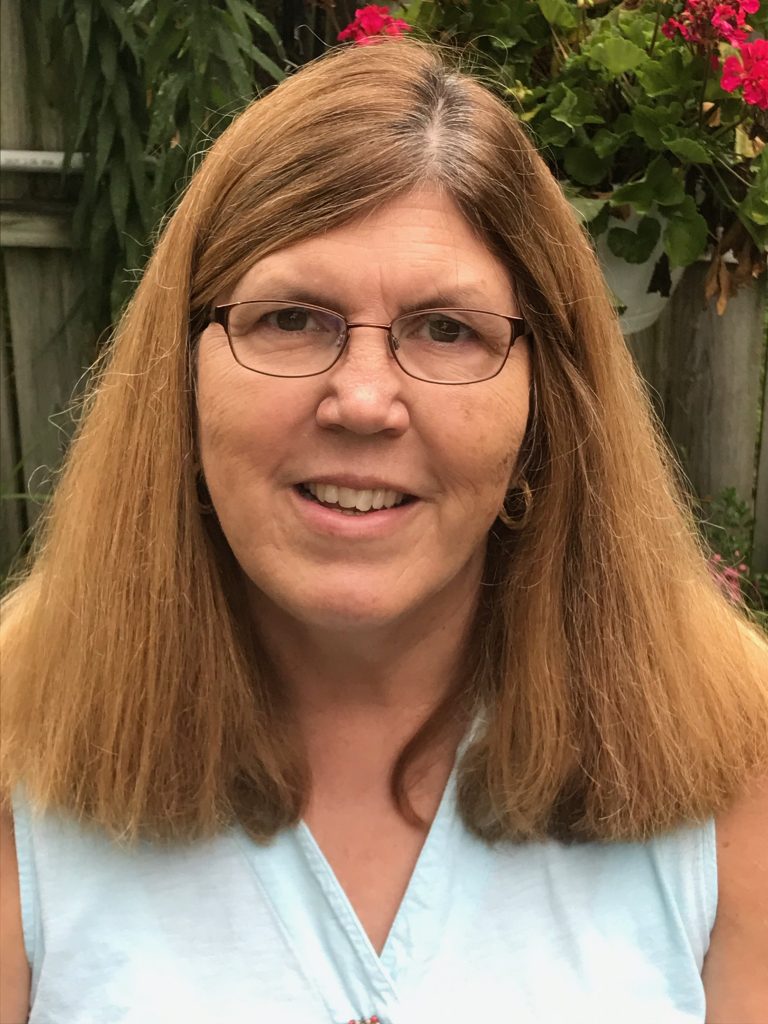 Karen Engelkenjohn
BA – Art History,
MEd – Special Education
M Ed. – Administration
Maryville University's Center for Access and Achievement
Program Director – LEGO Foundation Grant – Playful Engineering Based Learning (PEBL)
Program Manager- STEM Explorations summer program for students K-5th grade
Program Coordinator – STEM Competitions
Karen Engelkenjohn is an Educator with over 22 years' experience in project-based learning as a Gifted Specialist, STEM Educator, and FIRST LEGO League coach and mentor. She participated in STEM training through Discovery Education. She uses Novel Engineering in her teaching and includes it in the programs she manages.
Karen has been using LEGO Education products for more than 16 years in her classroom and in summer camps. She has used all the Mindstorms products including RCX, NXT, EV3, Spike Prime. With young students she used Simple Machines & Mechanisms, Exploring Energy, WeDo1, WeDo 2 and now Spike Essentials. She has recently become a LEGO DUPLO enthusiast.
Karen is an EFOL (Educator Fan of LEGO) and AFOL (Adult Fan of LEGO).