Fletcher Team Named Regional CFA Challenge Champs!
Originally posted on Fletcher Admissions Blog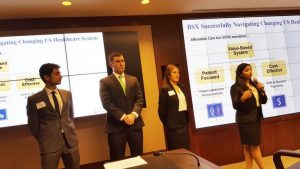 Great news for our students: Fletcher's team in the CFA Institute Research Challenge emerged as champions in last night's Boston-region competition!  Presenting their research on the company Boston Scientific, the Fletcher team topped competitors Babson College, Brandeis University, and Hult International in the final round.
The winning team consisted of JP Craven (first-year MIB), Doris Hernandez (second-year MALD), Ashray Dixit (second-year MIB), and our own Admissions Bloggers Mariya and Adi!  Professor Patrick Schena was advisor to the team and Office of Career Services Director Elana Givens added her input and attended the competition, as did Dean Bhaskar Chakravorti.
The next round of the challenge will be the North and South Americas regional competition (coincidentally) in Boston on March, with about 50 teams competing.  The winner of the regional competition will go to the global competition in Kuala Lumpur, Malaysia in April.
Congratulations to Professor Schena and the successful team!