by Mark Conway, GMAP
Recent studies out of the IBGC on the Digital Planet have highlighted how the adoption of digital technologies are impacting countries' economies, competitiveness, their building of "smart societies," and the building – as well as the undermining – of trust. Another area where the digital evolution is having a profound impact is Global Health – particularly in mHealth (mobile health) in low- and middle-income countries (LMICs). Driven by the increasing penetration of mobile, access to healthcare training and services in even the poorest and most remote areas of the planet is being transformed.
The Broadband Commission for Sustainable Development released a report (2/17) on the potential of information and communication technologies (ICT) on global access to healthcare. The graph below shows the growth of broadband access between 2007–2016.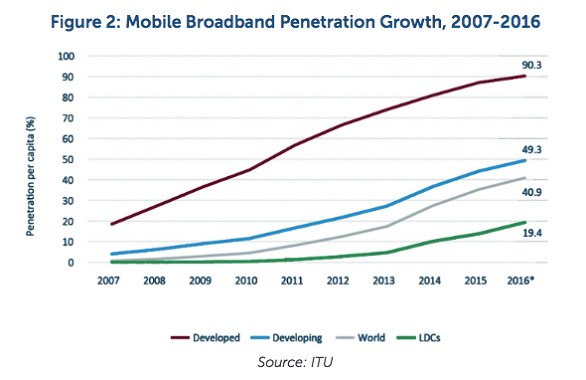 However, several other findings, listed below, are even more interesting.