Why publish an impact report? – A deep dive into reporting by impact investors in the U.S.
By Mohit Saini, Master of Arts in Law & Diplomacy Candidate, 2021
In August 2020, I conducted independent research in India to learn how the country's impact investors understand and measure 'impact'. I published the detailed insights on the University of Michigan's NextBillion in an article titled 'Does 'Impact' Lie in the Eyes of Investors in India?' and a summarized version of my findings in IBGC's student research section.
I built on those insights as well as my learnings from a course titled 'Private Capital for Public Purpose' at Harvard Kennedy School to finalize a research topic for my capstone. This time I focused on the U.S given most asset managers and asset owners allocate their capital in this market. Intentional measurement and management of impact is one of the key characteristics of the rapidly growing impact investing market. However, secondary research suggests that only a proportion of asset managers in the U.S publish private and public impact reports currently.
For my capstone, I wanted to understand the reasons why asset managers in the U.S publish impact reports, challenges faced by them, elements of meaningful impact reports, and the future of impact reporting. To this end, I interviewed a total of 18 asset managers, asset owners, investment advisors, and ecosystem players in the U.S. Further, I reviewed and analyzed 50 impact reports spread across asset classes and sectors. I have distilled and synthesized my insights into seven sections in this pitchbook report.

The exhibit above highlights the reasons that influence U.S asset managers to publish impact reports.
Most asset managers face challenges like financial and human resource constraints, the burden of proof, issues in data collection, and concerns around data privacy while publishing impact reports. Further, some asset managers have divergent viewpoints on impact reports. Lack of compelling business cases, limited demand among asset owners, and a minimal role in investment decisions create a limited incentive for asset managers to create impact reports.
Market actors suggested that a meaningful impact report should cover nine elements. This includes transparency around impact measurement and management methodology, categorization of impact, focus on long-term outcomes, investor contribution, and impact risks, among others. I used these findings to create a customizable template that can be adapted by asset managers to create comprehensive impact reports.
The exhibit highlights the key trends that will influence impact reporting going forward.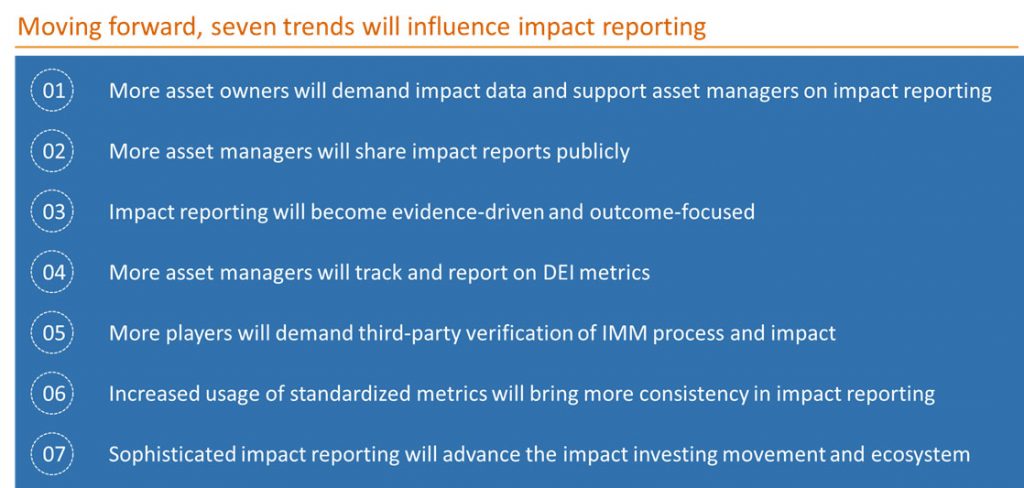 Professor Bhaskar Chakravorti, Dean of Global Business at The Fletcher School, served as the faculty advisor for my capstone research.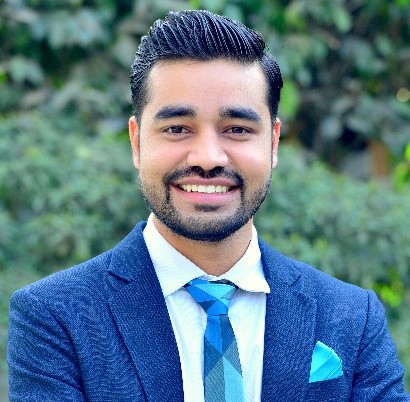 Mohit Saini is a Fletcher graduate with a specialization in impact investing and innovative finance. He leads the Research and Development practice and supports client verification services at BlueMark – an impact verification firm based in New York. Before joining BlueMark, Mohit was part of the investment team at the Tufts University Investment Office (TUIO) in Boston that managed the university's USD 3 Bn. endowment fund. Previously, Mohit worked as an international development consultant across India, Bangladesh, Malawi, and Uganda. Mohit holds an MBA from the Institute of Rural Management Anand, India. You can connect with him on LinkedIn.