PayPal, Facebook, Apple, and More: 12 Days at Fletcher
March and April are always a busy time at Fletcher. Mid-terms give way to the semester's final crescendo, warm spring  weather lifts everyone's spirits, and, of course, calendars fill with scores of exciting events across campus. This year, the two weeks from March 28th through April 8th brought a seemingly non-stop flow of fascinating speakers and prestigious celebrations, from the IBGC Speaker Series to Tufts University-wide events. Many focused on technology and entrepreneurship, but others brought high-profile visitors to discuss a wealth of other issues.
Learn more about these exciting two weeks at Fletcher: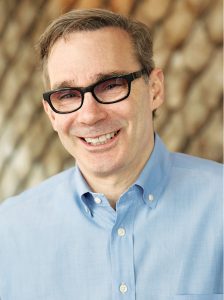 Monday, March 28: Legal Seafoods CEO Roger Berkowitz spoke about the sustainability and the global supply chain as part of the IBGC Speaker Series. He punctuated his perspective on the fish business by noting, ""At the end of the day, if we're not conservationists, we're not going to be in business!" Later that same day, Dan Schulman, President & CEO of PayPal, spoke alongside Hewlett Foundation cyber-security expert Eli Sugerman in a discussion entitled, "21st Century Cybersecurity: Challenges and Opportunities."
Tuesday, March 29: Tuesday took a deeper dive into the world of financial technology, as CEME Senior Fellow Arthur Sculley hosted an intimated lunchtime round table discussion on "The Future of FinTech 2.0."
Wednesday, March 30: The Murrow Center, Hitachi Center, and Cyber Working Group came together to welcome Andrea Glorioso, Counselor for the Digital Economy  from the Delegation of the European Union to the US, for a talk on future prospects for markets and transatlantic relations in a digital context.
Thursday, March 31: The second IBGC Speaker Series event of the week brought the Director of the Defense Advanced Research Projects Agency (better known as DARPA), Dr. Arati Prabhakar to campus for a luncheon lecture to discuss "Technologies to Bend the Arc of the Future."
Monday, April 4: The following week showed no let up in great events around Tufts University as Jeff Rothschild, former VP at Facebook, came to campus to discuss his observations on entrepreneurship and technology in his talk titled, "From Punched Cards to Social Media."
Wednesday, April 6: Presented by the Fares Center for Eastern Mediterranean Studies, Fouad Siniora, former Prime Minister of Lebanon, gave a talk on the risks and opportunities presented by "The Emerging Middle East."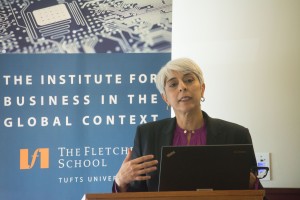 Thursday, April, 7: Day 2 of the Tufts Entrepreneurial Showcase featured the finalists for the Tufts $100K New Ventures Competition, with two Fletcher-led teams — Blue Water Metrics and Uliza — placing in the Top 3.
Friday, April 8: The busy and exciting 12 days at Fletcher came to a close, wrapping up the week with yet another IBGC Speaker Series event. "The Future of Innovation" was the topic, as former Apple and Pepsi CEO John Sculley spoke to a packed house over lunch, full of inspiration and insight. There was plenty to dig into about the future of technology, but to him, innovation boils down to one thing: "It's all about having insatiable curiosity."
These events are just a small sampling of the wonderful happenings at Fletcher ever semester. Be sure to check out the Fletcher Calendar, IBGC Speaker Series, and Fletcher Features, as well as right here on this blog.