The Future of DARPA: New Technologies for New Security Challenges
by Sean Silbert (MALD 2017)
Originally published as part of "Fletcher Features"
Imagine the future: self-driving cars, bionic limbs and commercially viable spaceports. These are all technologies that DARPA, the U.S. Defense Advanced Research Projects Agency, is working to create, explained its director, Dr. Arati Prabhakar, in a packed Chase Center on March 31 as part of the IBGC Speaker Series.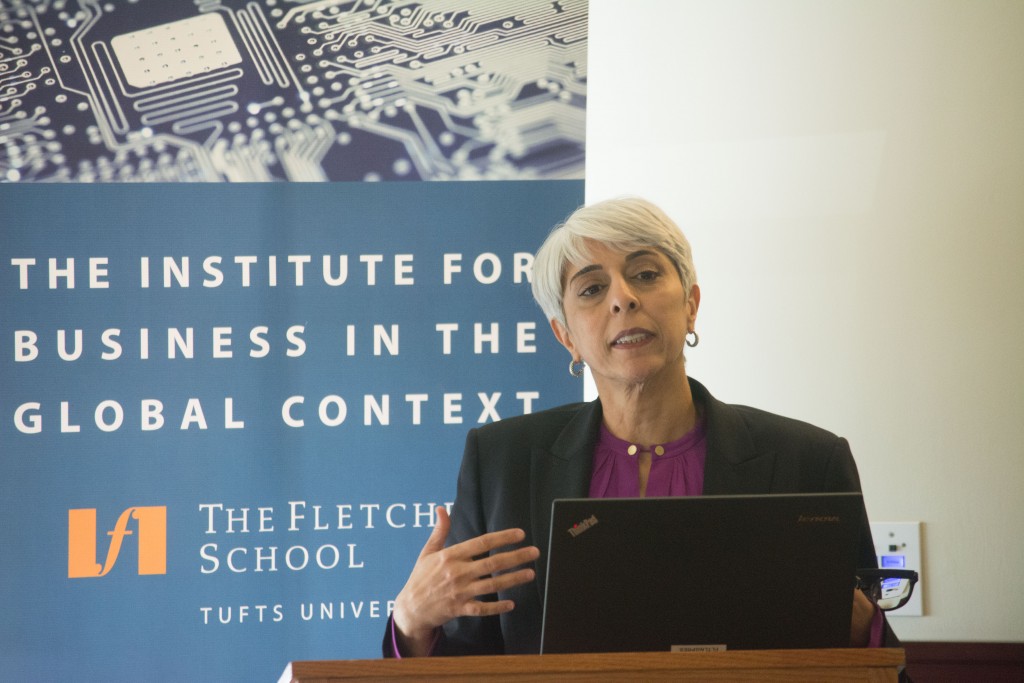 The talk, "Technologies to Bend the Arc of the Future," showcased some of the new projects that DARPA is currently working on and the challenges that it faces. The world has changed from the days of Sputnik, said Prabhakar, and new technologies are needed to maintain America's primacy in technology. The national security environment has changed, and evolving threats from terrorism and the rise of great powers is forcing the U.S. to think of fresh ways to deal with new security challenges.
"Over time, [our investments] have created such a mass of new products and companies in various industries," said Prabhakar. "And through all of this we've changed how we fight, of course, but also how we live and work."
Prabhakar outlined some of the general technologies that are being developed to address the security challenges. While DARPA is known for creating technologies such as self-driving cars, they are now working on a self-driving boat that can go unmanned for months at a time. To replace satellites that can be taken out of orbit, the agency is developing an experimental spacecraft that can launch new satellites within a day.
DARPA is also working on building the groundwork for "a third wave of artificial intelligence," according to Prabhakar. She demonstrated the utility of machine learning – systems that can take results from huge amounts of data and adapt themselves accordingly — through examples of facial recognition software to programs that can instantly detect and translate foreign transmissions.
Prabhakar has been the director of DARPA since 2012. She began working for the agency in 1986 as a program manager, managing programs in advanced semiconductor technology and flexible manufacturing. In 1993, she was appointed by President Clinton as director of the National Institute of Standards and Technology. Between 1997 and her return to DARPA, she worked in Silicon Valley as a technology officer and later as a venture capitalist.