Student Research: Demonetization gave a push towards digital payments – But is India ready to do away with cash?
by Raunak Mittal (MALD 2018)
Demonetization, a bold move executed by the current government in India took everyone by surprise. Good or bad, it is one of the biggest policy decision taken by an economy as large as India in the recent past. The aspects that interest me in this big policy decision are the effects of this move towards the digitization of finance, including digital payments and alternative lending.
There has been a focus on alternative modes of credit lending ,not just in developing economies but also in the developed economies like the US. As part of my ongoing research, I had the opportunity to talk with the founders and leaders of alternative lending startups like Numerated, DistilledAnalytics, Branch.co and Entrepreneurial Finance Lab in the US. However, for getting a closer look on what is happening in India post the biggest strike on cash, I continued my research with the help of IBGC by visiting India during in August 2017. My research plan was two-fold: to meet startups that are operating in the space of digital finance or alternative lending; and to observe the change in people's behavior in dealing with day-to-day transactions nine months post-demonetization.
Although demonetization struck on 85% of the cash circulating in the economy in the form of 500 and 1000 rupee notes, at the onset of my arrival, I observed that cash is now back into the system in India. In fact, not only have new notes of 500 and 2000 have been pumped in, but also a new currency denomination of 200 rupee notes were issued during my visit on 25th of August. Where Paytm had become the norm of monetary transactions from small vegetable sellers to public transport like 3-wheeler auto-rickshaws immediately after demonetization, now cash transactions were back. While traveling in Mumbai in auto-rickshaws or in an Uber in Hyderabad, the drivers were accepting and making cash payments only.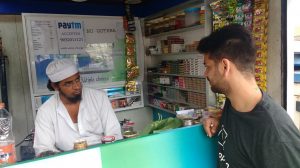 In India, there is a large informal or unorganized sector which accounts for 84.7% of the workforce and 24% of the GDP. This sector is predominantly cash based and moving away from cash will not happen overnight. However, I also witnessed that small shops to mid-size grocery stores were accepting digital modes of payment like Paytm or Mobikwik, even for small ticket transactions and were actively marketing these payment modes. At a small cigarette shop in Hyderabad I could pay the vendor through mobile for a transaction which was as low as 1/10th of a dollar.
Without going into the details of the privacy debate, these digital transactions provide various digital data trails which can serve to create various value propositions. One such value on which I am focusing is credit scoring and access to credit for the un-banked and under-served population. The global market represents a $2 trillion gap for credit access and, through innovative methods and  new modes of information and digital trails, this problem could be potentially addressed.
In a conversation with the CEO of 'Cashless Catalyst', a USAID and Indian Ministry of Finance initiative, in Delhi, I probed the question of how to sustain the digital payments drive with cash coming back to the system and what are the value propositions for the lower-middle and lower income population to adopt digital means. Small and medium enterprises in India cover a wide range of businesses and operate in their own distinctive way. It is very important to provide customized digital payment solutions to address specific problems, which will eventually result in a shift to digital payments of merchants. In a very informative discussion with Mr. Badal Malick, he talked about the need to address the entire value chain of businesses, from merchants to suppliers, buyers, and customers, with digital payment solutions to capitalize on the digitization of finance. He also seemed eager on the connection of digital payments to alternative lending, as it could serve as a great source of dynamic digital data to improve the credit risk models. Although a number of startups like Indifi and Capital Float are producing good results in this space, Malick took a cautious stance and said that although the opportunity seems promising, it still needs to be tested more systematically. I also met professionals from PwC, Ernst and Young, Microsoft, working in innovation teams, financial services, Digital India, and early stage startups trying to address specific problems like paying rent through digital payments.
Given the push for digitization from the government, and the response from the startups and the industry, I am optimistic about the potential of this opportunity. Nevertheless, it remains to seen whether specific problems will be addressed in a systemic way for India to move away from cash. As of today, India is still very far from a cashless future.
Raunak Mittal is a 2018 Master of Arts in Law and Diplomacy candidate at The Fletcher School