Conference on Gender and International Affairs: Bodies of Resistance
November 18, 2020 @ 2:00 pm

-

3:00 pm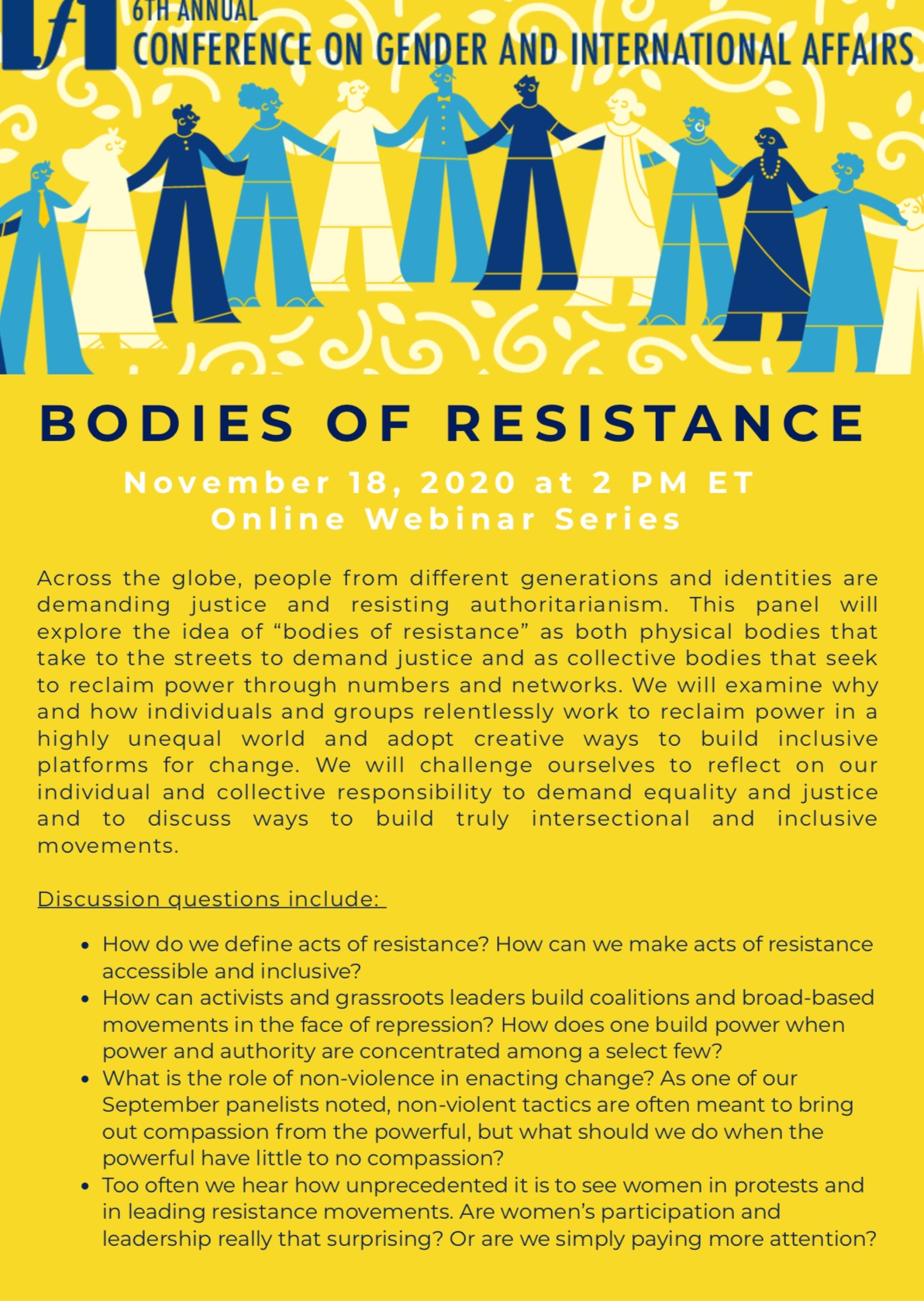 The past two years have been remarkable in the sheer number and reach of resistance movements around the world. Across the globe, people from different generations and identities are demanding justice and resisting authoritarianism. Many share global themes but were sparked by local events. While some movements have seen some successes ranging from regime change to political accommodation, others have been met with push backs and violent repression.
This panel will explore the idea of "bodies of resistance" as both physical bodies that take streets to demand justice and as collective bodies that seek to reclaim power through numbers and networks. We will examine why and how individuals and groups relentlessly work to reclaim power in a highly unequal world and adopt creative ways to build inclusive platforms for change. This discussion will challenge us all to reflect on our individual and collective responsibility to demand equality and justice and to discuss ways to build truly intersectional and inclusive movements.
Confirmed speakers include:
Farida Nabourema, Togolese political activist and writer who advocates for democracy and human rights. She's authored over 400 articles denouncing corruption and dictatorship and promotes a form of progressive pan-Africanism. Farida founded the Faure Must Go movement in 2011, supporting Togolese youths to stand against the dictatorial regime of Faure Gnassingbé. She is a 2020 USIP Jennings Randolph Senior Research Fellow, conducting research on gender-repression and the impact of violence on women in civil resistance movements in Africa, as well as the coordinator of the Gender Equality Network for Small Arms Control (GENSAC).
Ola Osaze (all pronouns), National Organizer for the Black LGBTQ+ Migrant Project at the Transgender Law Center and has been a community organizer for many years, also working with the Audre Lorde Project, Uhuru Wazobia, Queers for Economic Justice, and Sylvia Rivera Law Project. Ola is a 2015 Voices of Our Nation Arts workshop (VONA) fellow and has writings published in Apogee, Qzine, Black Girl Dangerous, and the anthologies Queer African Reader and Queer Africa II.
The panel will be moderated by:
Mark Leon Goldberg, editor of the United Nations and global affairs blog, UN Dispatch, and host of the Global Dispatches Podcast. He co-founded the social enterprise, the Development and Aid World News Service – DAWNS Digest. Mark's work has been featured in the New York Times, The Guardian, The American Prospect, Foreign Policy, The Los Angeles Times, and Newsweek. He appears regularly as an on-air guest for Al Jazeera English, National Public Radio, the BBC and HuffPo Live. He received his Master of Arts in Security Studies from the Georgetown University School of Foreign Service and a Bachelor of Arts from Tufts University.