India's Digital Turn? Conference: February 14, 2020
As part of IBGC's "Turn?" Series of conferences, we are pleased to announce the India's Digital Turn? Unconference, an event that will analyze the strengths, weaknesses, and opportunities of India's digital economy. The conference will take place on Friday, February 14 from 10:30 a.m. to 2:00 p.m. in the Chase Center at Tufts University and will convene a panel of three expert guests; Kalyan Krishnamurthy, CEO of Flipkart, India's leading ecommerce platform, Lydia Jett, Partner at SoftBank Vision Fund, a venture capital firm that specializes in growth capital, and Madhumitha Ramanathan, Vice President of Invest India, a national investment promotion and facilitation agency. Fletcher's student-led research team who are working on the India's Digital Turn? Research Report will also contribute to discussions during the conference.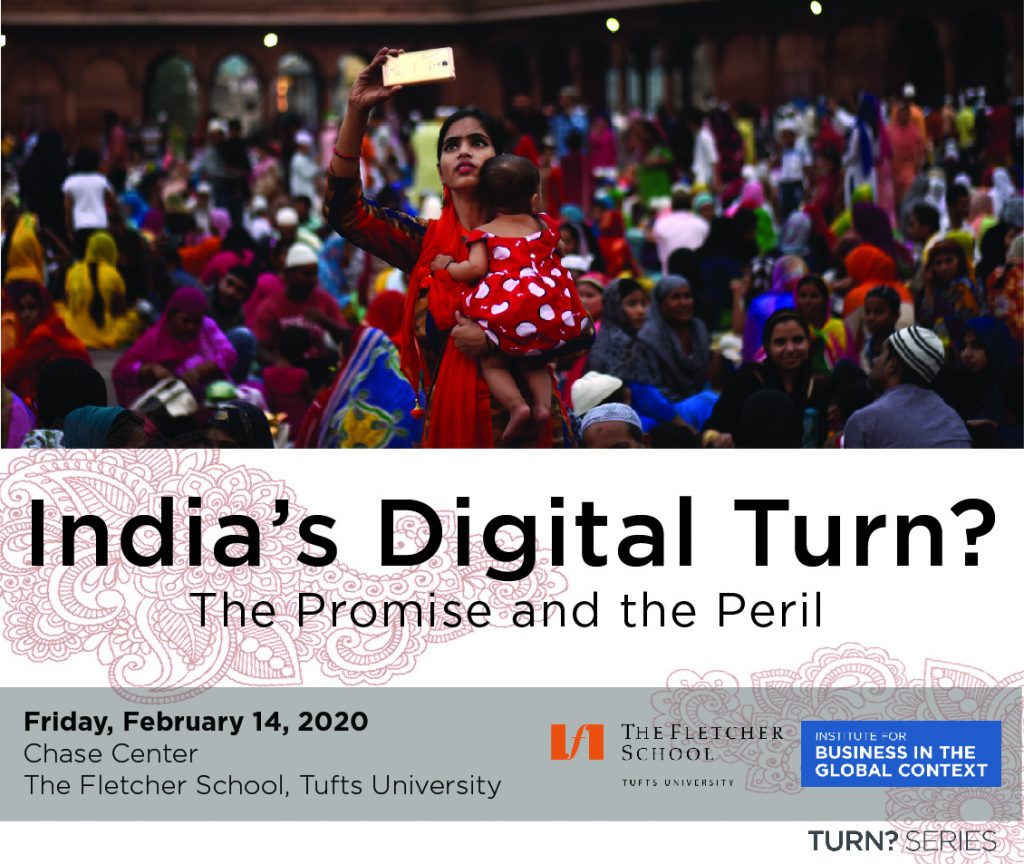 The event occurs during an interesting time in India. The country has one of the fastest growing digital economies in the world and is home to over 800 million mobile users. These users consume an average of 8.3 gigabits (GB) of data every month. With data costs falling 95% since 2013, McKinsey predicts that India will see a 40% increase in mobile users in the next three years. India is also home to some path-breaking digital innovations in many different sectors.
These innovations include Aadhaar, a unique ID system that can give individuals in India access to finance, healthcare, and government services. Nandan Nilekani, the Chairman of the Unique Identification Authority of India, claimed that the ID system could be "the greatest poverty killer app we've ever seen" during a discussion with World Bank Group. India is also a leader in mobile payments, data sharing technologies, and deep-learning systems for healthcare. On the policy front, officials throughout the country have plans for one hundred smart cities, a Digital India initiative, and projects that aim to protect data privacy.
Despite these promising developments, India still faces several considerable challenges. Chief among them are its soaring unemployment rate, which is predicted to remain 6.4% throughout 2020, its faltering economy, and the continuing challenges of ad hoc internet shutdowns, widespread reliance on physical cash following a drastic demonetization move in 2016, social media-fueled false narratives, and regulatory issues that create uncertainty for digital companies.
Today, India finds itself at a critical point of inflection. In order to accelerate growth, leaders from across the country must come together to brainstorm how to translate India's powerful digital ecosystem into economic and societal growth. Simultaneously, India needs to improve on the ease of doing digital business. The ways in which leaders address this important challenge may determine which direction India's digital economy will turn in the near future.
The India's Digital Turn? Conference aims to answer this question. Moderated by Fletcher's Dean of Global Business Bhaskar Chakravorti, the event will discuss the areas of untapped potential within India and how to best utilize its vast digital ecosystem. This even builds on the research of Digital Planet, an interdisciplinary research initiative housed within The Fletcher School that is devoted to understanding the impacts of digital technologies on our world.